Tokyo must-see sakura spots
I introduce cherry blossom viewing in this post.
In Japan, Sakura is very beautiful in spring. Of course, Tokyo has many cherry blossom spots. This time I introduce must-see cherry blossom 5 spots in Tokyo. I also talk about my review of each spot.
★MUST SEE SAKURA SPOTS IN TOKYO★
※ Click and you can jump to each spot↑
①Ueno Onshi Park(上野恩賜公園)
Ueno Onshi Park is one of the most popular cherry blossom spots in Tokyo. There are about 800 cherry trees in the park. Japanese people have enjoyed cherry blossom viewing in Ueno Park since the Edo period (1603-1868).
Ueno Park is very crowded in the spring season. Many people have a drinking party with viewing cherry blossoms inside the park at night. That is very fun, but getting a good spot is very hard! Some people take their seats before holding parties.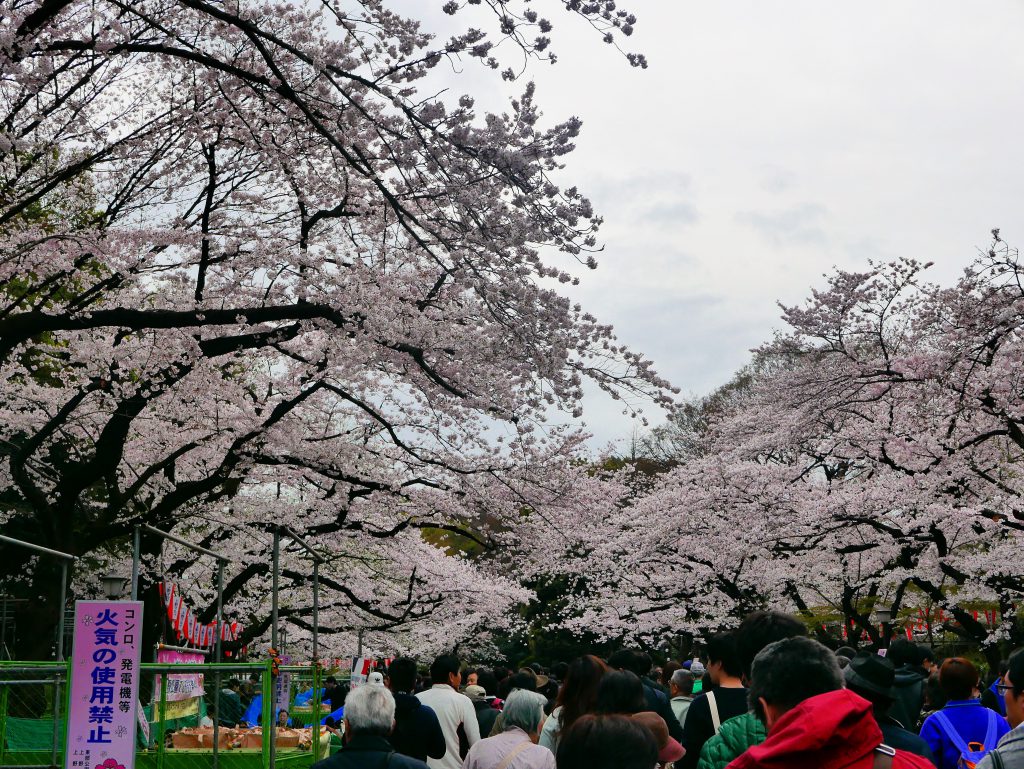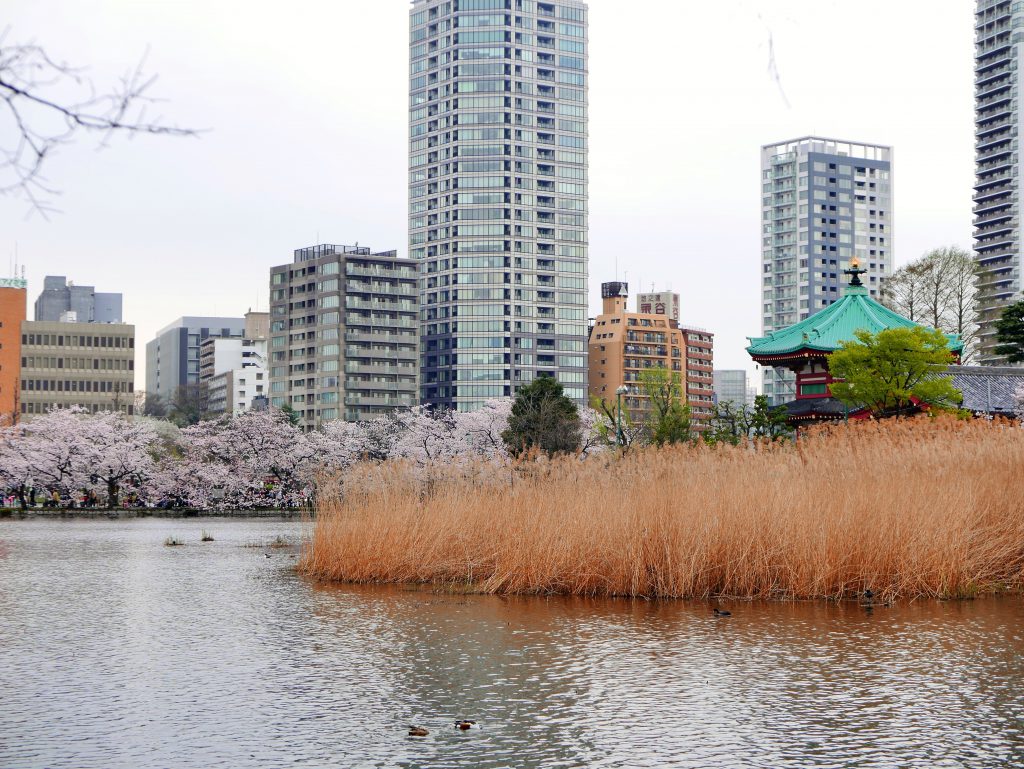 inside the park & Shinobazunoike(不忍池)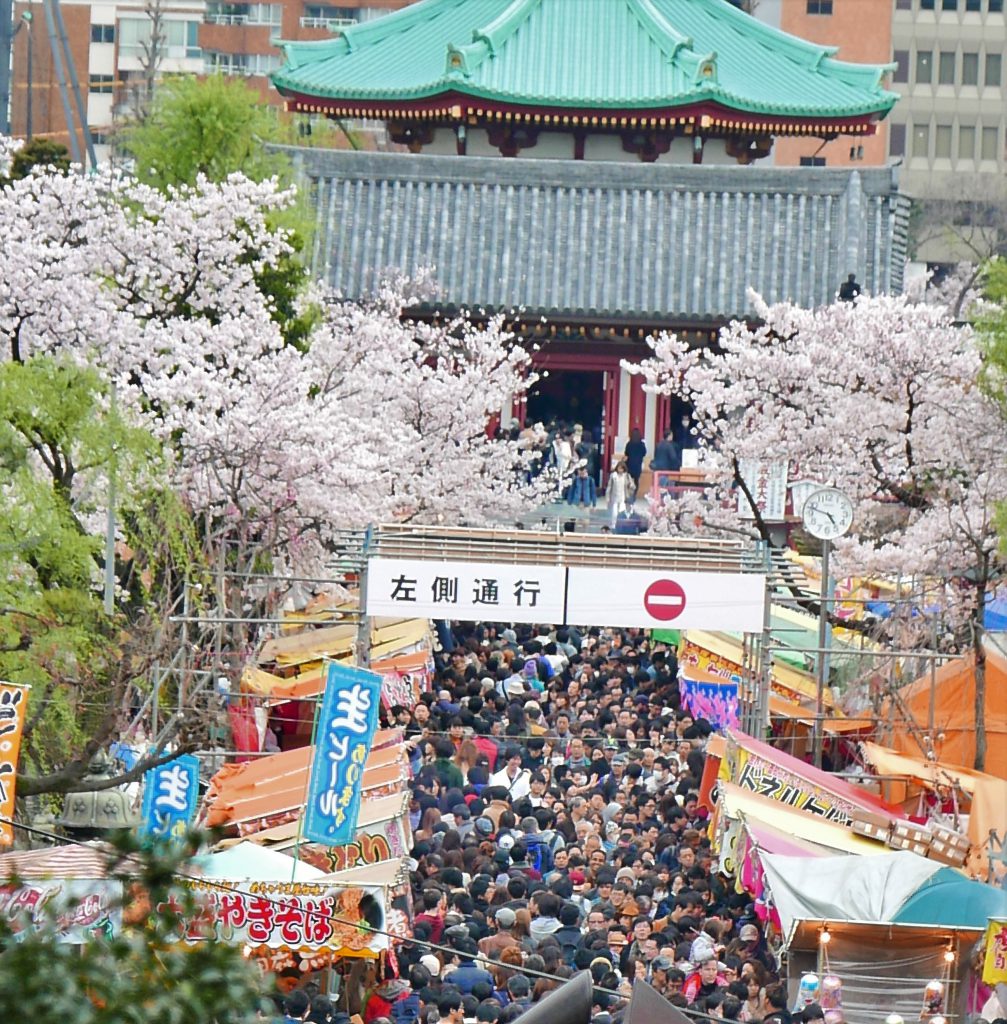 Ueno bentendou(弁天堂) is very crowded! It is hard to even walk…
Ueno Park is very near Ueno Station and it is easy to access. I often go to Ueno Park, it is very crowded especially in spring. Sakura trees are very beautiful in Ueno Park, so many people visit there every cherry blossom season. You should remember it being crowded in spring. Many facilities such as museums and temples are inside the park, it is also good for you to enjoy art or traditional buildings.
②Shinjuku Gyoen (新宿御苑)
Shinjuku Gyoen was built as a garden of the Imperial family, but after WWⅡ it became a national park. There are a Japanese garden, a French orthopedic garden, and a British landscape garden in the park. The park is famous for spring cherry blossoms and autumn leaves. 1,000 cherry trees are planted in the park!
The day when I visited the park was sunny and warm, which is the best day for cherry blossom viewing! I started hanami in Shinjuku Gyoen from Sendagaya Gate. I had to get the ticket (the fee is 500 yen) for entering the park, I was in line for 5~10 minutes.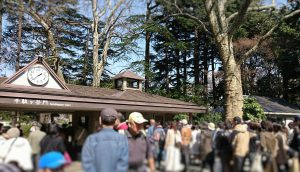 ↑Sendagaya Gate. The end of a line is outside the park.
I think Sendagaya Gate is less crowded than the other two gates. I saw Shinjuku Gate was very crowded, the waiting line extended to the high school building that is next to the park!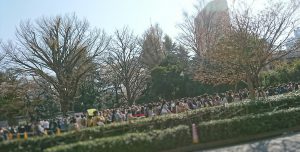 ↑Shinjuku Gate. The line is so long…
You can bring food and drink into the park, but can't bring alcohol.
Entering the gate, I saw many white and pink flowers. Many trees were in full bloom.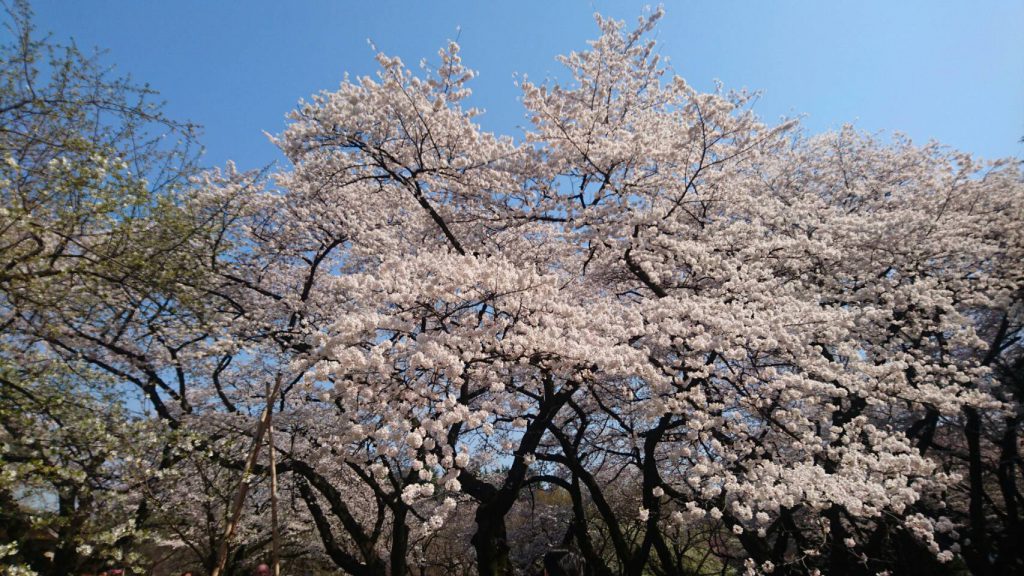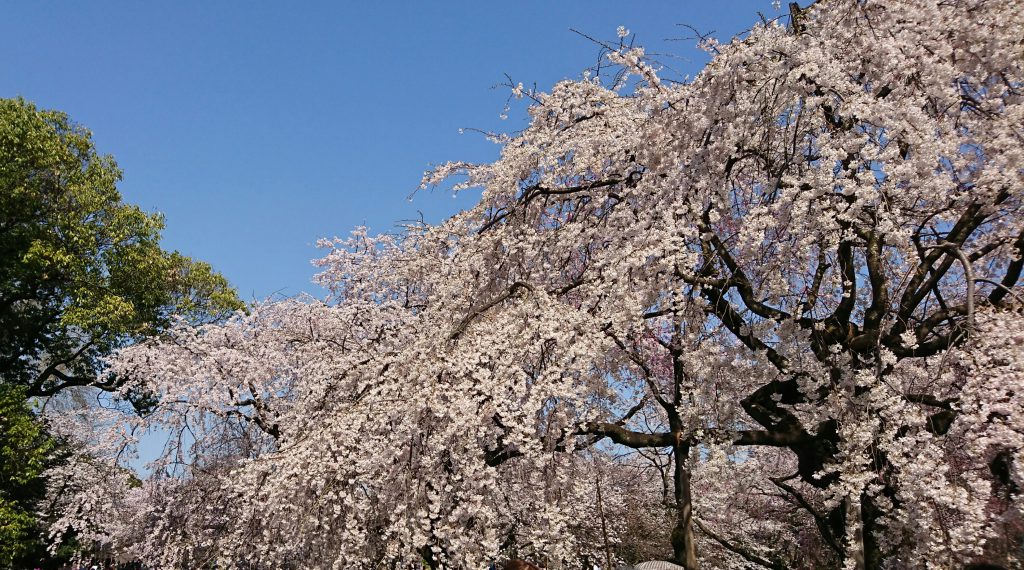 There are various kinds of cherry trees…Yoshino cherry trees, Weeping cherry trees, Wild cherry trees, and so on. They are planted along the road surrounded by lawns. Some people were taking photos of cherry blossoms, some people set on the lawn and had lunch with family or a lover or friends. It's a picnic. Many people enjoyed the sakura!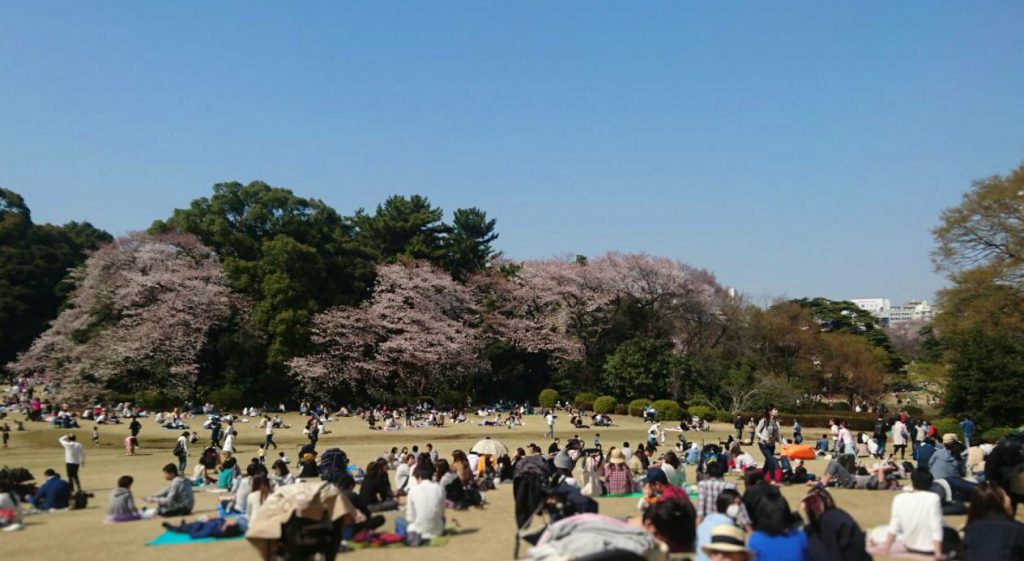 The park is very large. I had been going for a walk for about 2 hours. I felt the Japanese garden inside the park with cherry blossoms was also beautiful.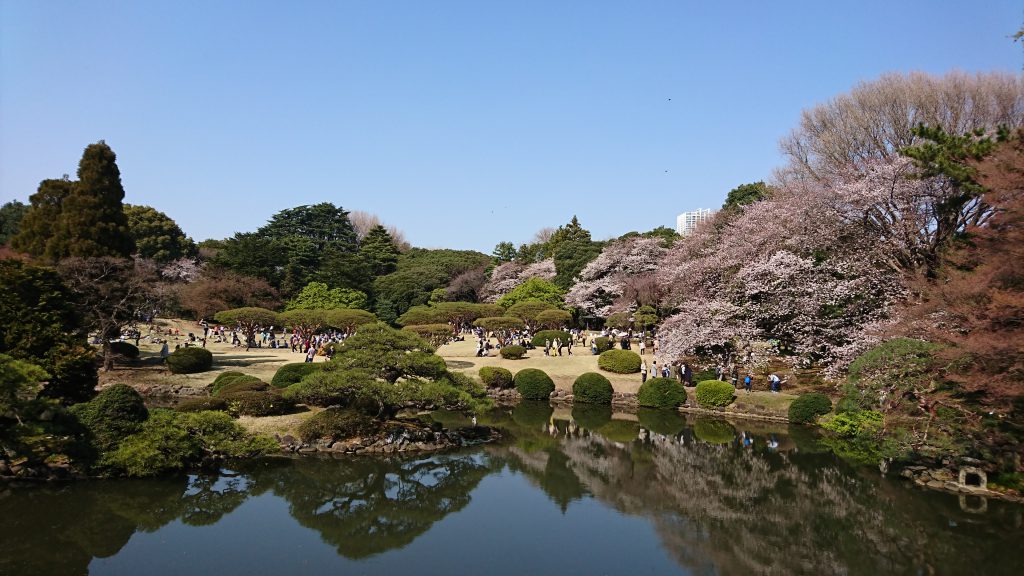 By the way, Shinjuku Gyoen is the setting for "Koto no ha no niwa" which is the anime movie I introduced in this blog.(→The exhibition of Makoto Shinkai)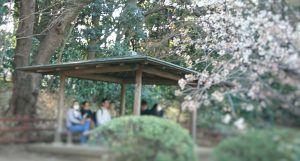 This hut is an important place in the story. Some Anime fans visit the real-life locations of the work in Japan. Some people might have done so also that day.
Many people enjoyed the sakura in the park! I recommend Shinjuku Gyoen if you want to have the time to relax and watch the sakura. You can set on and watch the sakura while eating. You can walk slowly and stop to take photos.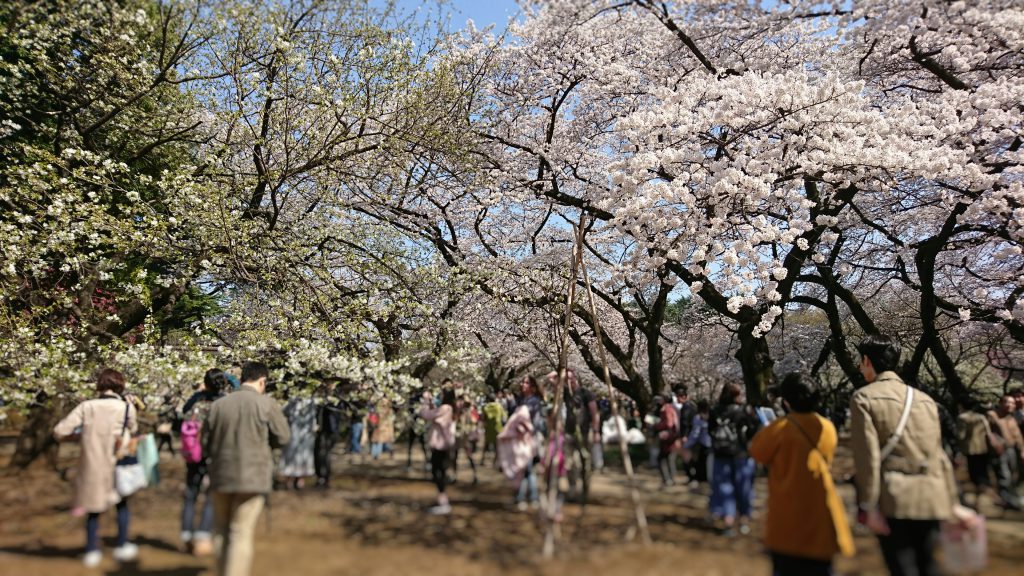 【location】
11chome Naito-cho, Shinjuku-ku, Tokyo
【access】
Shinjuku Gate
10 minutes on foot from JR Shinjuku Station South Exit
5 minutes on foot from Tokyo Metro Shinjukusanchome
Station or Shinjukugyoenmae Sation
Okido Gate
5 minutes on foot from
Tokyo Metro Shinjukugyoenmae Sation
Sendagaya Gate
5 minutes on foot from JR Sendagaya Station
or Toei Kokuritsukyogijomae Station
【open】
9:00~18:00(Gates close at 18:30) in Spring
【fee】
Adults /500yen,
university and high school students /250yen
【website】
Ministry of the Environment Government of Japan SHINJUKU GYOEN NATIONAL GARDEN
③Meguro River (目黒川)at night: yozakura(夜桜)
In Meguro River, there are about 800 Yoshino cherries along the river of about 4 km in length. During the cherry blossom season, Bombori gets fire and you can enjoy cherry blossoms in the evening. Furthermore, some cherry blossoms are illuminated by light.
↑bombori(a paper-covered lantern)
I visited there at night. I started walking from JR Meguro(目黒) Station. I walked along the Meguro River from JR Meguro Station to Tokyu and Tokyo Metro Nakameguro(中目黒) Station.
There were many cherry blossoms in full bloom along the river, but I felt they were not so bright because only bombori illuminated flowers. The light of bombori was not so bright, so the path along the river was dark, and I could not see cherry blossoms so much. I went along the path while taking pictures sometimes.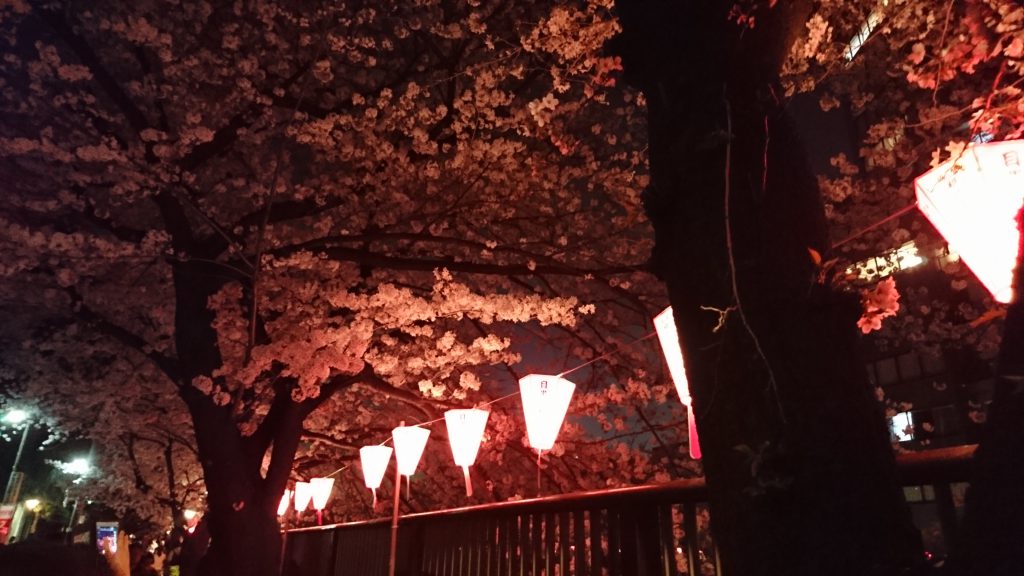 bombori & cherry blossoms
the river & cherry blossoms/ only some part of the trees were lighted up / people who went along the pass to watch yozakura
However, when I approached Nakameguro station, it was getting bright. I saw lighted-up cherry blossoms. It's gorgeous scenery. And the number of people who are watching cherry blossoms had increased. Around the station, it was very crowded.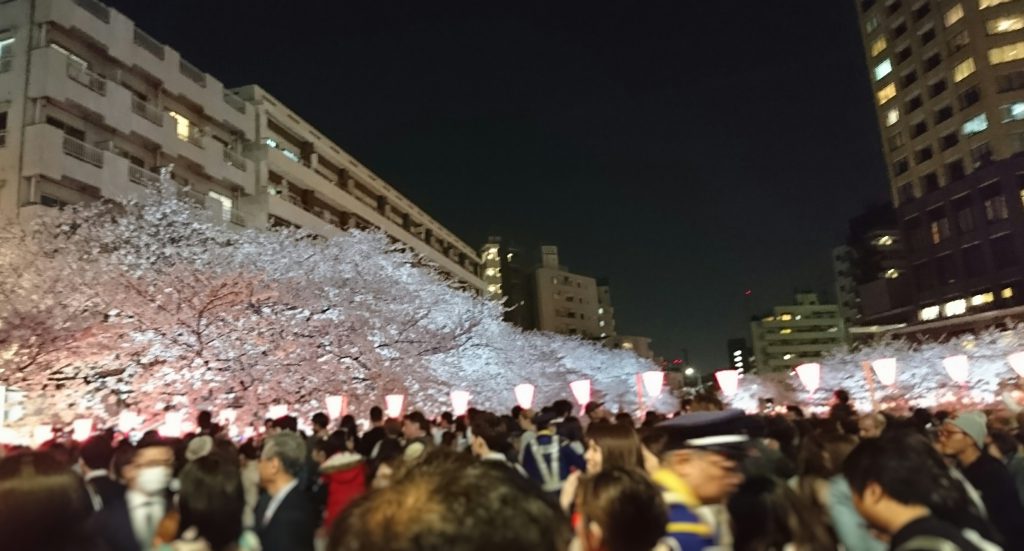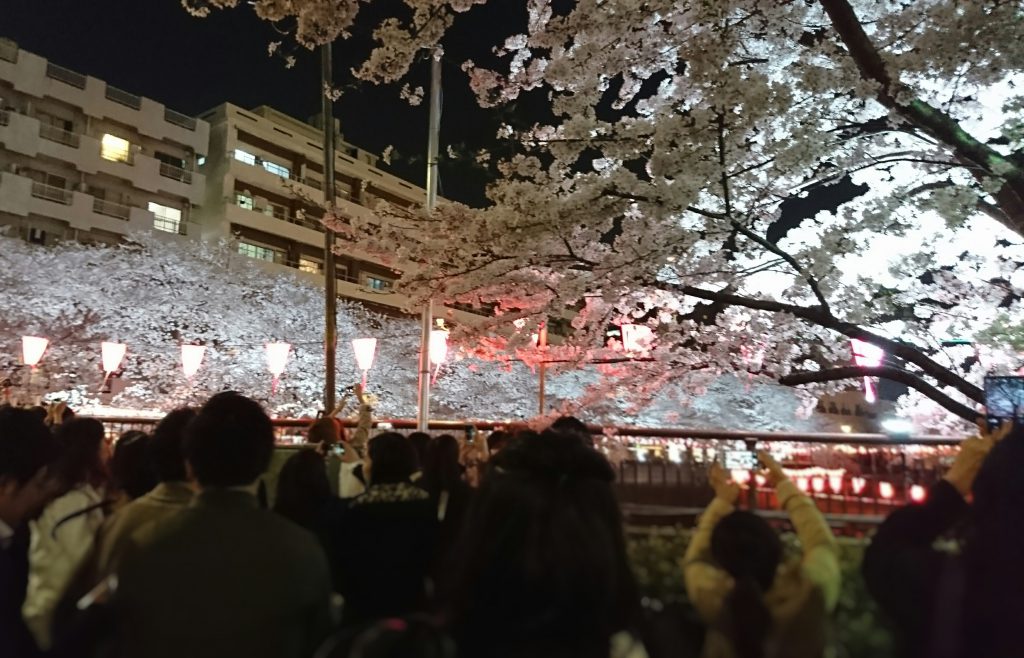 around Nakemeguro station
I kept walking. Most of the cherry trees beyond Nakameguro station were lighted up. And there were a lot of food and drink shops along the river. Many people were walking on the path along the river while eating and drinking something bought in the shops (Alcohol is OK!). They were enjoying hanami.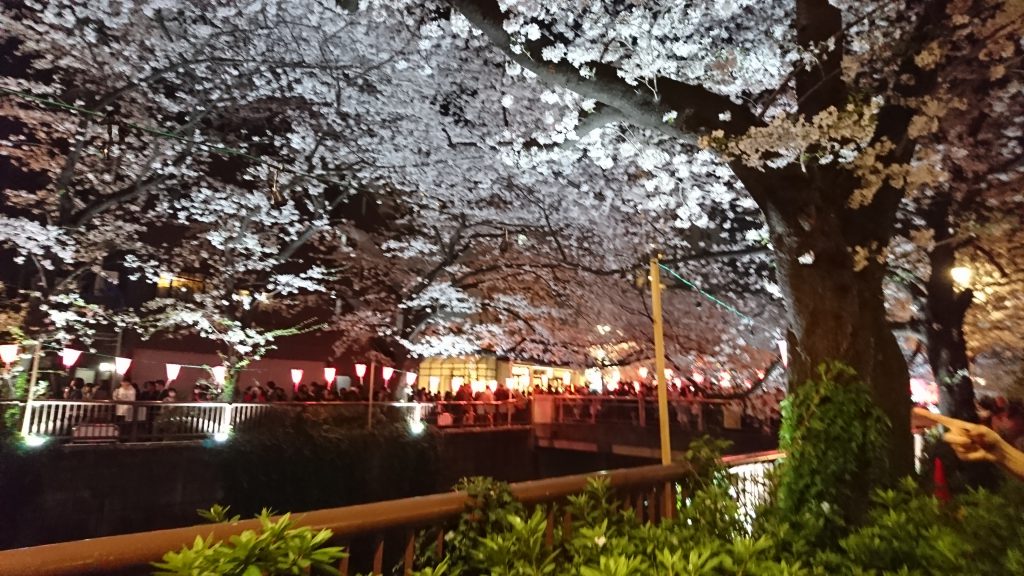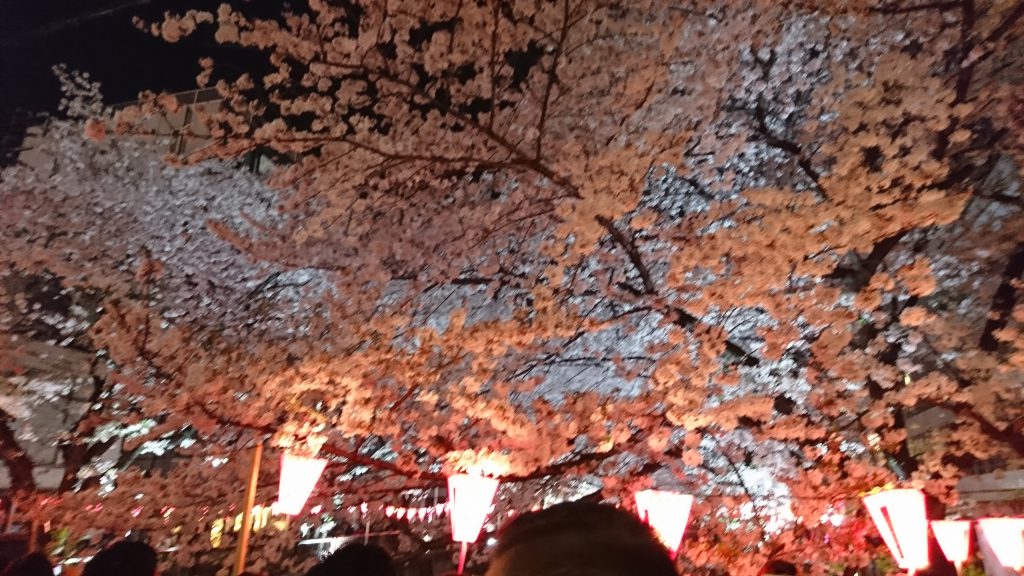 lighted-up cherry blossoms
the path was very crowded and it was sometimes difficult to go forward./ the river & cherry blossom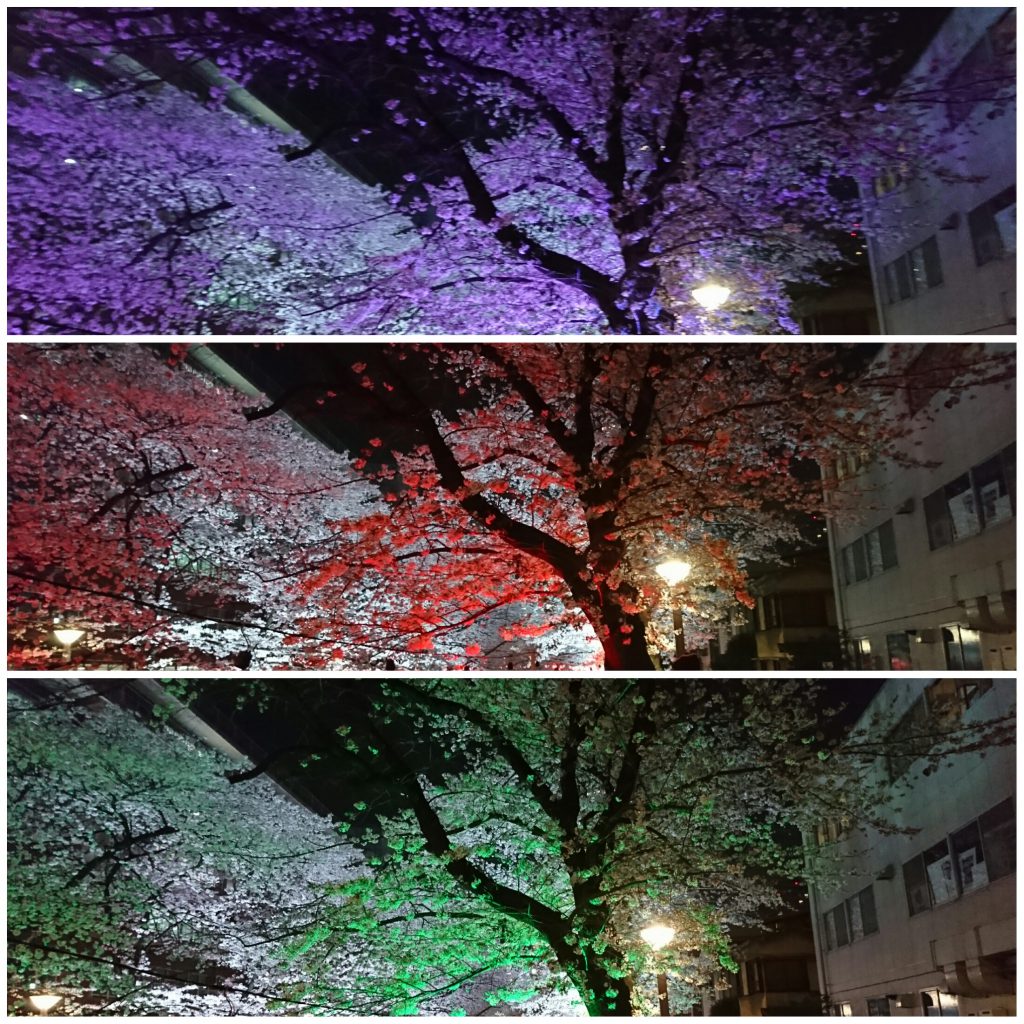 The tree illuminated by light whose color was changing
I finally walked to near Ikejiriohashi station. This is the last picture.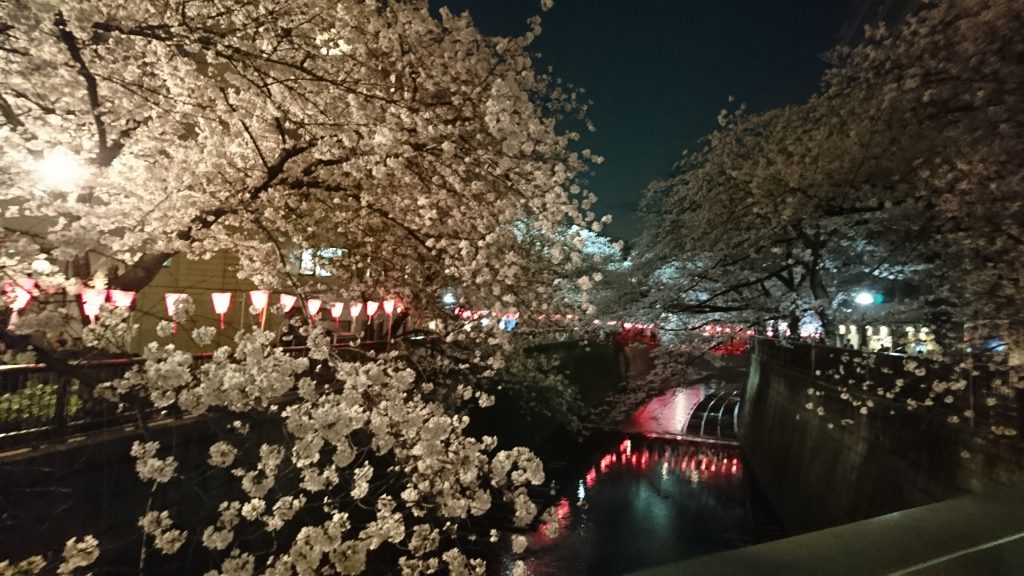 If you are interested in yozakura, I recommend Meguro River around Nakameguro. You can enjoy not only beautiful flowers but also eating and drinking. But please note that it is very crowded!
【location】
Near Nakameguro 2-chome, Meguro-ku,
Tokyo (along the Meguro River)
【access】
upstream of Meguro River
2 minutes on foot from Tokyu Ikejiriohashi Station
midstream of Meguro River
2 minutes on foot from Tokyu and Tokyo Metro
Nakameguro Station
downstream of Meguro River
5 minutes on foot from JR Meguro Station
【open】
light-up 17:00-21:00 (March 24 – April 10, 2018)
④Yoyogi Park(代々木公園)
Yoyogi Park is the large municipal park in Harajuku, Tokyo. It is located next to Meiji-Jingu. In the park, many citizens are walking,  jogging, or playing anytime. Especially in spring, many people visit there for cherry blossoms viewing.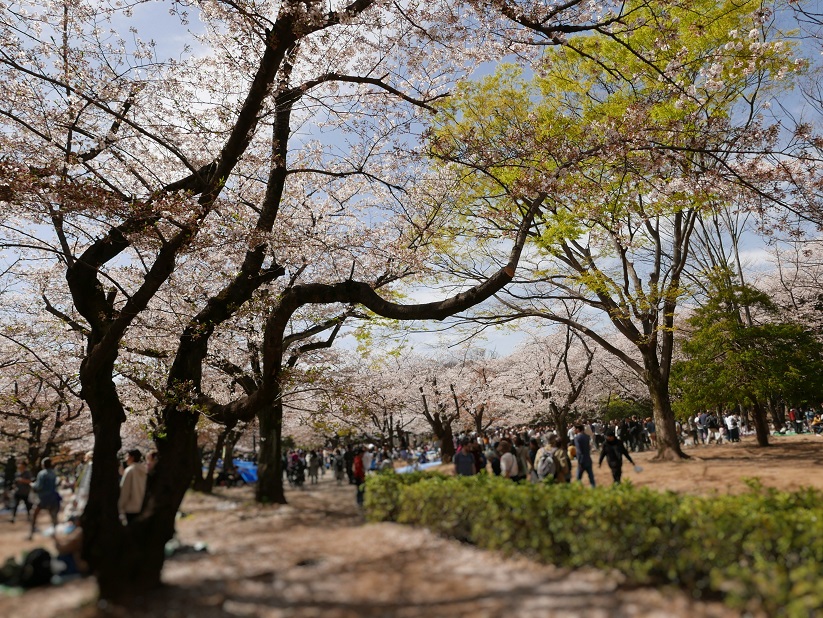 Various kinds of cherry blossom trees are in Yoyogi Park. There are about 700 trees. You can see sakura here and there in the park. Some people sit down on picnic sheets and eat and drink something with viewing cherry blossoms, other people view them with walking slowly and taking photos of them.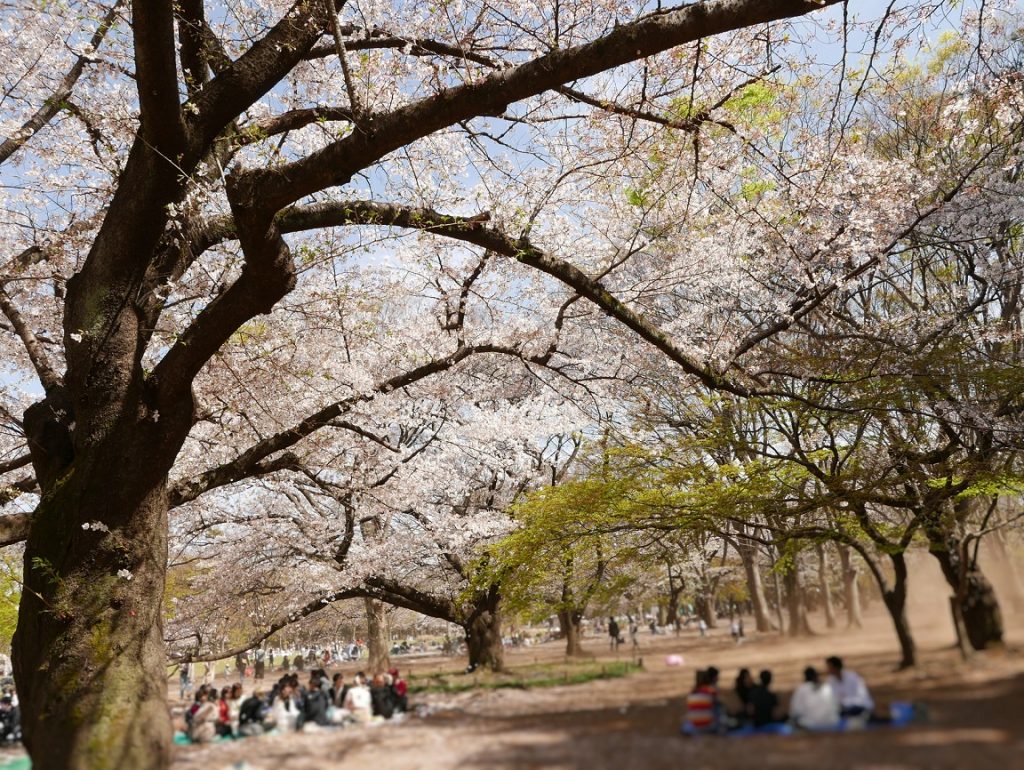 Some cherry trees are around the pond. Cherry petals float on the pond and that is beautiful.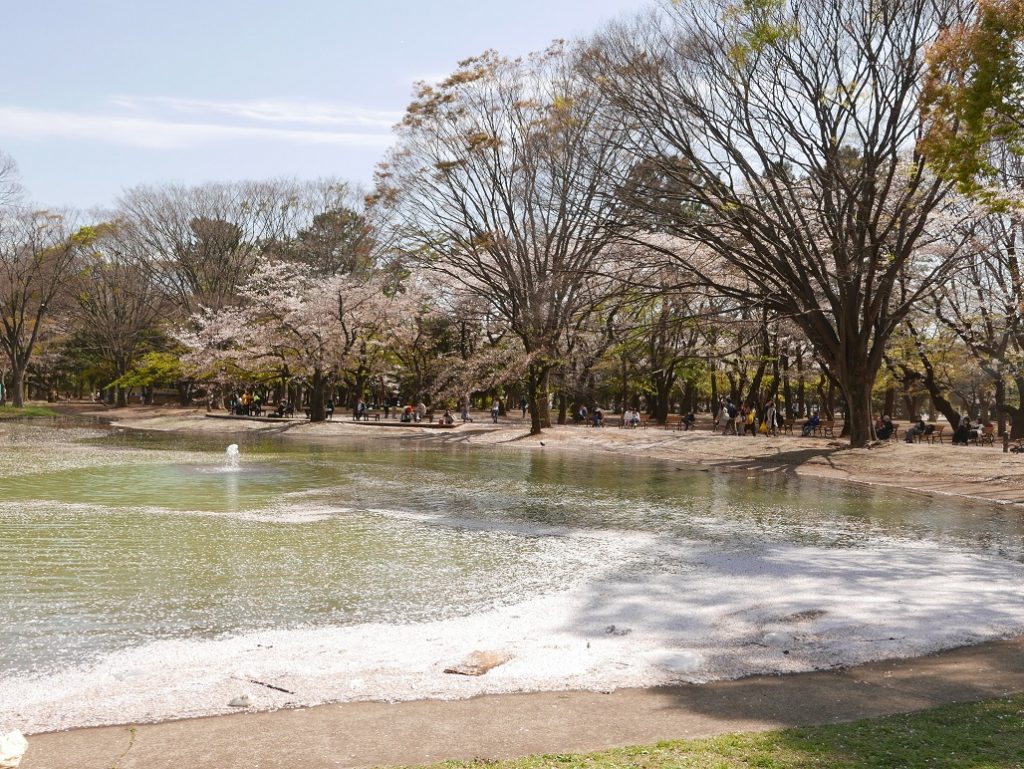 Yoyogi Park is very large and has many various spots such as the fountain, the cycling road, and dog park. Some people walk or jog on the road, some play on the grasses and some go to the dog park with their dog. Visiting people don't gather in one place, and cherry blossoms are here and there. Each spot is not so crowded, so I think you can enjoy viewing sakura comfortably.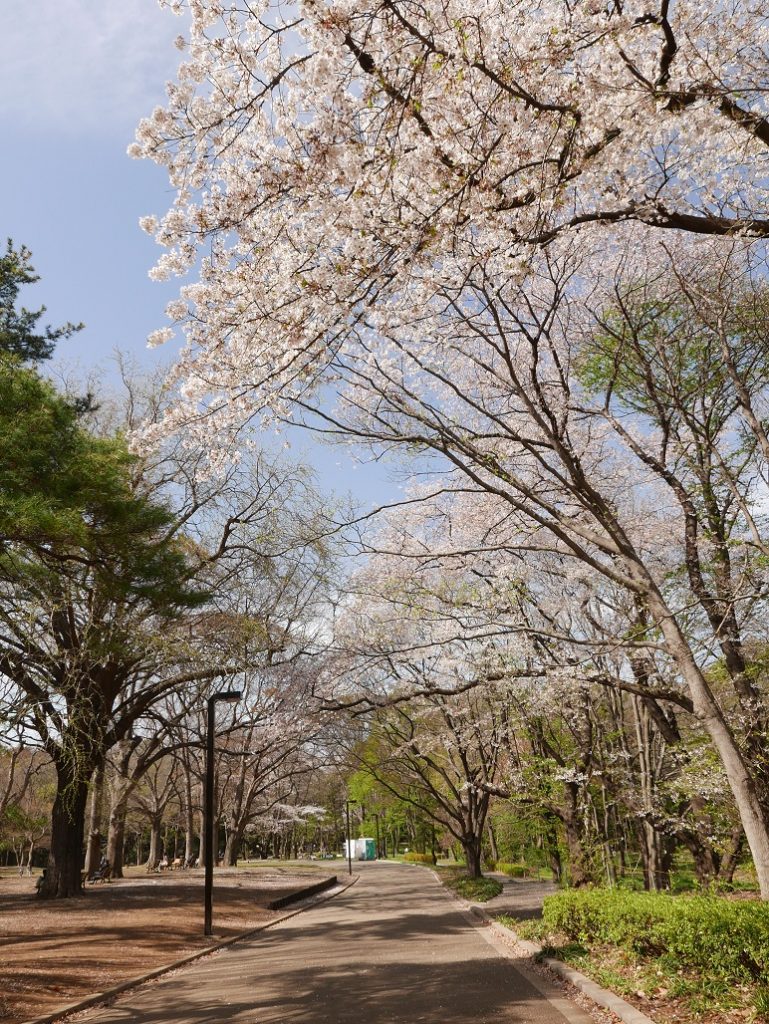 | | |
| --- | --- |
| 【location】 | JInnan 2-chome, Yoyogi-Kamizonocho, Shibuya-ku, Tokyo |
| 【access】 | 3 minutes on foot from Harajuku Station |
| 【open】 | always |
⑤Chidorigafuchi(千鳥ヶ淵)
Chidorigafuchi is the moat located in the northwest Imperial Palace. It is one of the popular sakura spots in Tokyo. The scenery of cherry blossoms with the moat is magnificent. I introduce Chidorigafuchi-ryokudo and Chidorigafuchi Park.
Chidorigafuchi-ryokudo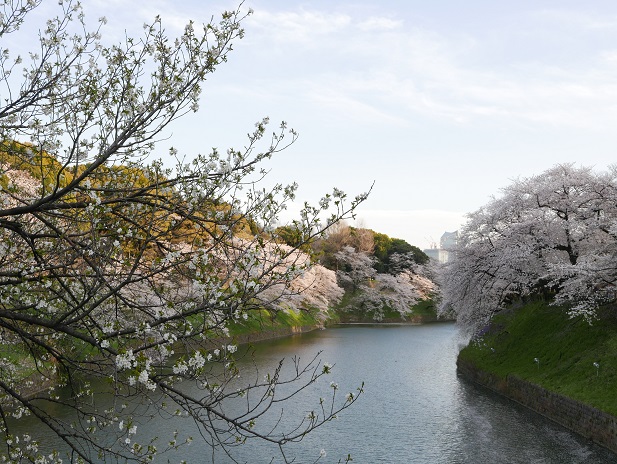 Chidorigafuchi-ryokudo is the path along the Imperial Palace moat. Many cherry blossom trees are along the path and on the other side of the moat. In spring, many people enjoy viewing cherry blossoms. Chidorigafuchi is famous for a sakura photo spot. Visiting people take pictures of cherry blossoms with the moat.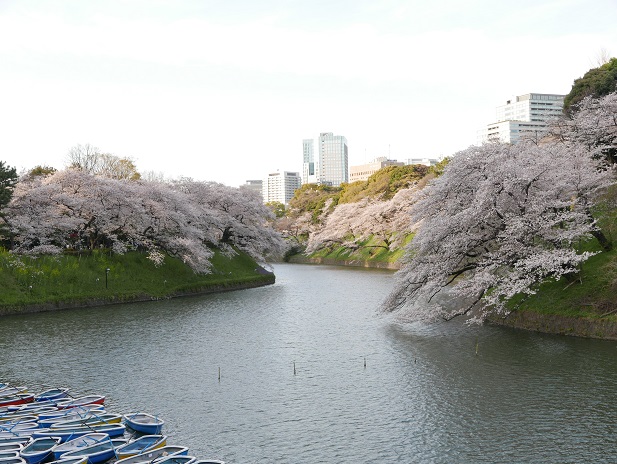 It has a boat dock. You can see the landscape from the boat on the moat.
【Open】Tuesday-Sunday 11:00 AM ~ 4:30 PM ( 5:30 PM/ weekend and holiday )
【fee】500 yen for 30 mins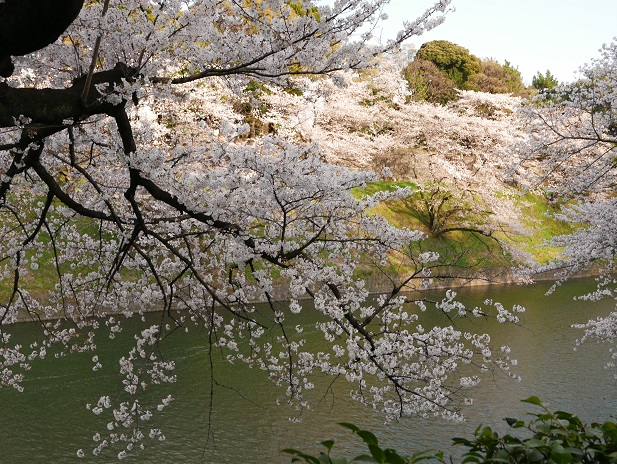 Chidorigafuchi Park
Chidorigafuchi Park is between Hanzomon and Chidorigafuchi crossing. About 170 cherry trees are in the park. Many people visit there. Some people sit down on a picnic seat and view cherry blossoms.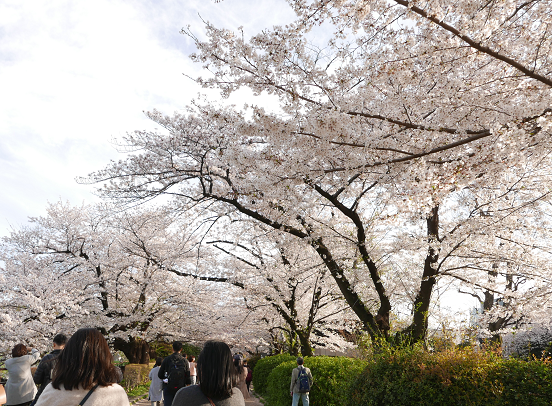 You can also see the scenery of cherry blossoms with the moat.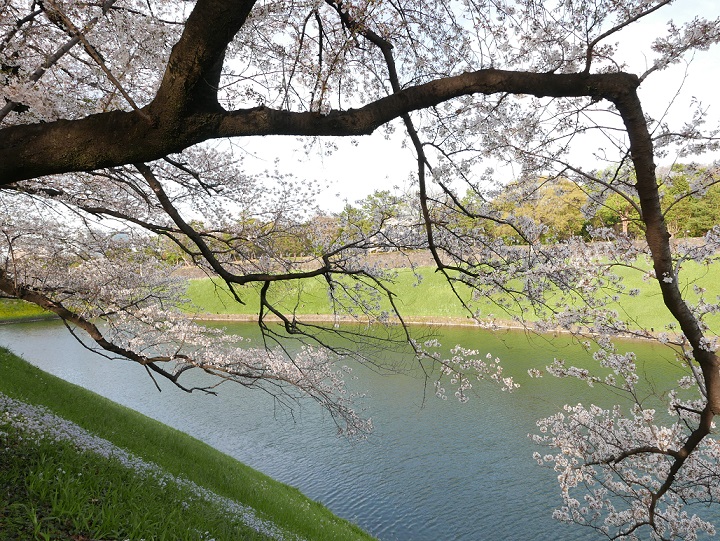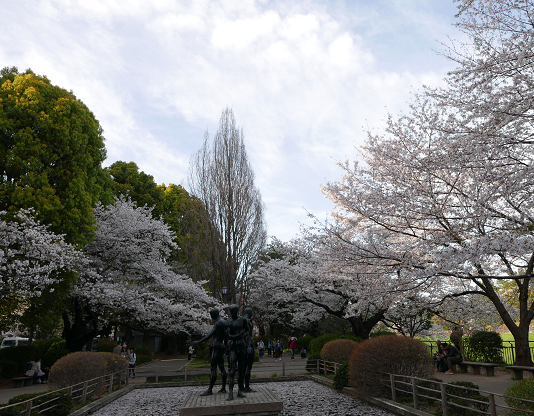 【location】
(Chidorigafuchi-ryokudo)
2-chome Kudan Minami, Chiyoda-ku, Tokyo
(Chidorigafuchi Park)
1-2 Kojimachi, Chiyoda-ku, Tokyo

【access】
(Chidorigafuchi-ryokudo)
5 minutes on foot from Kudanshita /Hanzomon Station
(Chidorigafuchi Park)
5 minutes on foot from Hanzomon Station

【open】
always
When you visit Tokyo in spring, please try to go to these 5 spots! Enjoy viewing cherry blossoms!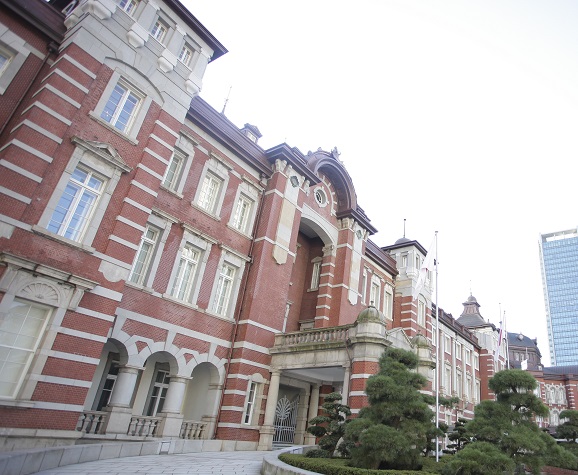 Japanese OL. (OL means "office lady". Women who work in offices.)
I was born in a rural part of the Kanto area in the latter half of the 1980s. I  live and work in Tokyo now. I live with my husband. I study English by writing this blog!