Cherry-Blossom viewing(hanami)
Spring has come!
The coming of spring makes people happy. Spring is the cherry blossom season in Japan. Japanese people love cherry blossoms, sakura(桜)!
What is Hanami?
Japanese people go to see cherry blossoms in spring(花見 hanami). The white and pink flowers are very pretty and beautiful. Yoshino Cherry trees, which is the most popular cherry blossom of Japan, are planted throughout Japan, for example, in the park and the temple, along the street and the river. We can enjoy cherry blossom viewing in spring everywhere in Japan.
Some people view cherry blossoms with walking, other people hold parties, eat and drink under the cherry trees. Many people take photos.
And cherry blossoms bloom only for a short time. Japanese people like an ephemeral life of cherry blossoms and feel the season.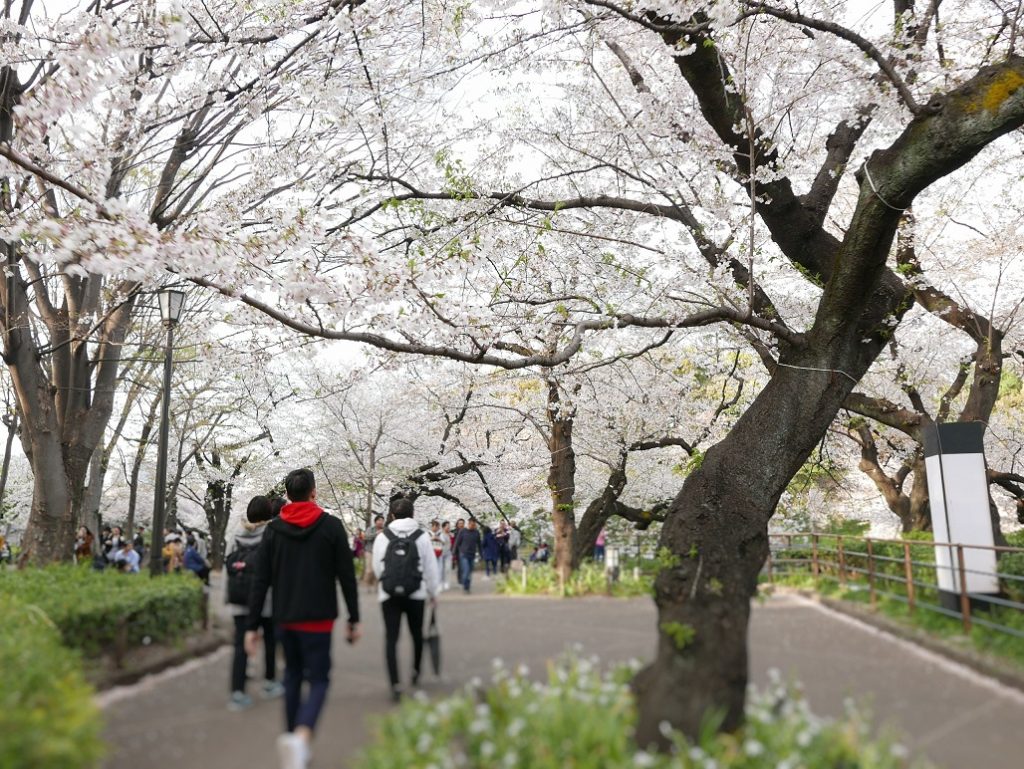 When hanami did begin?
Hanami is said to have begun in the Nara period, more than 1300 years ago. During the Nara period, plum trees were admired, and in the Heian period, cherry blossoms viewing became popular.
How to enjoy hanami
Japanese people like to eat and drink with family or friends or company members on a picnic sheet under cherry trees. It's very fun! Japanese has the proverb of "Dumplings are better than cherry blossoms". It means people are more interested in the practical over the aesthetic after all.
In popular cherry blossoms spots such as Ueno Park, they have to secure the place for hanami. I have experienced that for my company event. Some people start to secure the place on the previous day to get the best place. Wow, it's crazy lol.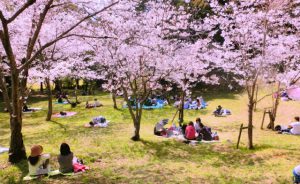 Some cherry trees are illuminated during the night and Japanese people enjoy cherry blossom viewing at night (夜桜 yozakura).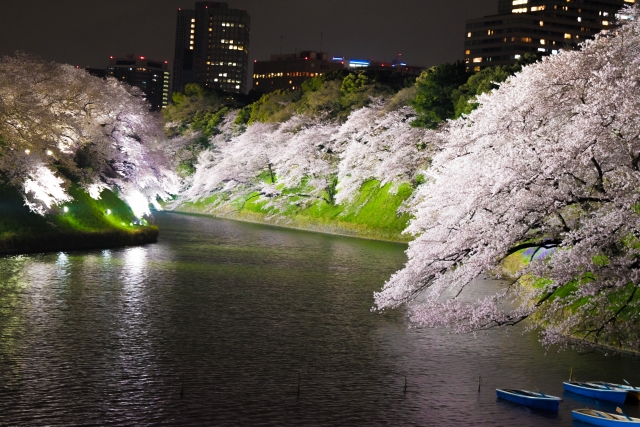 When do cherry blossoms bloom in Japan?
In the spring season. From late March to April. Depending on the area. Cherry blossoms are in full bloom in about a week and out of bloom in 2 weeks from in bloom.
In a usual year,
| | | |
| --- | --- | --- |
| | In bloom | In full bloom |
| Tokyo | Late March | From the end of March to the beginning of April |
| Kyoto | The end of March | the beginning of April |
The time of being in bloom changes by years. 2018 's season was earlier than usual. 2019's season was as usual.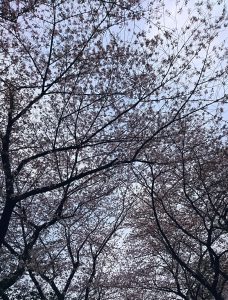 ↑Fallen cherry blossoms are called "hazakura(葉桜)"  in Japan
Where are cherry blossom spots?
Japan has many cherry blossom spots.
My blog's icon is the cherry blossoms that I felt the most beautiful.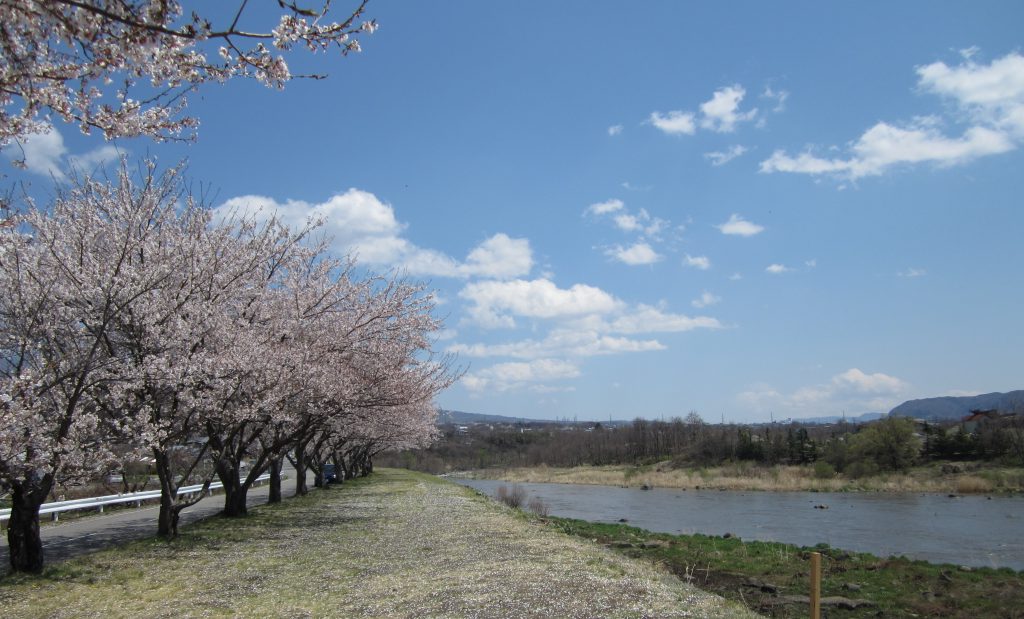 Along Chikuma River, in Unnojuku(海野宿), Nagano Prefecture
※5 minutes by taxi from Tanaka or Ooya station on the Shinano Train Line
I introduce some cherry blossom spots in other posts.
In Tokyo
I introduce 5 must-see sakura spots in Tokyo.
Ueno Park, Shinjuku Gyoen, Meguro river, Yoyogi Park, Chidorigafuchi
Around Tokyo
I introduce Komatsu-sembonzakura, Shinkawa-sembonzakura, and Kawazu Sakura festival.
If you visit Japan in the spring, I would like you to view cherry blossoms.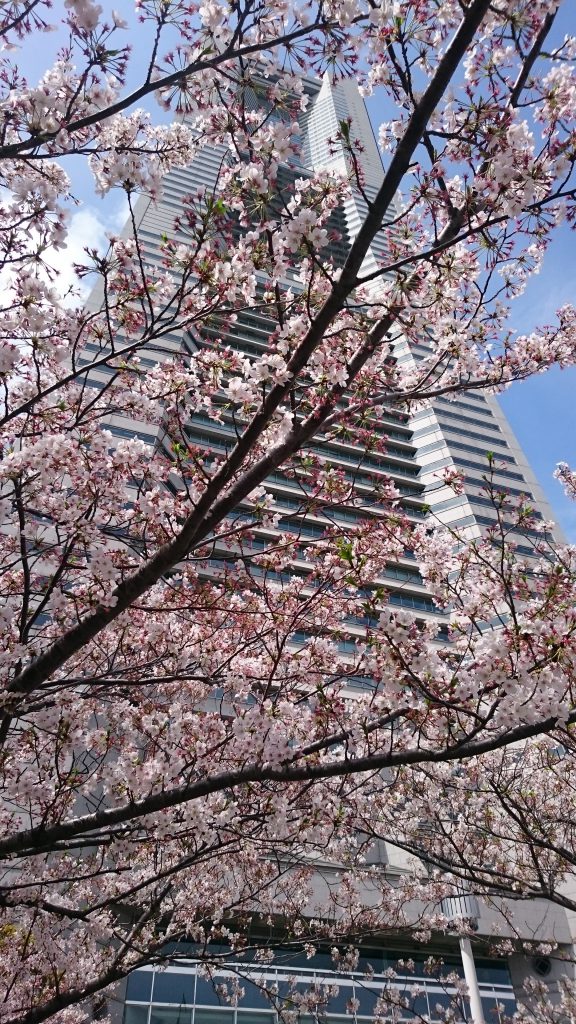 Yokohama Landmark Tower with cherry blossoms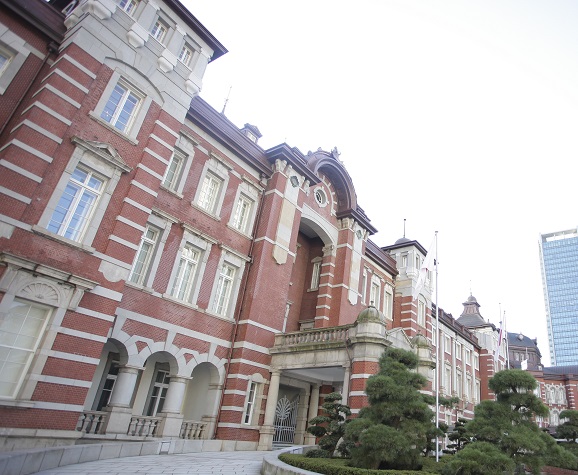 Japanese OL. (OL means "office lady". Women who work in offices.)
I was born in a rural part of the Kanto area in the latter half of the 1980s. I  live and work in Tokyo now. I live with my husband. I study English by writing this blog!