My Travel to Gora, Hakone(箱根)② food & museum
Last time I talked about Hakone(箱根) in that post ⇒ My Travel to Gora, Hakone(箱根)① park & ryokan
I am going to write the rest (about the next day) in this post.
Breakfast at the ryokan
I went to Gora(強羅) to get into a hot spring. I stayed at the ryokan and enjoyed onsen and an open-air bath in the guest room!
The next morning I had a Japanese style breakfast.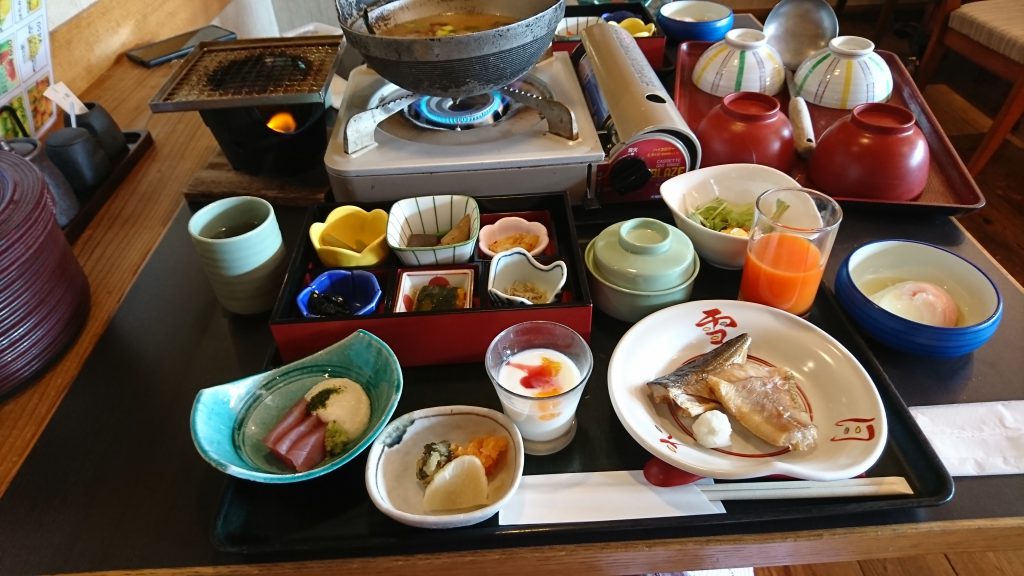 ↑Many dishes were served!
After having breakfast, I took a bath in onsen again. Nothing is better than having a bath in the morning.
Tofuburg-katsu-sand
I checked out before noon, then I looked for a restaurant for lunch in Gora. According to the internet, I heard "Tamura Ginkatsu-tei (田むら銀かつ亭) " is a very popular restaurant in Gora. The specialty of the restaurant is "Tofu-katsuni", which is the dish stewed fried minced pork that is sandwiched between tofu.
This is the official website. You can select a language. ⇒ http://ginkatsutei.jp/
This is the building of the restaurant. It was a Japanese old-style building.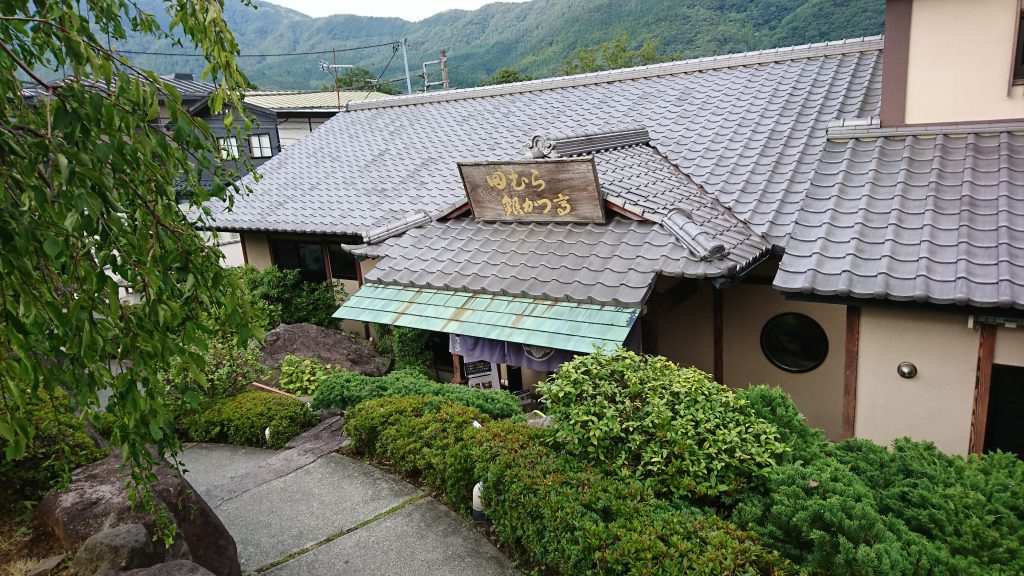 Naturally, the restaurant was very crowded, and there was a long line outside. Unfortunately, because I had decided the next visiting place and didn't have enough time, I couldn't eat lunch at "Tamura Ginkatsu-tei ". However, there are "Ginkatsu-kobo(銀かつ工房)" that is a sister store to sell snack near the restaurant, I bought "Ginkatsu-sand"(a pork-cutlet sandwich) and "Tofuburg-katsu-sand"(a sandwich of hamburg steak made by tofu) there. You can eat them there or as a take-out.
↑"Ginkatsu-sand" and "Tofuburg-katsu-sand"
Both were good, the pork of "Ginkatsu-sand" was very juicy, and "Tofuburg-katsu-sand" was not too heavy. It may be interesting to compare the two sandwiches.
Hakone Open-Air Museum
Then I went to Hakone Open-Air Museum. It is said that this museum is very popular with foreign tourists. I have been there when I was an elementary school student, I visited there for the first time in about 20 years this time. I don't remember my first visit.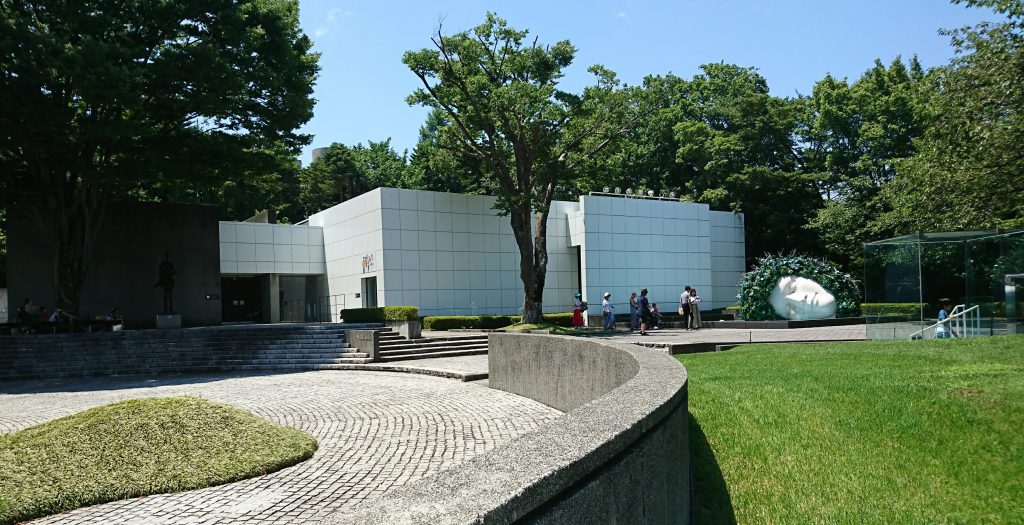 Hakone Open-Air Museum is located near Chokoku-no-mori Station next to Gora Station. This sculpture art museum is an open-air museum that offers the opportunity for visitors to appreciate sculptures in nature. About 120 items of contemporary sculptor masterpieces are displayed in the large green gardens where you can see the mountains of Hakone, and you can enjoy the works while walking around nature.
There are a lot of sculptures like these photos in the grass.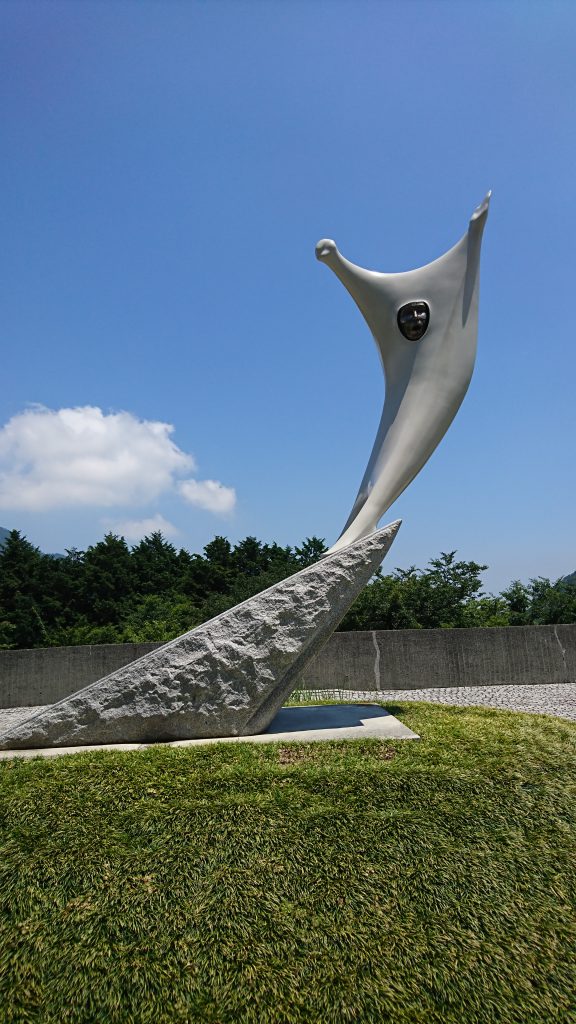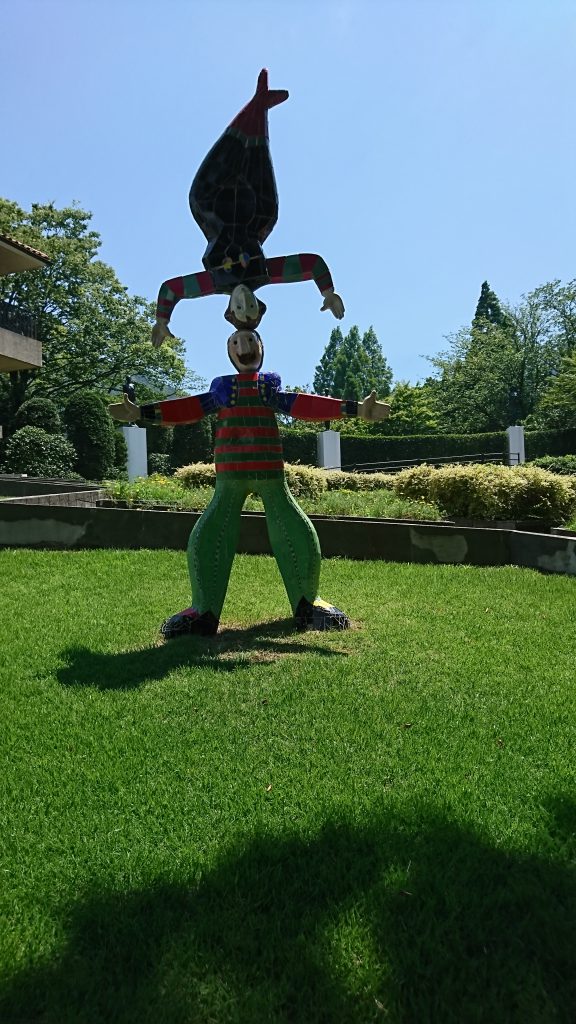 The garden is very large. There are many greens. Visiting people walked and looked at works and was taking pictures. In summer, it is very hot and the sunshine is strong, you'd better have a UV umbrella or sunscreen. I used the UV umbrella.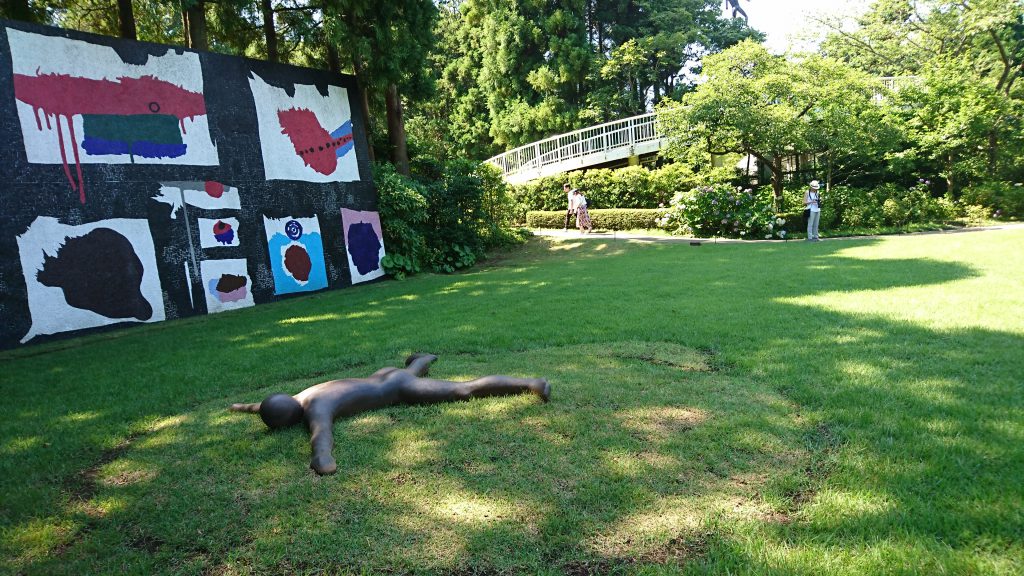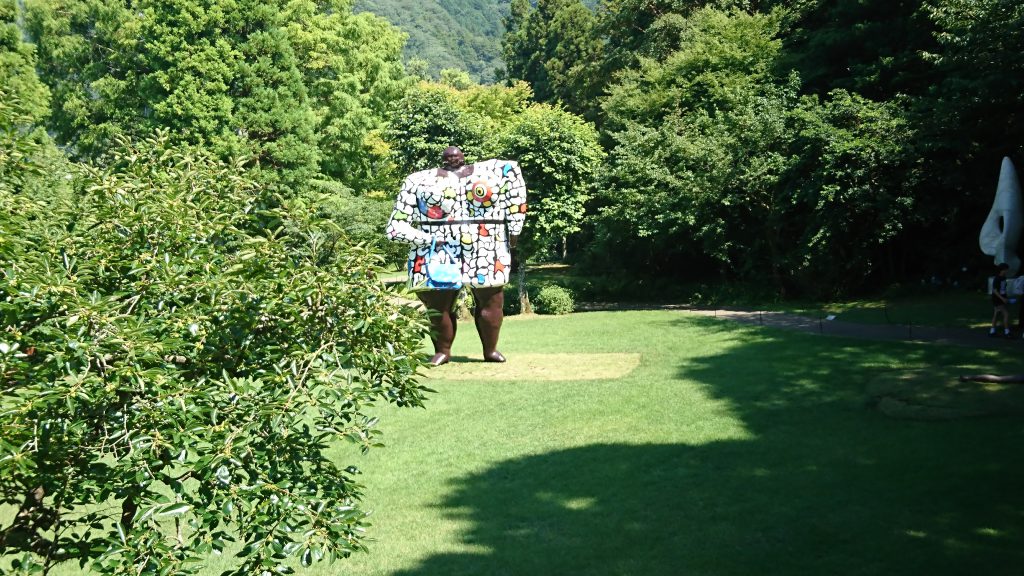 There are a few buildings that works are displayed in. Picasso pavilion is one of the popular spots in that museum. More than 300 Picasso pieces in the world-class collection are displayed in the building.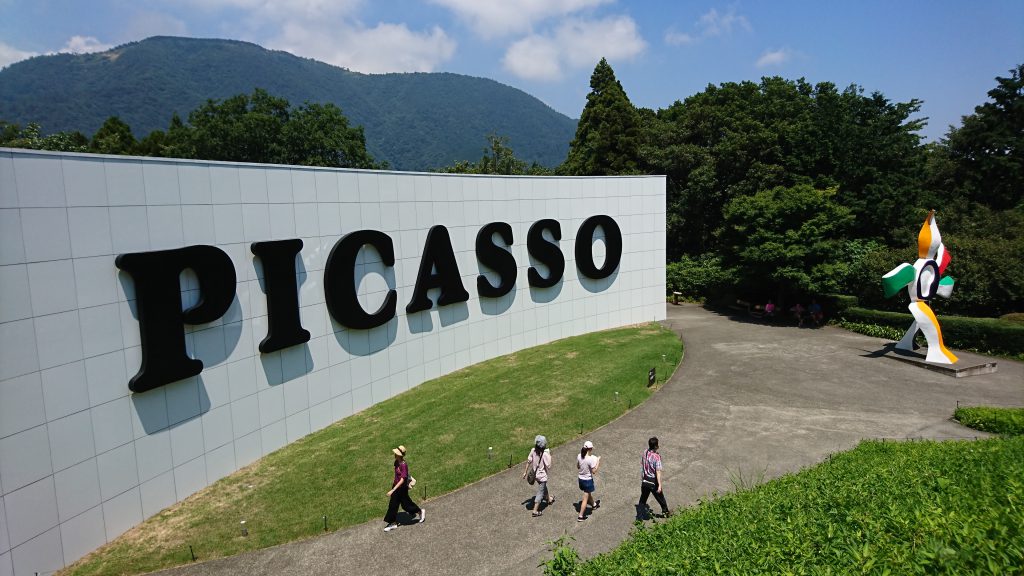 Picasso's works were difficult for me…
This is a tower named Symphonic Sculpture. You can enter the tower. Inside of the tower is covered with stained glass. It was very beautiful. You can see the mountains of Hakone from the roof of the tower. And there is a foot spa near the tower.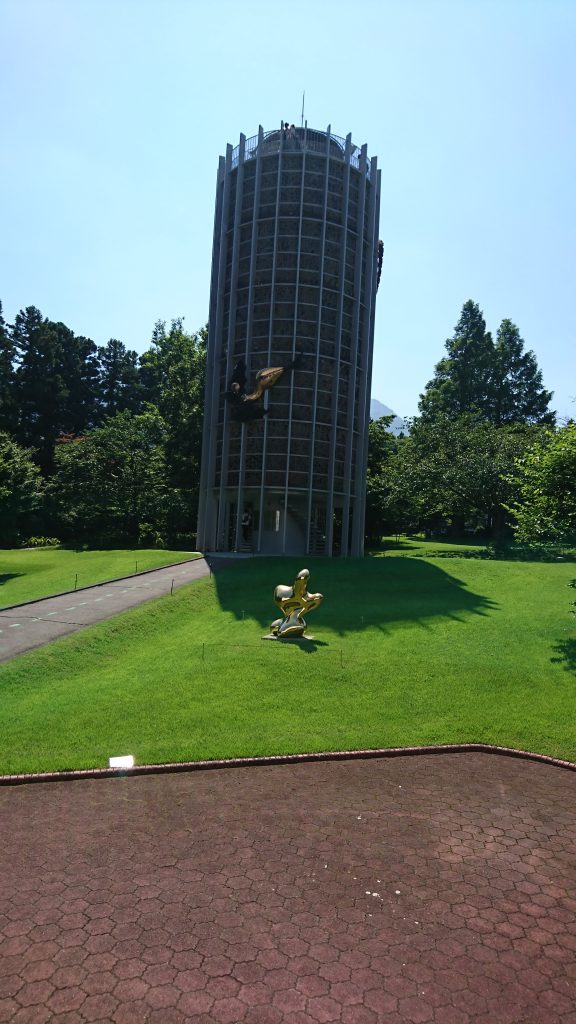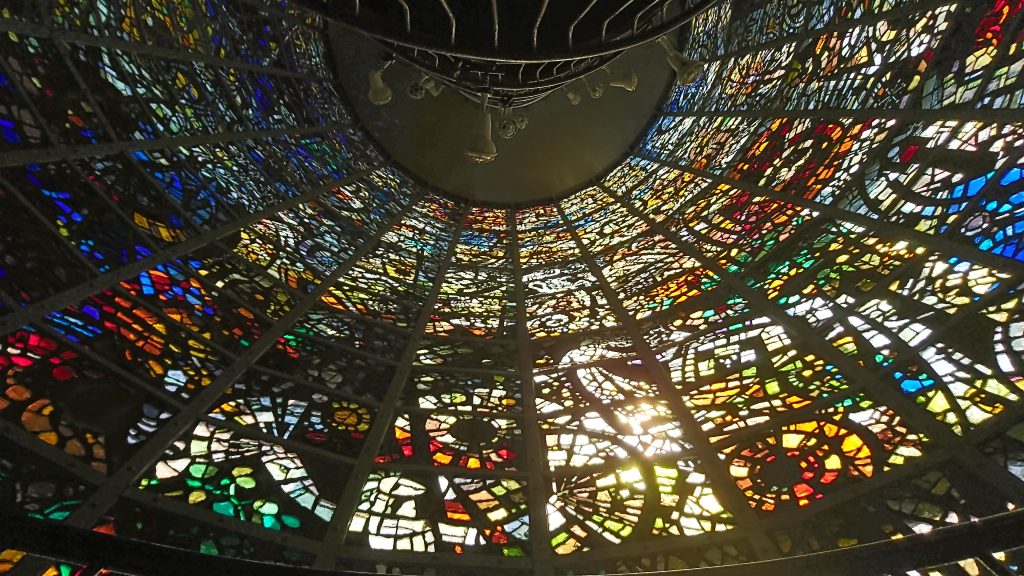 Children also can enjoy this museum. There are a few spots for children. This photo is  "Woods of Net". That is an artwork that children can enter and play. There is a huge hammock inside of the wooden dome.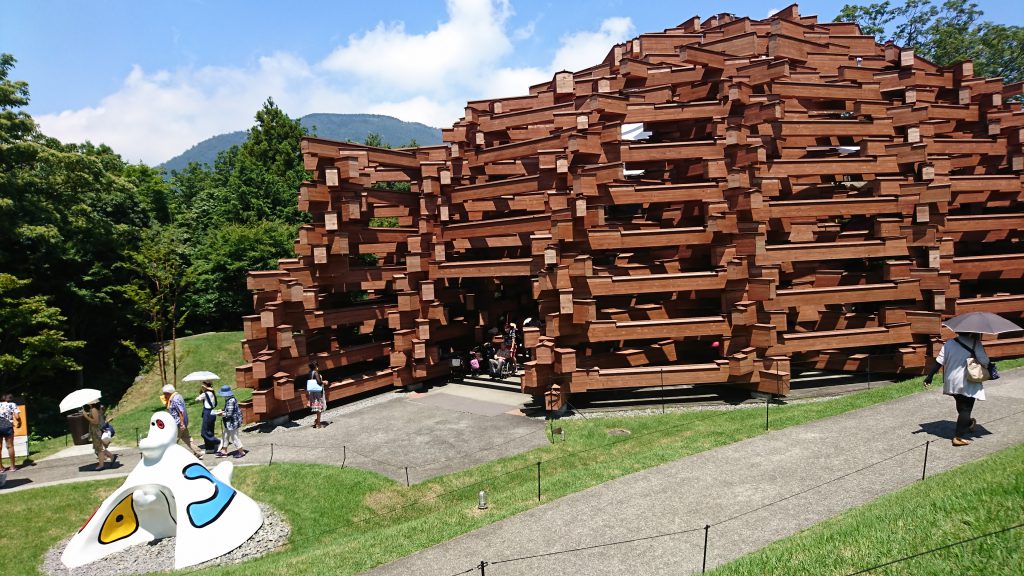 I have been to Hakone Open-Air Museum after so long, it was so great. It was interesting that many sculptures were displayed in a large garden, and I also enjoyed nature. There were a lot of amazing works. I think that is one of the rare museums that children are able to enjoy. I understood why the Hakone Open-Air Museum is popular for travelers from overseas.
【location】
1121 Ninohira, Hakone-Machi, Ashigarashimo-gun, Kanagawa Prefecture
【access】
2 minutes on foot from Chokoku-no-Mori Station
【open】
9:00~17:00

【admission fee】

Adult : 1600 yen /University & high school student : 1200 yen / Junior high school & elementary school student : 800 yen

※Group fee is discounted

【website】

http://www.hakone-oam.or.jp/
After visiting Hakone Open-Air Museum, I got home. This time I traveled around Gora only, but there are many sightseeing spots in Hakone. Please try to go to many places in Hakone.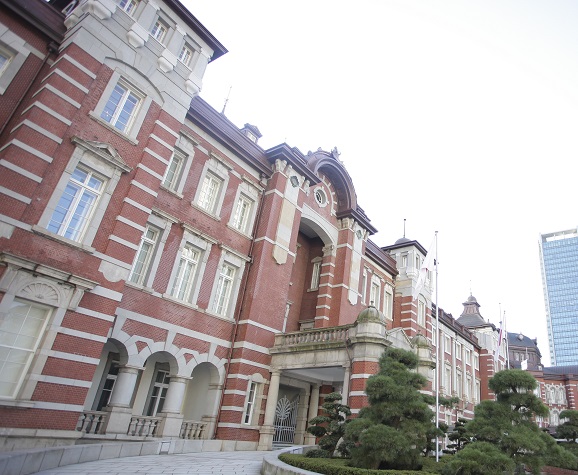 Japanese OL. (OL means "office lady". Women who work in offices.)
I was born in a rural part of the Kanto area in the latter half of the 1980s. I  live and work in Tokyo now. I live with my husband. I study English by writing this blog!