The way Japanese people view religion and my Hatsumode to Meiji Shrine
Do you know "初詣 (Hatsumode)"? What is a view of religion in Japan like? Today I talk about my Hatsumode to Meiji Shrine and the way Japanese people view religion.
What is "Hatsumode"?
Happy New year!
In Japan, the beginning of the year is called "Oshogatsu(お正月)". In Oshogatsu, Japanese people visit shrines and temples to make wishes, such as their health, good luck, business success, studies achievement, of this year. This is called "Hatsumode(初詣)". Most Japanese people who are not usually religious visit shrines or temples and do a wish of a year as a seasonal event. They draw Omikuji(=a Japanese fortune slip) and buy charms. Sometimes we ask priests to pray. This is a custom rather than a religious event for many Japanese people. It may be mysterious for non-Japanese.
What is a view of religion in Japan like?
Buddhism and Shintoism are some parts of our daily lives, but few Japanese people know the fine teachings of them and pray to gods usually. Also, many Japanese people say, "I don't have a specific religion." The seasonal events, such as Hatsumode and Obon, and ceremonial occasions such as weddings and funeral are not religious ones for Japanese to the last. They have been already customs. And because the distinction between Buddhism and Shinto has historically ambiguous parts, some Japanese people even assume they are almost the same.
What is Shinto?
Buddhism may be world-famous, but Shinto maybe not so. Shinto is an ethnologic religion continued since ancient times in Japan that has no concrete teachings and is polytheism that integrates nature with God. This idea that a lot of gods exist is familiar to Japanese people. I think somehow Japanese people believe many gods in their hearts after all. So, as a Japanese proverb of "Man turns to gods only in trouble" shows, we often pray desperately to gods when we get into a hopeless situation although we are usually not conscious of the existence of gods. And, in Japan, it is not strange that many people held wedding ceremonies in Christian style, and also celebrate Christmas. Religion is for occasional ceremonies to the last for Japanese and many Japanese people are not religious, but perhaps many gods would exist deep down in their minds.
My Hatsumode
I try to go Hatsumode every year if I have time. Sometimes it is said that it is good to go by the 3rd, but as many people visit shrines or temples for 3 days and the popular ones are very crowded, so I often go there in January. By the way, in my case, other than that, I also go to temples or shrines only at ceremonial events and at sightseeing. I think that there are many Japanese like me.
There are many shrines in Japan, but the most crowded temples and shrines that more than 3 million people visit in New Year are Meiji Shrine, Naritasan Shinshoji Temple, Kawasaki Daishi Heikenji Temple. I sometimes visit a small local shrine, but following last year I went to the most crowded Meiji Shrine this year.
What is Meiji Shrine?
Meiji Shrine is a shrine that was built 100 years ago and Emperor Meiji and Empress Shoken are enshrined. It may be strange from foreign people, but it is also the customs of the Japanese to worship the deceased person as a god. Meiji Shrine is very large and has many trees and a field where children can play. This picture seems as if they are in the forest.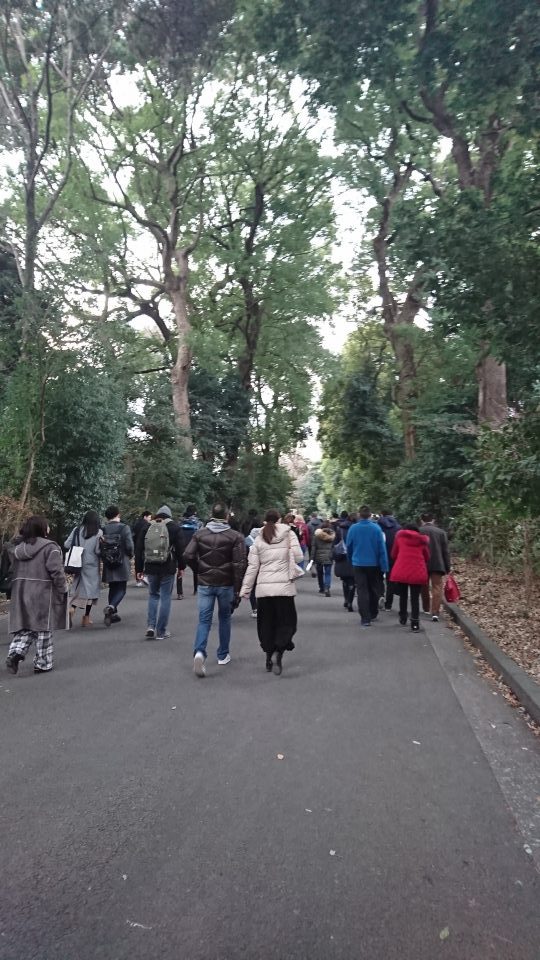 Meiji Shrine is very close to Harajuku station. There is also Yoyogi Park in the side, which makes the citizens relaxing.
website : http://meijijingu.or.jp/english/index.html
※ Opening hours change every month. Please Check the website.
Hatsumode in Meiji Shrine
I avoided the most crowded 3 days this time, and it was not as crowded as I thought. I felt it had been more crowded last year than this year although I visited about this time last year.
The entrance was a little crowded.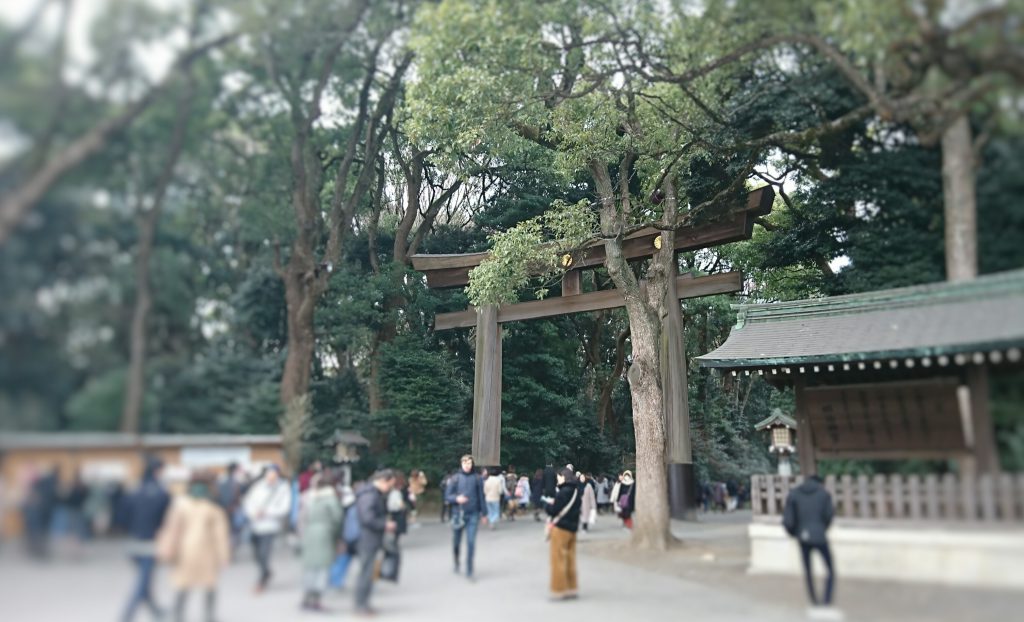 Many people were near the main hall. When it is very crowded in New Year, many people line up to pray, and it takes time to go to the front of the main hall. But this time I could pray without waiting.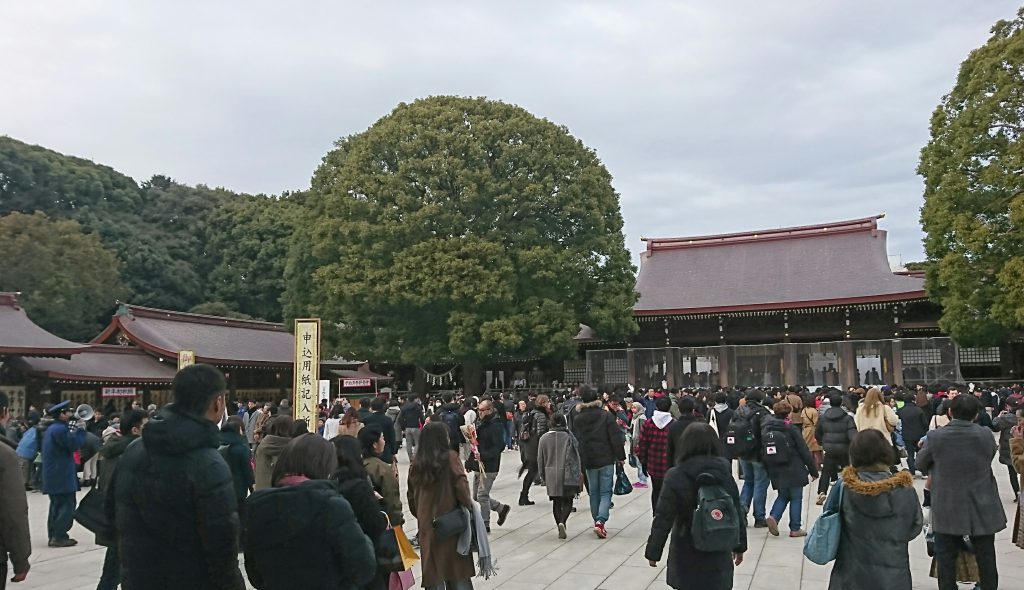 How to pray
①Purify your hands and mouth in chozuya.
②Give a small offering.
③Ring the bell.
④Two bows, two claps, and one bow.
I also recommend purchasing a charm, though I didn't buy it this time. Japanese people like charms and I often buy it at various temples and shrines, too.
Here are also posts about Japanese customs!
About Obon

About Wedding

About Christmas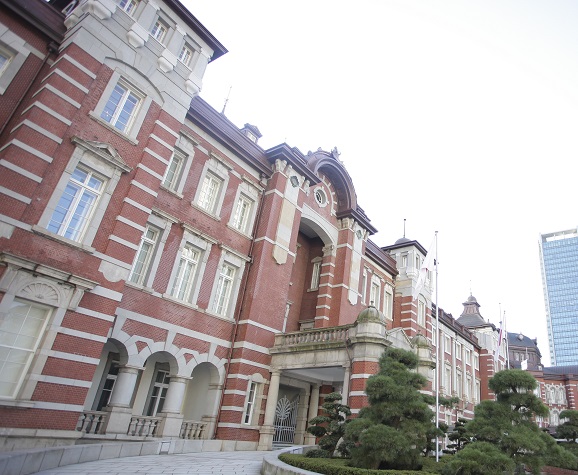 Japanese OL. (OL means "office lady". Women who work in offices.)
I was born in a rural part of the Kanto area in the latter half of the 1980s. I  live and work in Tokyo now. I live with my husband. I study English by writing this blog!