Karuizawa must-see spots① ~Kyukaruizawa area~
With the declaration of a state of emergency ending and economic activity resuming, the number of cases of the new coronavirus in Japan is once again on the rise. It is very difficult to balance infectious disease control and economic activity. Although a "Go to Travel" campaign is underway in Japan to encourage domestic travel in order to protect the tourism industry, there is concern that the infection may spread by the movement of people from urban areas to rural areas where the number of infected people is high.
This campaign is not open to residents of Tokyo, and I don't plan to go away for my summer vacation this year.
So this summer, I would like to introduce you to Karuizawa(軽井沢), the summer resort we visited last year and reminisce about last summer's trip and look forward to the day when we can travel again.
What is Karuizawa(軽井沢)?
Karuizawa is one of Japan's leading summer resort areas in Nagano Prefecture. It is located a little over an hour from Tokyo Station on the Hokuriku Shinkansen and is very close to Tokyo. It is a refreshing town surrounded by mountains and greenery. It has developed as a summer resort for foreigners since the Meiji era.
There are mountains, trees, waterfalls, and lakes, as well as cafes, restaurants, resort hotels, shopping malls, golf courses and tennis courts in Karuizawa.
In this post, I will introduce the Kyukaruizawa(旧軽井沢) area.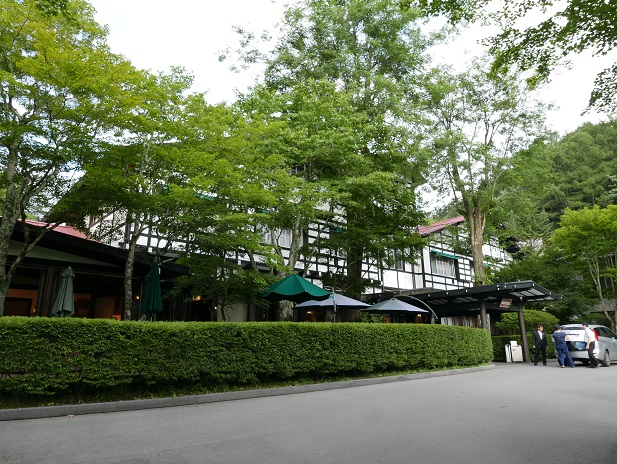 Kyukaruizawa area
The Kyukaruizawa area is the main area of Karuizawa and is home to many villas, historical buildings, and famous shops. The area has a lot of greenery and is very refreshing in summer, much cooler than Tokyo. It is a tourist area with a variety of fashionable spots, and many people visit.
There is also a bus from Karuizawa station to the Kyukaruizawa area, but this time I walked from the north exit to Kyukaruizawa. Walk straight down the main street in front of the station (Honkaruizawa Dori Street) for about 30 minutes, then you will see Mikasa Dori Street on your left and Karuizawa Ginza on your right. Renting a bicycle is also recommended.
Recommended shops and Sightseeing spots
Recommended shops
The following are the shops we visited on Karuizawa-Hondori Street and Karuizawa Ginza(軽井沢銀座), which is a shopping street.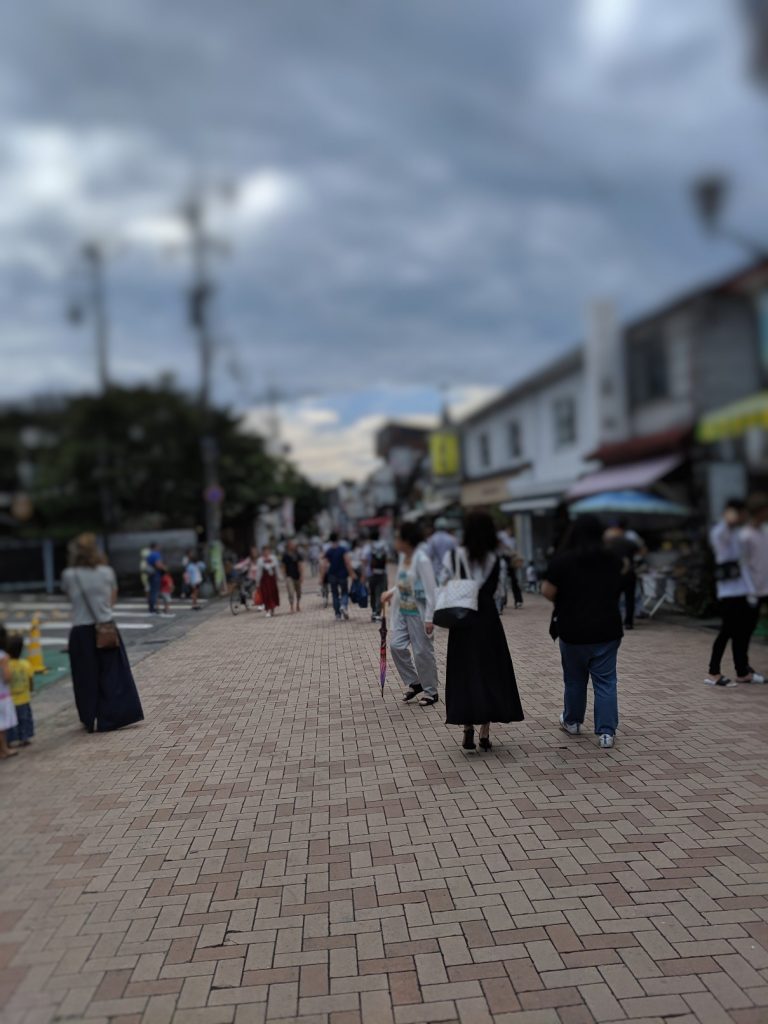 Atelier de Fromage
I stopped by the Karuizawa cheese maturation shop and store at Atelier de Fromage, one of the most famous cheese shops in Japan, to buy some cheese and visit the maturation shop on the second floor. The shop is not that big, but the first floor is the store, and if you take the stairs up to the second floor, you'll be surprised to see a cheese ripening room with large cheeses lying on the floor.
I heard that they are famous for their blue cheese, so I bought some and tried it. I don't like the unique taste of blue cheese, but it was refreshing and mild, and I enjoyed it.
【Atelier de Fromage】
Address ⇒ Karuizawa shop and Cheese cellar: 18-9, Higashi, Karuizawa City, Kitasakugun, Nagano, 0104-389
English pamphlet ⇒ https://www.a-fromage.co.jp/wp-content/themes/a-fromage-blue/file/brochure2014.pdf
Suju Masayuki shoten(酢重正之商店)
This shop deals in Japanese seasonings such as soy sauce, vinegar, and miso. It is located in front of Karuizawa Ginza. It's a little expensive, but they have a lot of seasonings that are good for you and your body, and you can try them out in the store. I bought lemon pepper and walnut miso.
【Suju Msayuki shoten】
Address ⇒ 1-6 Karuizawa Kitasakugun Karuizawa-machi Nagano
chozumeya(腸詰屋)
This is a famous sausage shop that operates around Karuizawa. Chozumeya has some shops in Karuizawa. At the store, you can eat sausages and ham or sausages cooked on the spot. I bought sausages and had a sausage sandwich at the shop in Karuizawa-Hondori Street.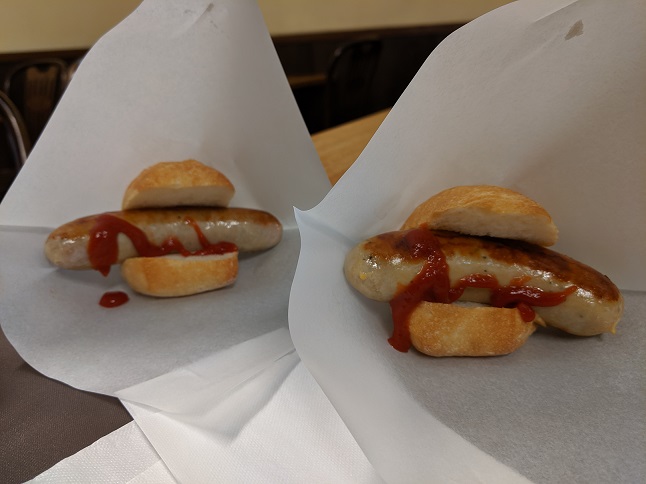 【chozumeya】
Address ⇒ Karuizawa Messe store: 1-3 Karuizawa, Karuizawa Town, Kitasaku-gun, Nagano Prefecture
Karuizawa Kitchen
Karuizawa Kitchen is a shop at the entrance of Karuizawa Ginza, selling curry bread. I heard the curry wrapped in was a popular menu item at the famous former Mikasa Hotel, which was open until 1970. I bought it and tried it. It was a little bit oily, but I don't remember much how it tasted.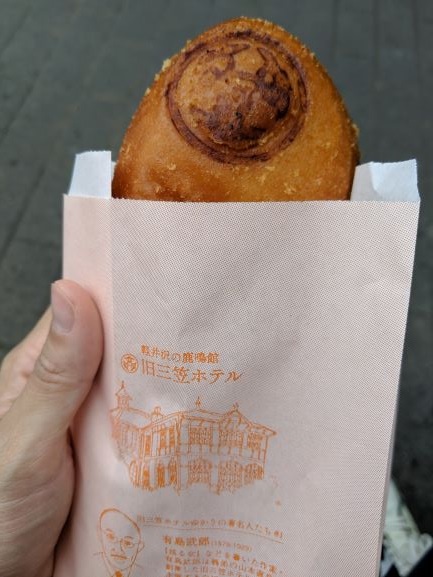 【Karuizawa Kitchen】
Address ⇒ 12-20 Karuizawa, Karuizawa Town, Kitasaku-gun, Nagano Prefecture
Mikado Coffee(ミカド珈琲)
Mikado Coffee is a famous cafe, which was opened in 1948 in Tokyo and opened in 1952 in Karuizawa. It is now the most popular cafe in Karuizawa. It is famous for its coffee-flavored soft ice cream called Mocha Soft.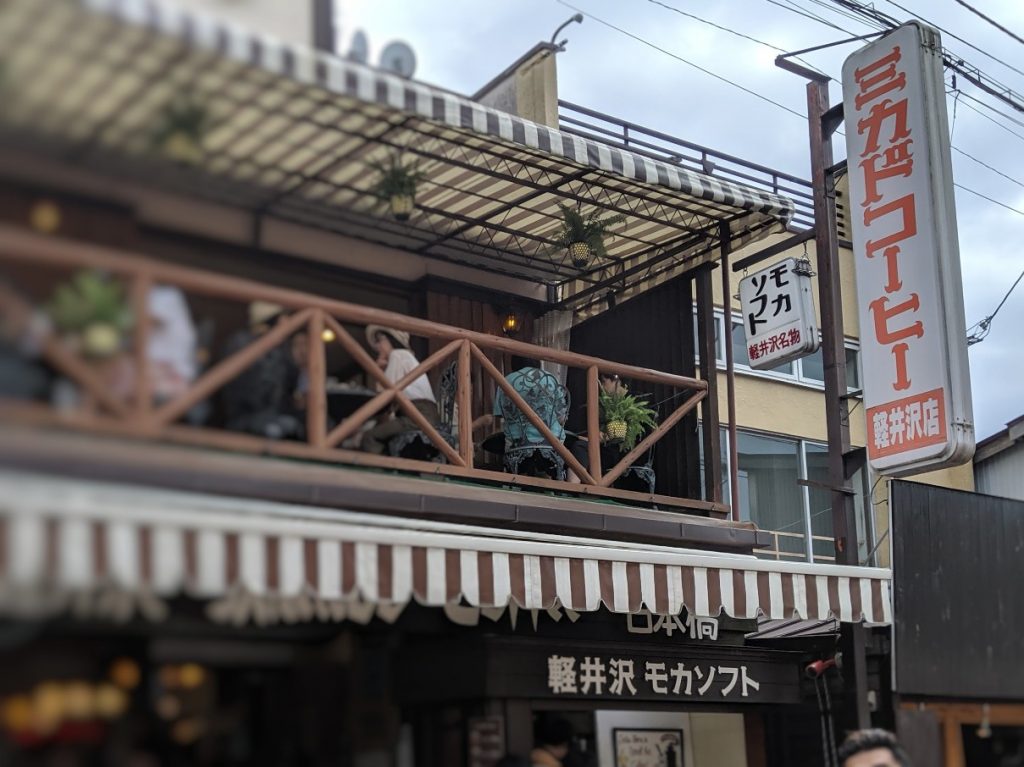 I visited the Mikado Coffee cafe located at Karuizawa-Ginza. The first floor is a shop selling coffee beans, etc., and the second floor is a cafe. I had a Mocha Soft and coffee. The blended coffee, "Kyukarudori" is a long seller coffee of Mikado Coffee. I got it by the beans.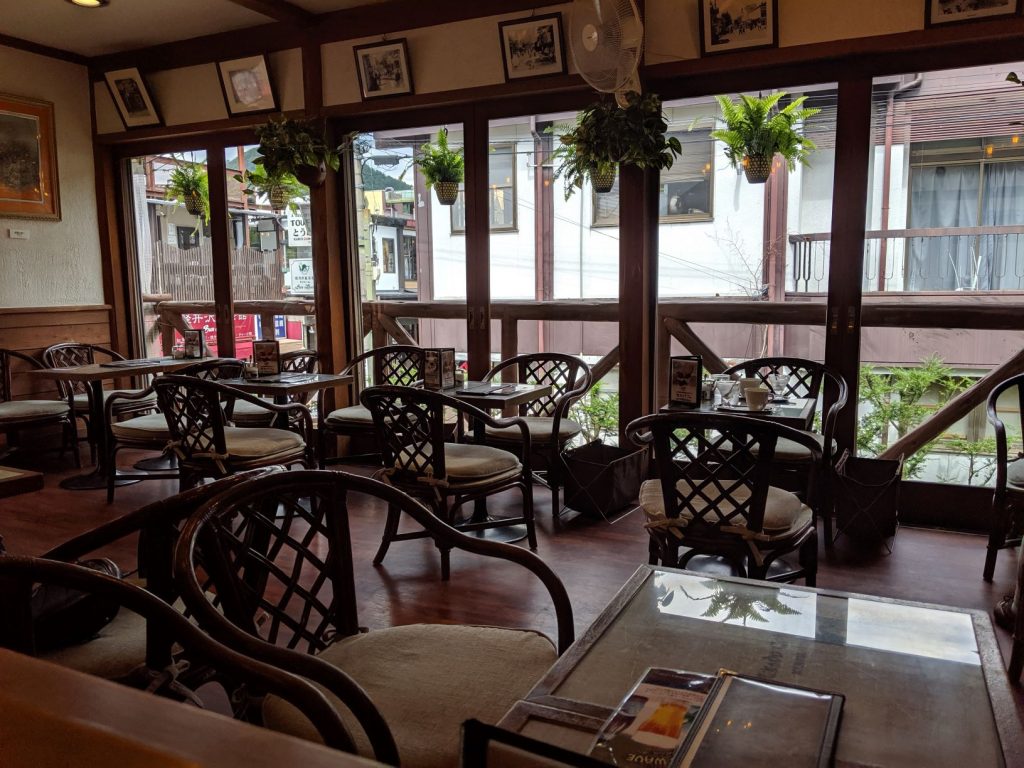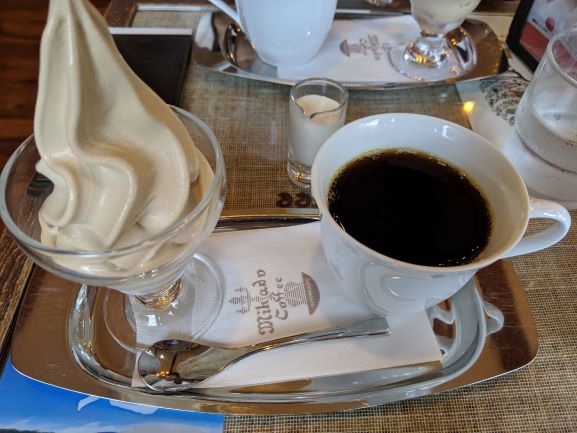 【Mikado Coffee】
Address ⇒ Karuizawa Kyudo shop: 786-2 Karuizawa, Karuizawa Town, Kitasaku-gun, Nagano Prefecture
Two Famous bakery shops in Karuizawa Ginza
There are two famous bakeries opposite each other on the street.
The green French Bakery was a place where John Lennon used to go and is famous for its French bread. It was a rustic and unpretentious shop, with handwritten pop-ups.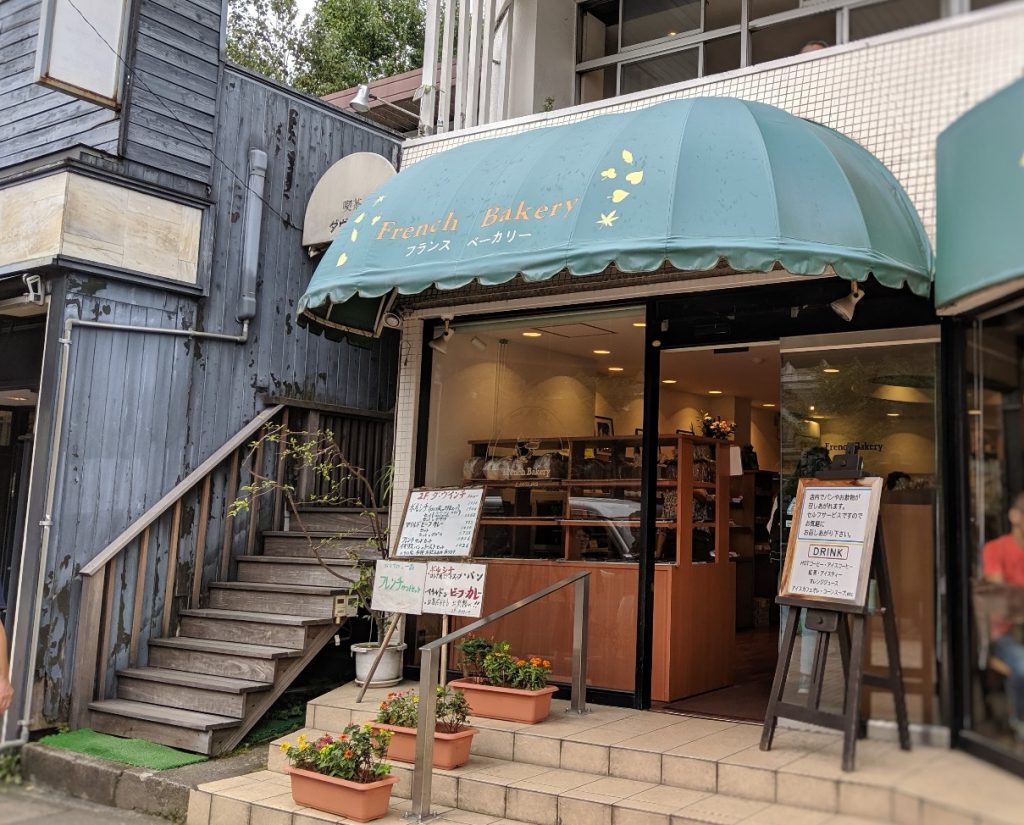 【French Bakery】
Address ⇒ Karuizawa618 Kitasaku-gun karuizawamachi, NAGANO
The shop with the markable red roof is Boulangerie Asanoya(浅野屋). The store has a wide variety of bread and a large eat-in area. Asanoya is famous for its hard bread such as "fruit rye". This has several shops in Tokyo, including one in Tokyo Station.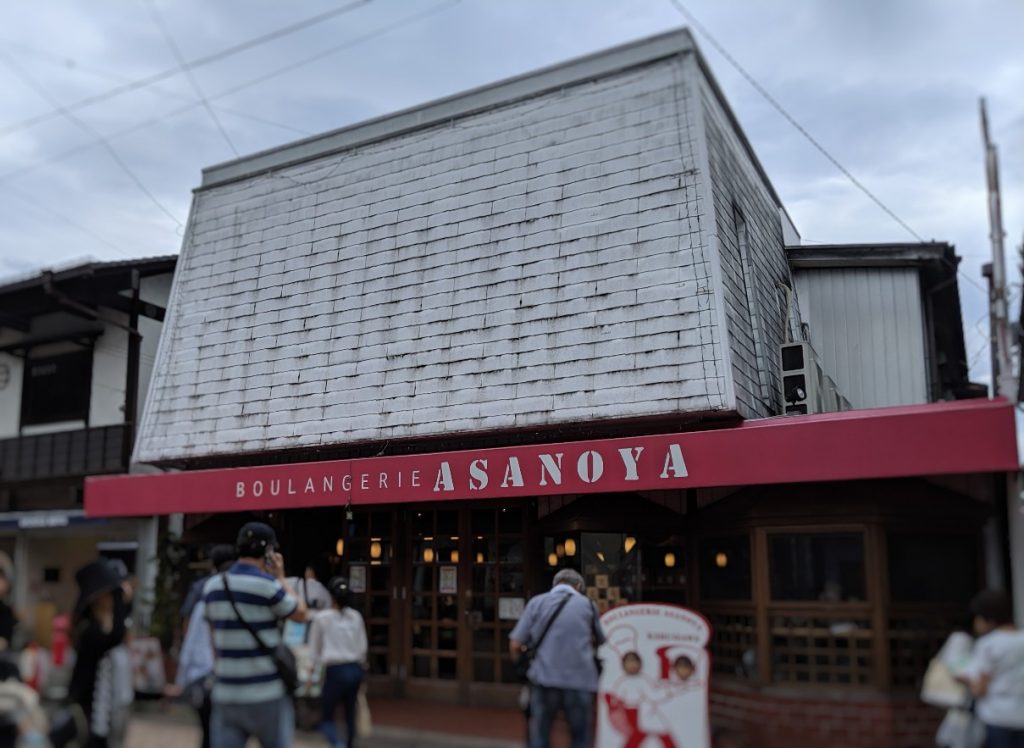 【Boulangerie Asanoya】
Address ⇒ 738, Karuizawa, Karuizawa, Kitasaku-gun, Nagano Prefecture
Sight seeing spots
The following is a summary of the sightseeing spots I visited in the Kyukaruizawa area. I cycled to the former Mikasa Hotel and Kumobaike Pond(雲場池), which are located a little far from Karuizawa Ginza.
Shaw Memorial Church
The Shaw Memorial Church stands quietly among the trees past the shopping district of Karuizawa Ginza. Anyone can pray in the chapel. It was a small and quiet chapel. It is a typical church in the forest in Karuizawa.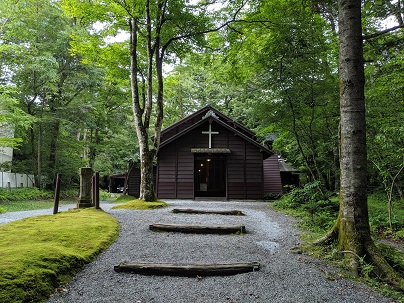 In the back of the chapel, there is the Shaw House Memorial Museum. This is the first villa built by the missionary Alexander Croft Shaw in Karuizawa at the end of the 19th century. There were no other tourists, so I was able to take a good look at the house.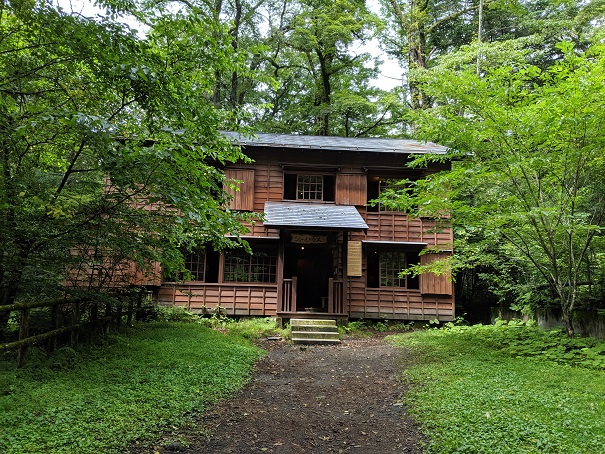 【Shaw Memorial Church】
Address ⇒ 57-1 Karuizawa, Karuizawa, Kitasaku-gun, Nagano Prefecture
Karuizawa St. Paul's Catholic Church
On the way to Karuizawa Ginza, there is a shopping mall called Church Street Karuizawa. When you enter the mall and go straight through the mall, you will find Karuizawa St. Paul's Catholic Church. The triangular roof of this church is very pretty. The designer who built this church is Antonin Raymond, a famous American architect who had an influence on Japan. The structure inside is mainly wood, and you can see the distinctive way the roof is constructed of wood.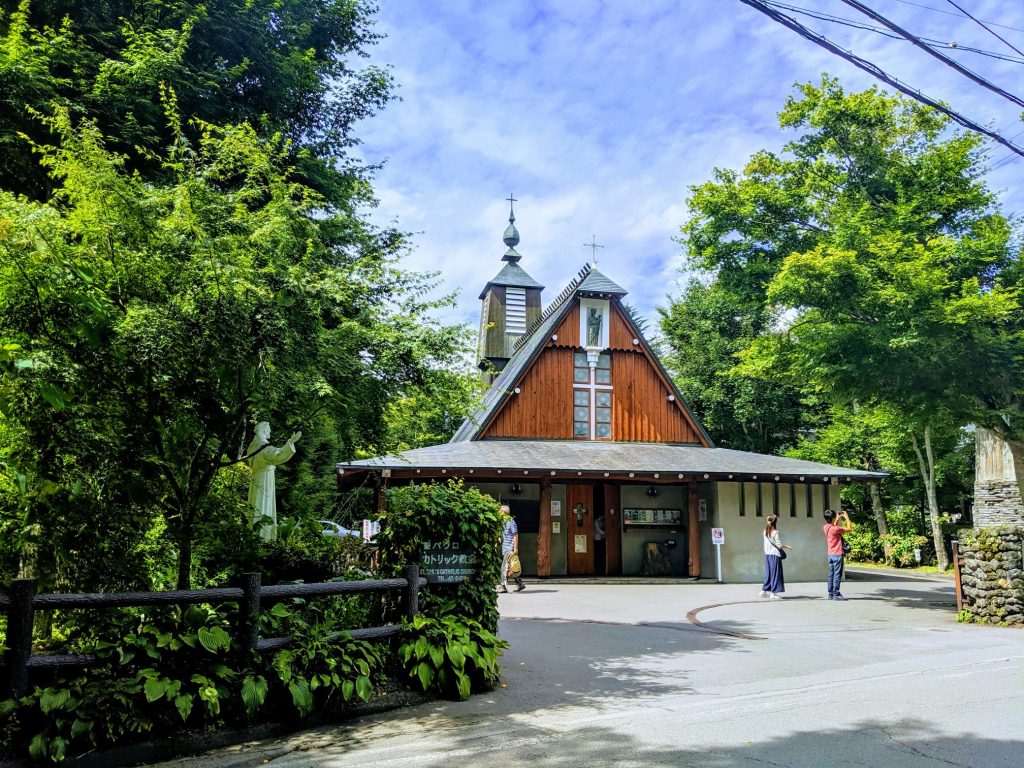 【Karuizawa St. Paul's Catholic Church】
Address ⇒ 179 Karuizawa, Karuizawa Town, Kitasaku-gun, Nagano Prefecture
Karuizawa-kai Tennis Court
As you pass from Karuizawa Ginza to Tennis Court Street, you will see the Karuizawa Kai Tennis Court, the membership-only tennis court where the Emperor Emeritus and the Empress Emeritus met.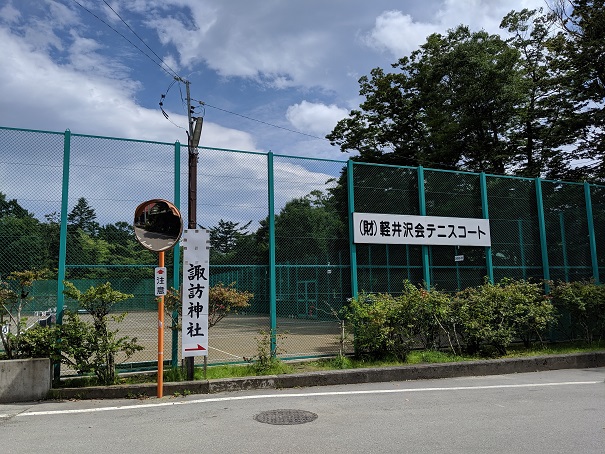 Mikasa-Dori Street(三笠通り)
Mikas-Dori Street is on the left side of the three-way intersection at the end of Karuizawa-Hondori Street. There are many trees and villas on both sides of the street. The street like the photo continues.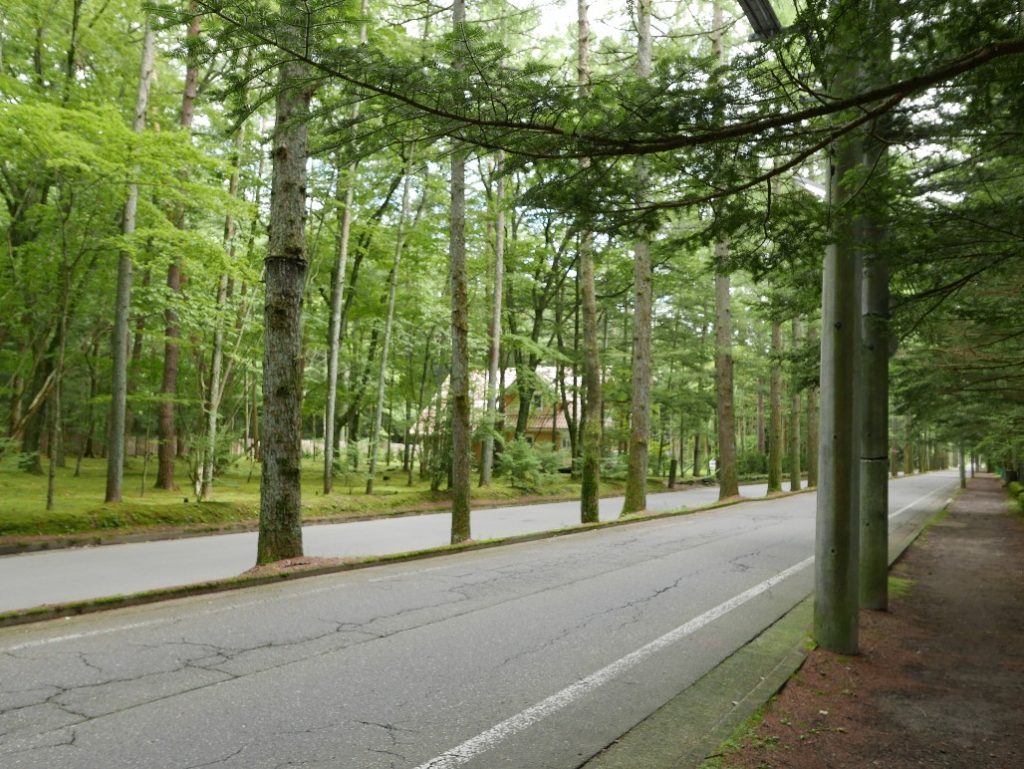 There are no shops and only greenery and villas are in the area, which is typical of Karuizawa. Each villa is quite large. The former Mikasa Hotel is about 2km away, which is a good distance by bicycle. The greenery soothed me and made me feel refreshed!
Mikasa Hotel(三笠ホテル)
This wooden Western-style hotel was opened in the late Meiji era and lasted until 1970. You can take a tour of the building, which has been preserved in its original state. Many celebrities have loved this hotel. The hotel is said to have been the model for the Ghibli movie "Kaze Tachinu".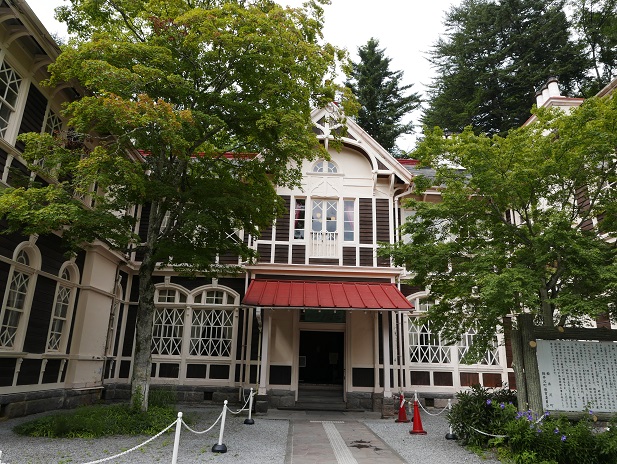 Now, the hotel is closed for a long period of time due to large-scale conservation and repair work. It seems to be closed until March 2024. It's a pity that I can't visit for a while.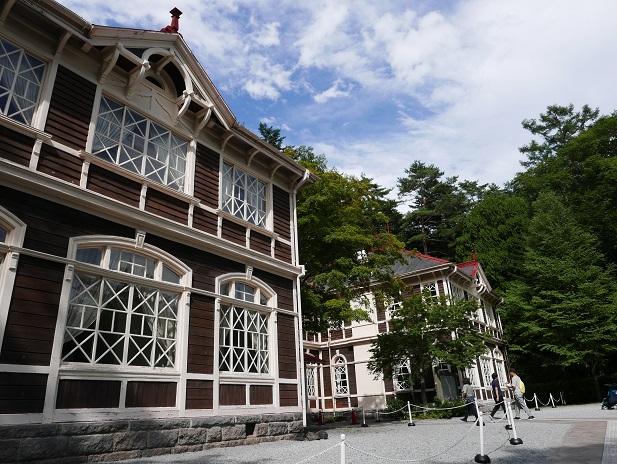 Since the hotel is not so large, you can visit it in about an hour. The interior is old and the wooden floor is creaky when you walk around, but the whole building has been well preserved. The lounge and guest rooms are still intact, and the tables and beds remind you of the atmosphere of those days.
The classic interior is probably the most advanced and elaborate of its time. I was particularly impressed by the windows. As you can see from the outside, the windows in each room had white wooden frames and had a strong presence.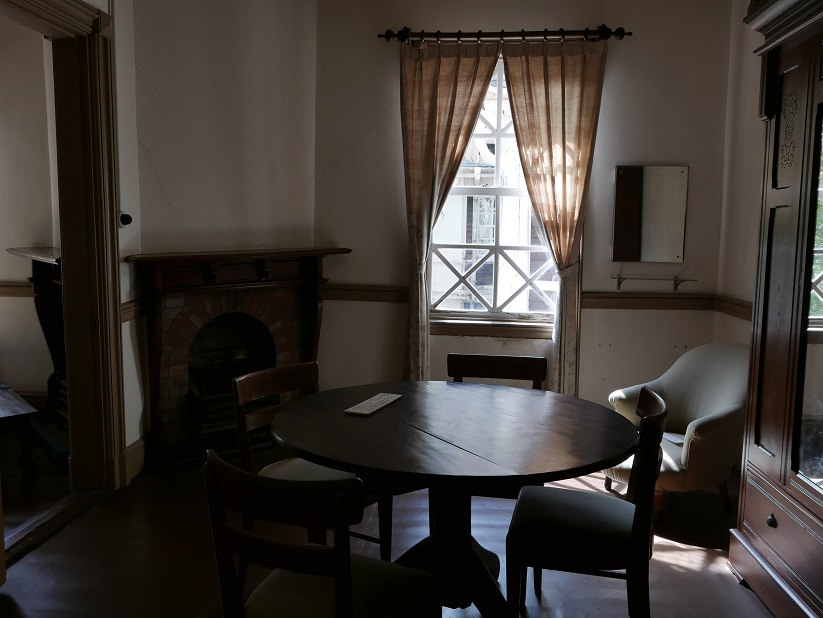 【Mikasa Hotel】
Address ⇒ 1339-342 Karuizawa town, Kitasakugun, Nagano Prefecture
Kumoba-ike Pond(雲場池)
I arrived at Kumoba-ike Pond after a pleasant bike ride through the forest. This is a beautiful pond also called Swan Lake. It's 1.6 km northwest of Karuizawa station, about a 25-minute walk. The blue leaves reflect on the water's surface and are beautiful. The water is clear. It takes about only 30 minutes to walk around the pond, so you can easily walk around it. The boardwalk is surrounded by trees and you can feel the negative ions. There are some tourists, but I think it's a quiet place.
【Kumobaike Pond】
Address ⇒ Roppontsuji, Karuizawa Town, Kitasaku District, Nagano Prefecture
The summary of Kyukaruizawa area
Kyukaruizawa is a natural-rich and historical town. You can feel the history of Modernization and Westernization in Japan from old buildings or foods and drinks. Many of the tourist attractions in Kyukaruizawa are easy to get around by bicycle. It is cooler than Tokyo, so summer is the best season to Visit Karuizawa.
And, there is also a very famous and historical hotel, "Manpei hotel"(万平ホテル) in Kyukaruizawa. Next time, I introduce my stay at Manpei hotel! I like this classic hotel!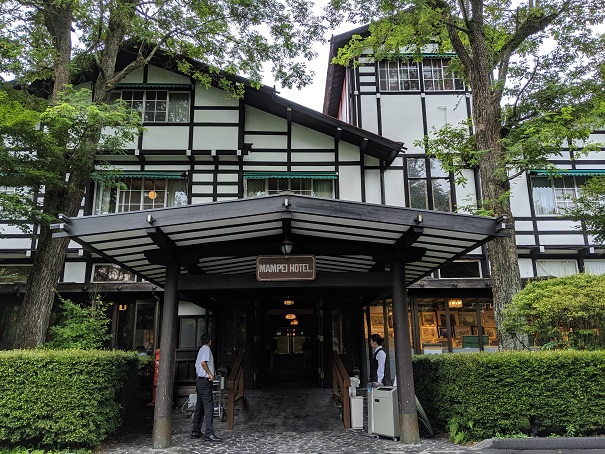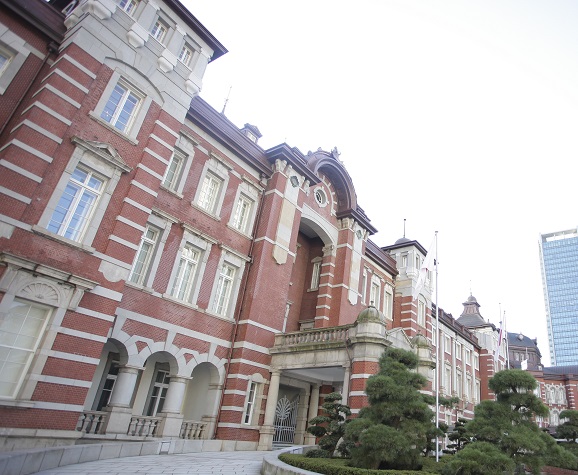 Japanese OL. (OL means "office lady". Women who work in offices.)
I was born in a rural part of the Kanto area in the latter half of the 1980s. I  live and work in Tokyo now. I live with my husband. I study English by writing this blog!