Karuizawa must-see spots②~Hoshino area~
"Go to Travel" campaign is underway in Japan to encourage domestic travel in order to protect the tourism industry. This campaign is finally open to residents of Tokyo from October. Many people go to travel nationwide with measures against COVID-19.
I hear many people visit karuizawa, too. Karuizawa is a nice town to visit, and I'd like to get many people to know Karuizawa. I introduce my trip to Karuizawa last summer.
The posts about Kyukaruizawa area and Manpei Hotel are here↓.
Today I'd like to talk about the places we visited on the second and third days of my trip to Karuizawa last summer.
I took a bus from the old Karuizawa area to the Shiraito Falls, then headed to the Hoshino area to visit Harunire Terrace and Karuizawa Kogen Church, and the next day we went shopping at Karuizawa Prince Shopping Plaza in front of the station before returning home.
The candle night at Karuizawa Kogen Church was wonderful! It is held every summer (August) and winter (Christmas). It was a very nice atmosphere.
Recommended Sightseeing spots
※ Click and you can jump to each spot↑
Shiraito Falls (白糸の滝)
Shiraito Falls is a small waterfall that is full of negative ions, located about 25 minutes from Karuizawa Station by bus. It is located near Gunma Prefecture. The falls is located near the bus stop and a short walk along the boardwalk. The falls are not so high, but it is wide and extends to the side. It was like a curtain of water.
Unfortunately, it was raining that day, but there were many people visiting. It's not far from the station, and it's a good place to walk around in summer to cool off.
Shiraito Falls
【Location】Nagakura, Karuizawa-cho, Kitasaku-gun, Nagano
【Access】25 minutes by bus from Karuizawa Station
Hoshino area (星野エリア)
I took a bus from Shiraito Falls to the Hoshino area.
The official website of Hoshino area is here↓
https://www.hoshino-area.jp/en
Harunire Terrace
Now, we have arrived at the bus stop of "Hoshino Onsen Tombo-no Yu". Harunire Terrace is just around the bus stop. It's a stylish commercial facility for adults. Surrounded the lush greenery of Japanese elm trees, modern black wooden shops line the brown wooden decks.
The shops consist of some popular restaurants including Kawakami-an, a buckwheat noodle shop, and Sawamura bakery, and souvenir shops and stylish general stores. It was crowded with many people on this day, too.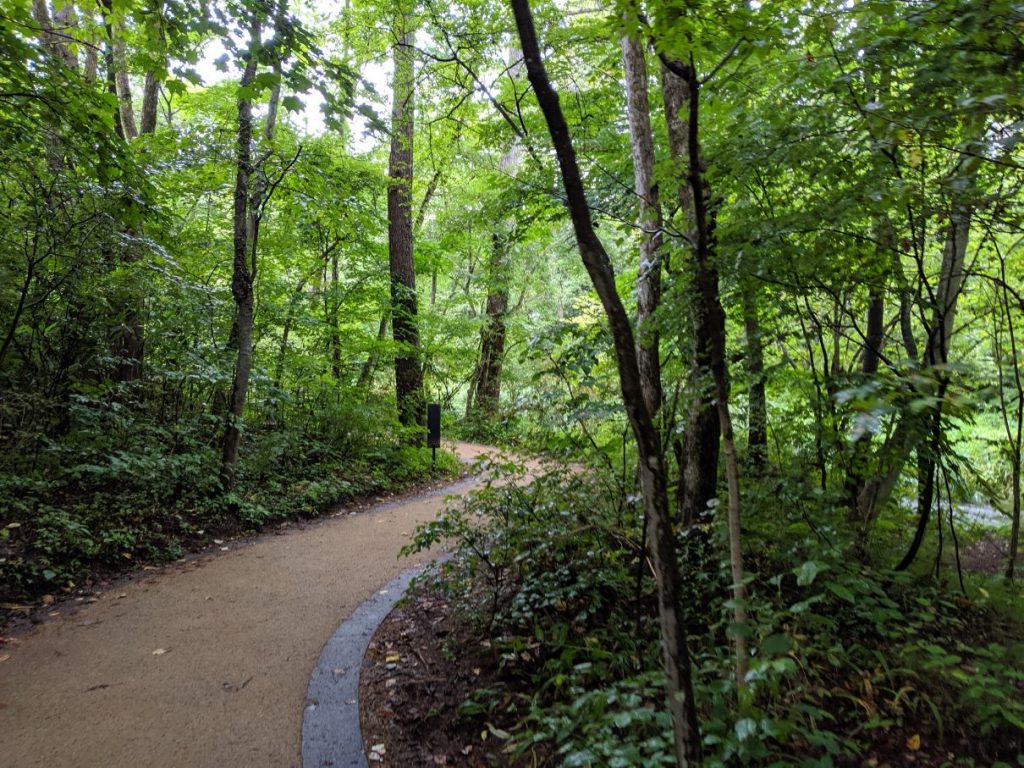 There is also a promenade to stroll through the Yugawa River that flows beside it, and in the back of the terrace, there is Hoshinoya Karuizawa and Hoshino Onsen Tombo's Hot Spring. You can have a short stroll.
Maruyama Coffee
It was cold and I got wet with the rain when I arrived at Harunire Terrace, so I took shelter at Maruyama Coffee. It's a stylish cafe. I had coffee and cheesecake. It was cold, so it was nice to be able to drink something warm to drink!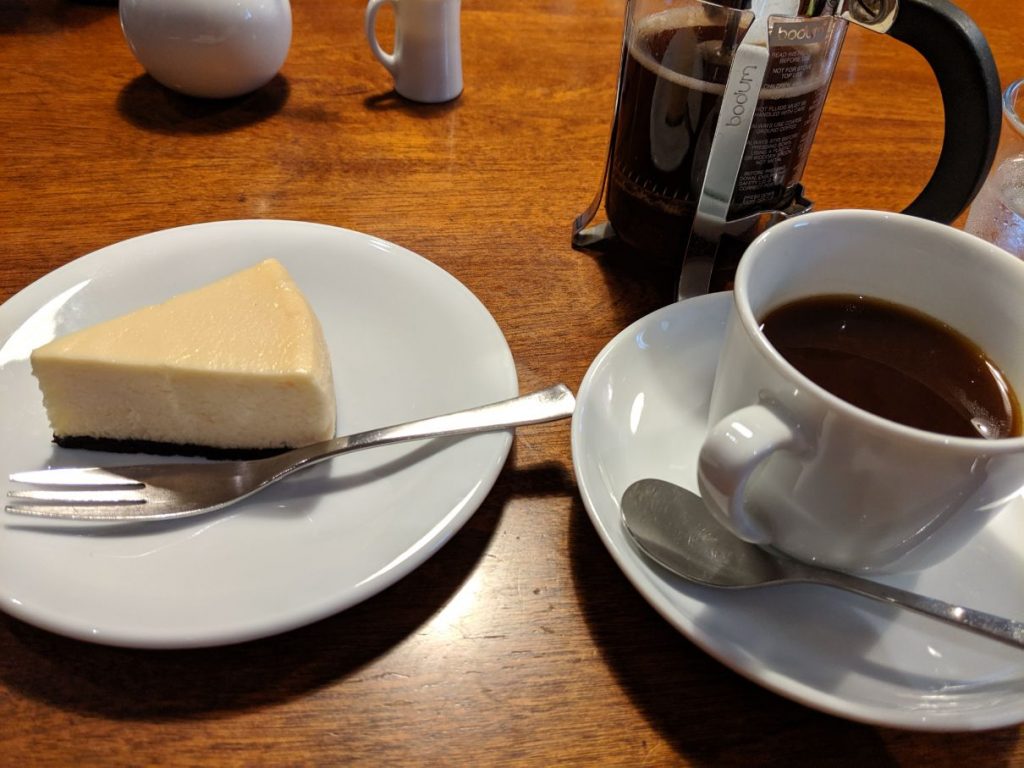 Maruyama Coffee is a specialty coffee shop from Karuizawa. The founder, Mr. Maruyama has bought coffee beans from all over the world and served coffee made from them. You can purchase many kinds of coffee beans in the shop. The staff seem to be well educated and have produced several famous baristas who have won the competition in Japan and abroad.
The shop was quite large and crowded with people. There were a lot of coffee beans and coffee goodies for sale in the area right after you enter. In the back of the cafe, there are tables and a large bookcase where you can read books at your leisure while having coffee. There were also many coffee books on display, and I found the book about Maruyama Coffee very interesting to read.
Maruyama Coffee also has shops in Tokyo such as Omotesando and Shibuya.
Maruyama Coffee Harunire Terrace Store
【Location】HOSHINO HARUNIRE Terrace, Karuizawa-cho, Kitasaku-gun, Nagano
【Access】About 5 minutes by car or 20 minutes on foot from Nakakaruizawa Station
【Open】 9:00 – 19:00 (subject to seasonal variations)
【Official site】https://www.maruyamacoffee.com/en/
Bakery and Restaurant Sawamura
Sawamura is a bakery and restaurant in Karuizawa that uses natural yeast. It has shops in other cities such as Shinjuku and Nagoya.
You can have a meal at the bakery restaurant or buy bread to eat inside. They also had terrace seats. On this occasion, I had coffee and bread for breakfast on the terrace. It was a delicious and elegant morning.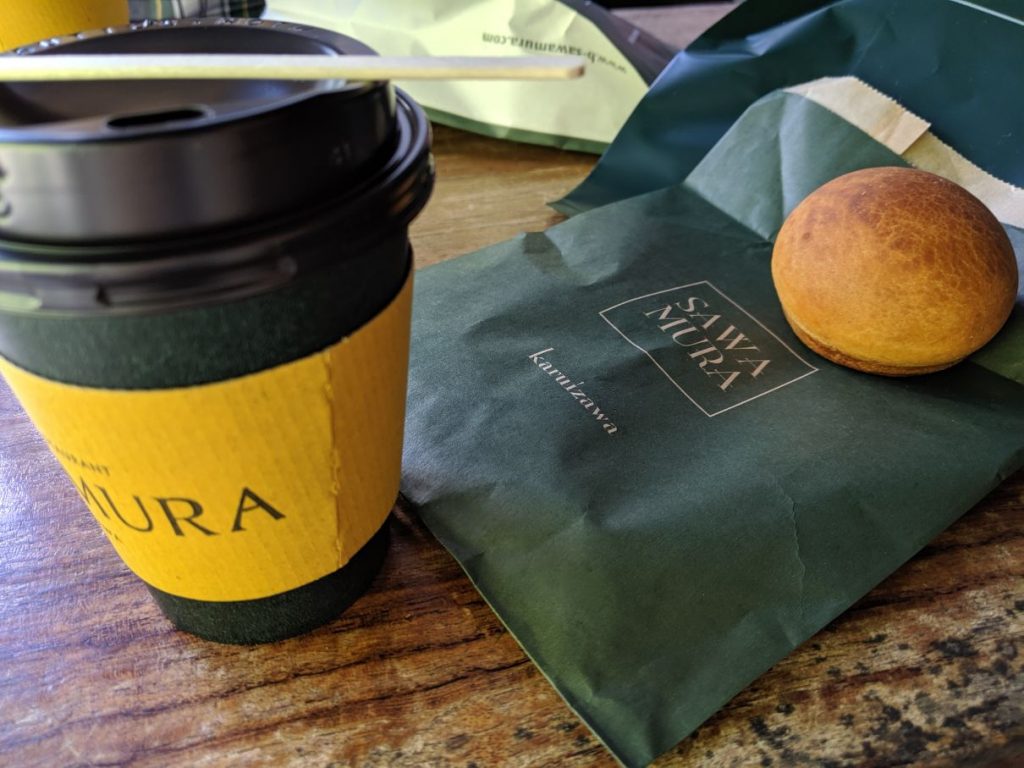 Bakery and Restaurant Sawamura Harunire Terrace
【Location】 Harunire Terrace A, 2145-5 Yokobuki, Nagakura, Karuizawa-cho, Kitasaku-gun, Nagano
【Access】17 minutes on foot from Nakakakaruizawa Station (5 minutes from Karuizawa Station by train)
【Open】
Bakery: 7:00-21:00
Morning:7:00-10:00 L.O. (Restaurant)/Lunch 11:00-16:00 L.O/Dinner 16:00-21:00 L.O. Close at 22:00 L.O.

Karuizawa Kogen Church
On the other side of the main street next to Harunire Terrace, there is an uphill slope that leads to Karuizawa Kogen Church. Surrounded by trees, it feels like a little hike. Be careful as cars also pass by.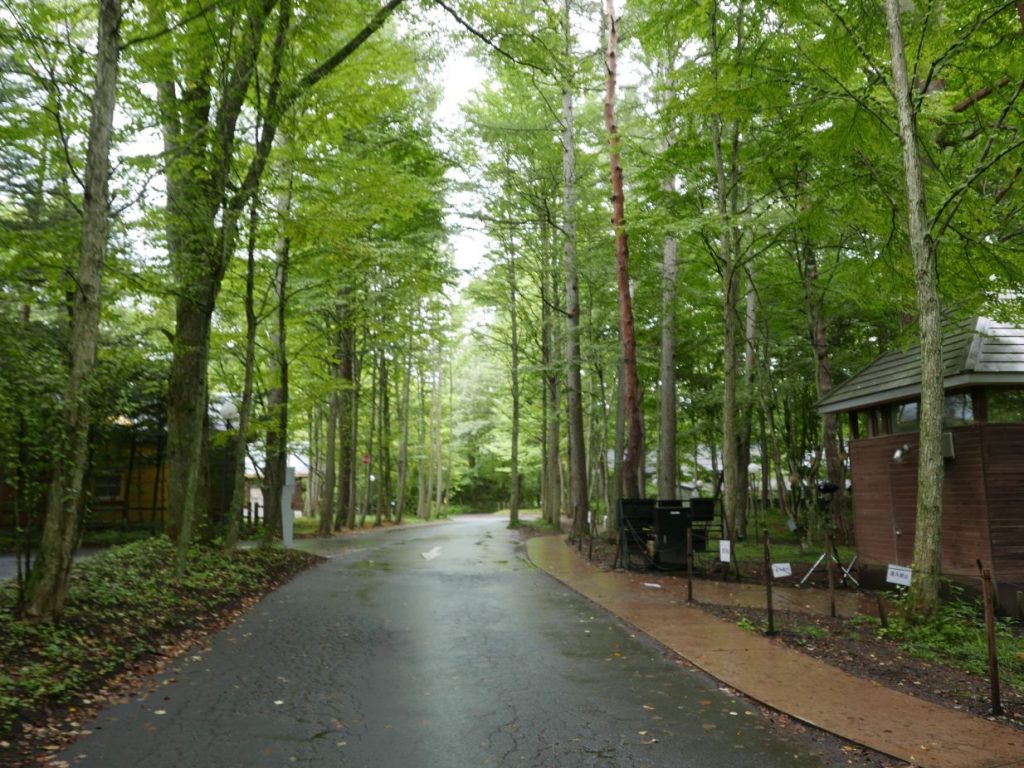 One of my purposes for my trip to Karuizawa was to see the Candle Night at Karuizawa Kogen Church. First of all, I went up the hill in the forest and went to see the place during the daytime before Candle Night. There was the Karuizawa Kogen Church on the right hand side and the stone church Uchimura Kanzo Memorial Hall on the left hand side.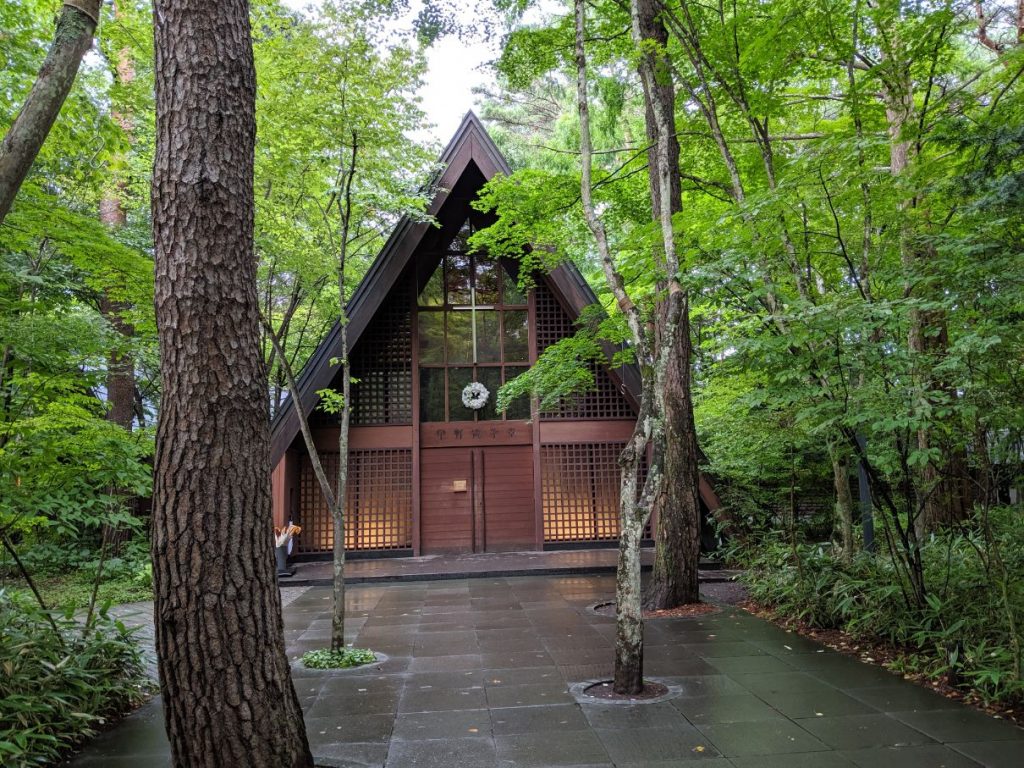 The Stone Church is one that embodies the ideas of Uchimura Kanzo, who is a Japanese Christian thinker and writer who was active in the Meiji era. This is a famous church where many couples hold their wedding ceremonies.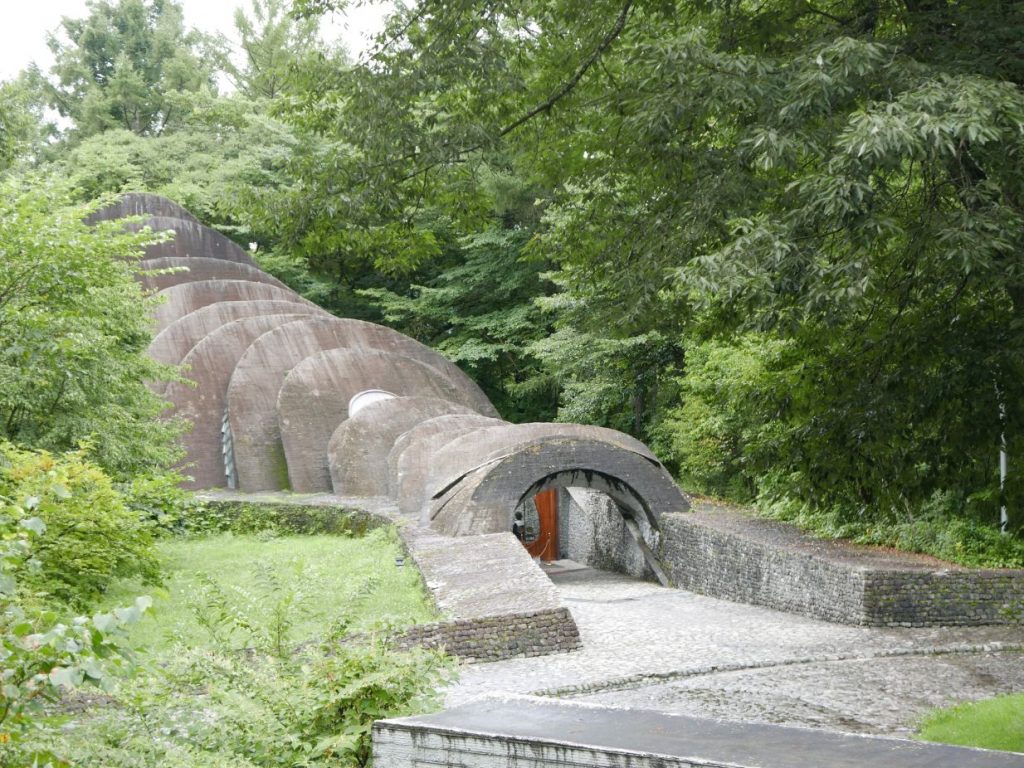 The exterior of the church is stacked with massive stones. Unfortunately, I didn't get to visit the inside of the church, but it looks like a beautiful interior surrounded by stones.
The summer candle night
Finally, I visited Karuizawa Kogen Church for the summer candle night. Like the Stone Church, Karuizawa Kogen Church is an old church built in the Taisho era, which has a connection with Uchimura Kanzo, and many couples hold their weddings there. This church has a candle night from July to August, and December.
The beautiful scenery is as you can see in the photos.
Trees were lit up in various colors. It was very beautiful. There were also the lantern towers.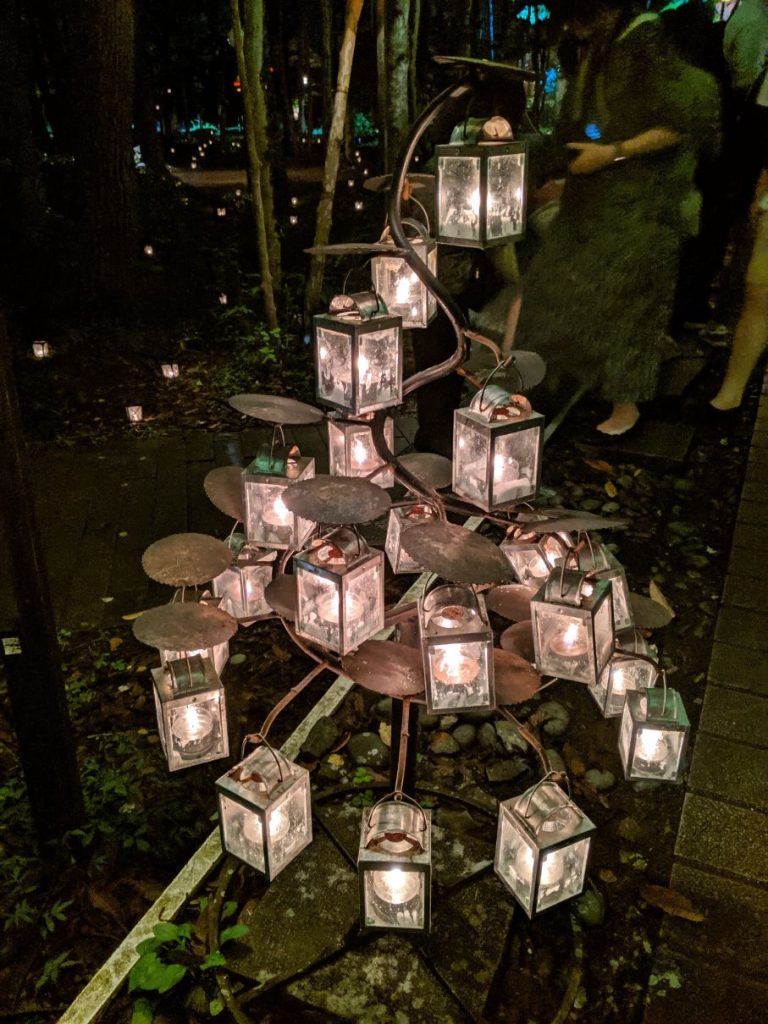 Many couples and families enjoyed walking around the many lights. The flickering flames of the candles are more fantastic compared to LED bulbs, which is often used for Christmas lights in Japan. I didn't visit the inside of the church this time, but I'd like to see it next time.
Karuizawa Kogen Church
【Location】2144 Nagakura Hoshino, Karuizawa, Nagano
【Access】20 minutes on foot or 5 minutes by taxi from Nakakakaruizawa Station (5 minutes from Karuizawa Station by train)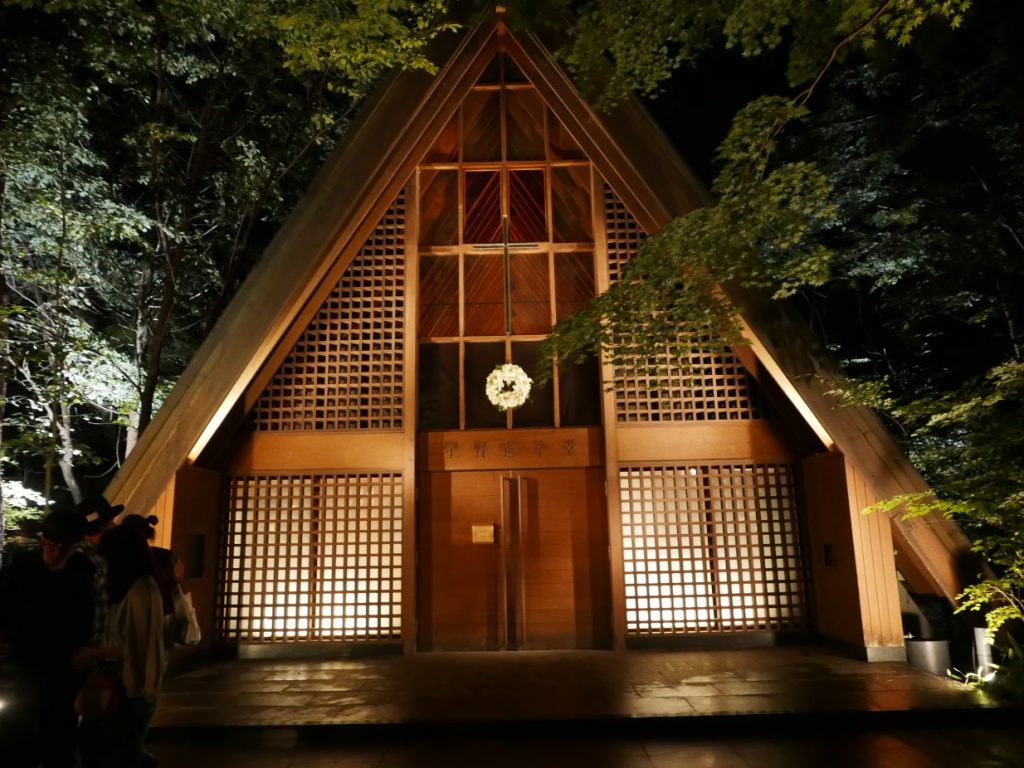 Karuizawa Prince Shopping Plaza
The next day, we took a bus back to Karuizawa Station and went shopping at Karuizawa Prince Shopping Plaza.
The Karuizawa Outlet Mall is located in front of the station and has a huge space. You can buy some souvenirs of Nagano prefecture.
This big shopping mall has plenty of space, a lawn and a big pond. There were many families there and played.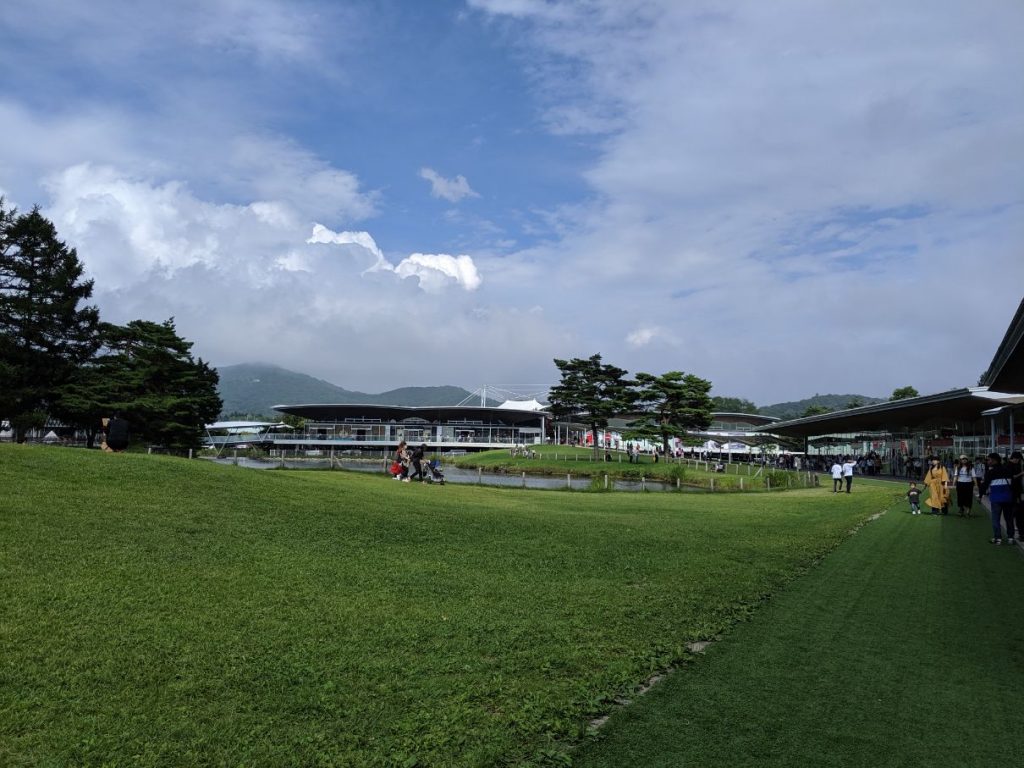 Karuizawa Prince Shopping Plaza
【Location】Karuizawa, Karuizawa-cho, Kitasaku-gun, Nagano
【Access】3 minutes walk from Karuizawa Station South Exit
【Open】10:00 – 19:00 (subject to seasonal variations)
【Official website】 http://www.karuizawa-psp.jp
Summary
Karuizawa is close to Tokyo, with lush greenery, various historical buildings, churches, restaurants, and shopping. You can also play sports such as golf and tennis. It is a wonderful town that has developed as a vacation home. It is a great place to visit!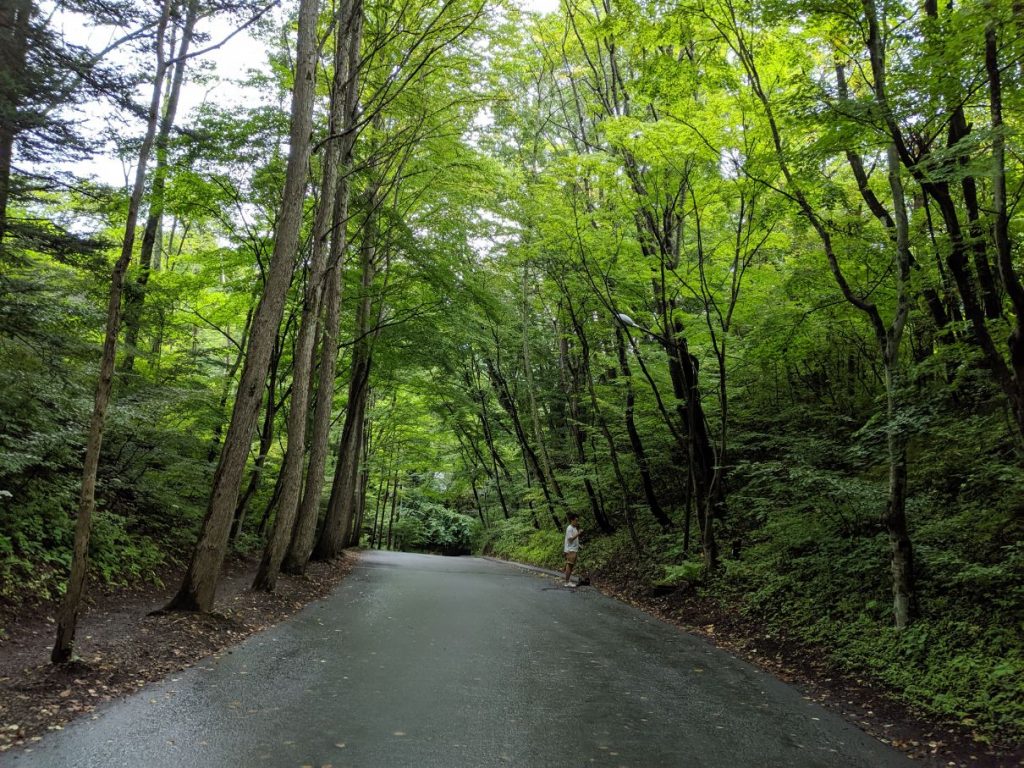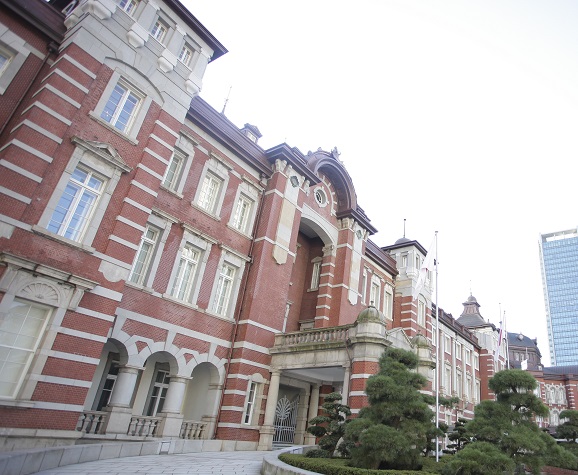 Japanese OL. (OL means "office lady". Women who work in offices.)
I was born in a rural part of the Kanto area in the latter half of the 1980s. I  live and work in Tokyo now. I live with my husband. I study English by writing this blog!