Travel to Hida and Takayama③ Takayama and Hidafurukawa
I visited the Hida and Takayama region. I traveled to Takayama, Hidafurukawa, Shirakawa-go, and Gero Onsen for two days with my husband. I wanted to visit there once because I heard the original landscape of Japan remains in the region. Today I talk about travel to Takayama and Hidafurukawa.
↓My travel to Hida and Takayama region
Travel to Hida and Takayama ①Day trip to Shirakawa-go
Travel to Hida and Takayama ②Suimeikan in Gero Onsen
Below is the itinerary for my Hida and Takayama trip.
Day 0: After working, We went to Gero Onsen from Tokyo. It took 3.5 hours by train. We arrived at Gero at night. We enjoyed eating dinner and getting into the hot spring.
Day 1: We went to Takayama in the morning, and rode the bus for Shirakawa-go and visited Shirakawa-go. In the afternoon, we got back to Takayama and walked around the town. Then we went back to Gero Onsen at night. My husband likes onsen very much, so stayed at Gero for two days.
Day 2: We visited Takayama again and went to Hidafurukawa. We went home in the afternoon.
Travel to Takayama(高山)
Takayama(高山) is a popular sightseeing city in Japan for foreign tourists.
What is Takayama like?
Takayama is a local city of Gifu Prefecture. It takes 2 hours by the limited train from Nagoya. "lonely planet Japan"(travel guidebook) introduces Takayama as below.
"Takayama (officially known as Hida and Takayama) boasts one of Japan's most atmospheric townscapes and best-loved festivals. A visit here should be considered a high priority for anyone travelling in Central Honshu, although its recent rise in popularity can sometimes take the sparkle off what was a little-known hamlet just a decade ago."
Takayama is introduced as a must-see place of Central Honshu area.
Why does Takayama so become popular with people visiting Japan?
Seeing many foreign people in Takayama surprised me. Why do many foreign people visit Takayama? I think it is natural that world heritage Shirakawa-go is popular. But Takayama, why?
Is it because Takayama is located on the way to Shirakawa-go? The sightseeing spots in Takayama are old townscapes, and nature such as mountains, but I think there are also other tourist cities that are similar to Takayama in Japan. And it takes a long time to Takayama from Tokyo or Osaka and it is not easy to access.
But, I found the reason in Takayama. When I tried visiting Takayama, I realized more English and Chinese signs were in the town than other tourist cities. And I also saw a Japanese shop staff was talking with a foreign tourist in Chinese. When I searched the approach to foreign tourists of Takayama city, it was found that it develops actively the tourism strategy for people visiting Japan. Takayama city conducts many tourism promotions abroad, besides, it conducts questionnaires about sightseeing on the spot to understand the needs of people visiting Takayama, and makes multilingual tourist information pamphlets or signs. What impressed me most in Takayama was English talk in a ramen restaurant. The chef was enjoying talking with a foreign tourist in English. Many Japanese people still cannot speak in English especially in local sightseeing spots. In Takayama, the whole city including shops and restaurants put effort into foreign tourists. It was a wonderful scene!
Must-see spots of Takayama I visited
I introduce 5 must-see spots of Takayama; Kominka Cafe, Takayama Jinya, Asaichi, Sanmachi-dori, and a Takayama ramen restaurant.
0 Start at Takayama Station
This is Takayama Station. It was a new and clean station.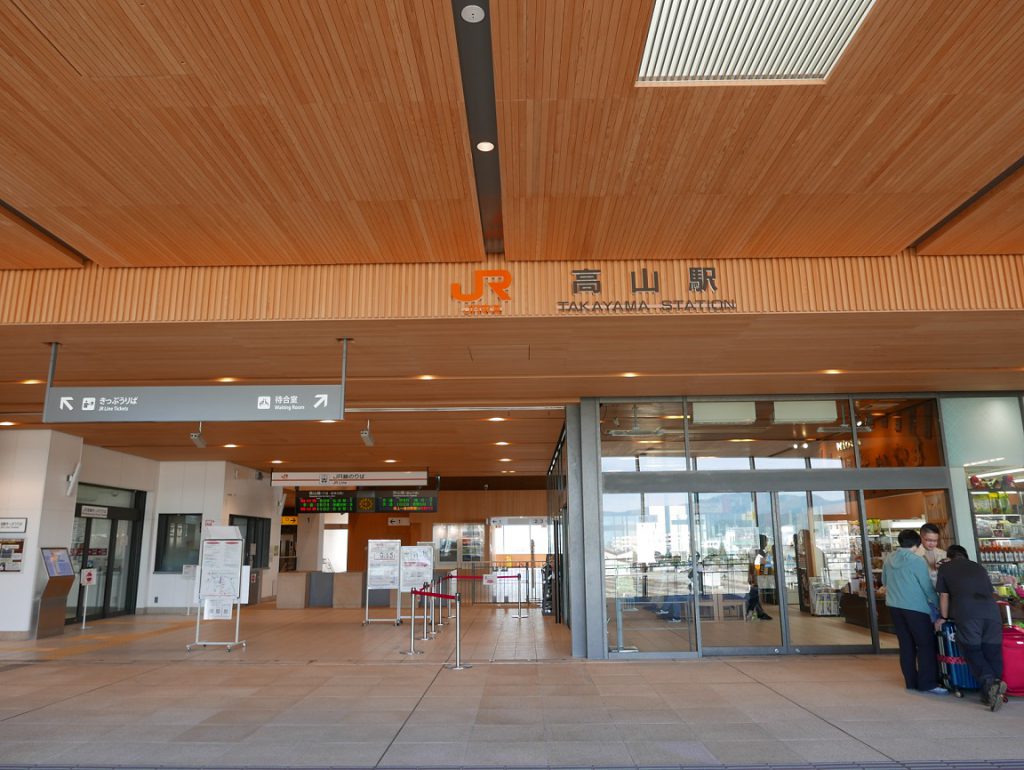 The small pond is in the front of the station. The tourist information center and Bus Center are located on the right side of this photo.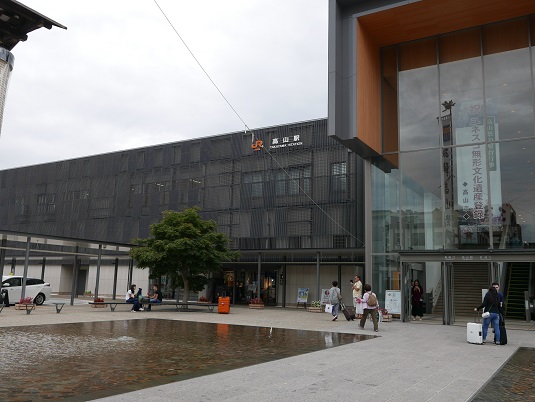 After you go straight to the street in front of the station and walk for 10mins, you arrive at the main tourist spots. You cross the bridge on your way there.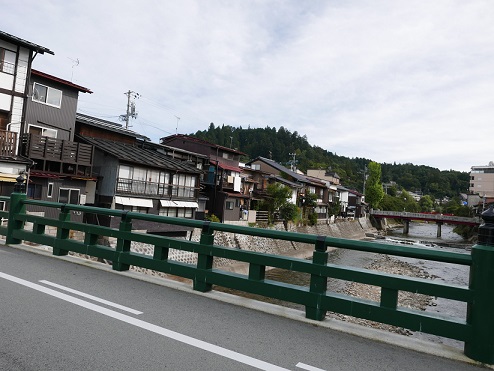 1 Kominka(古民家) cafe
This time I walked for 5 minutes and stopped by at a kominka cafe, which is a renovated old Japanese-style house, on my way there and ate Japanese sweets, "zenzai".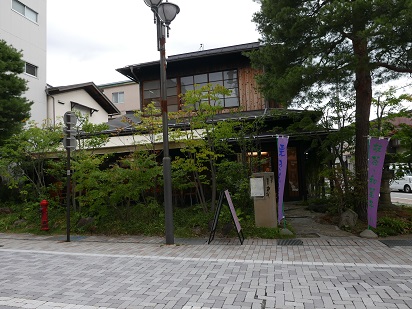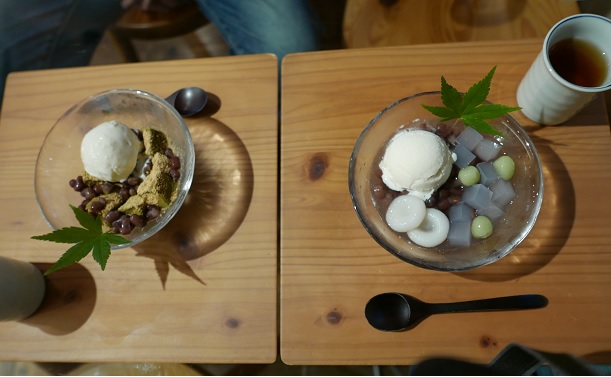 Inside of the café is clean and modern, you can relax with a cup of green tea or roasted green tea and sweets.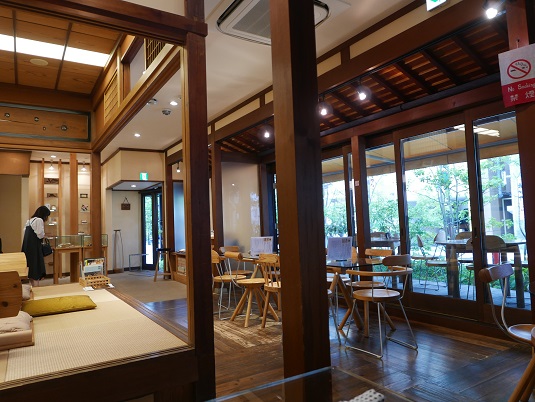 There are some this style cafes in Takayama. Please try to visit.
2 Takayama Jinya(陣屋)
Takayama Jinya is a government office where officers had worked in the Edo period.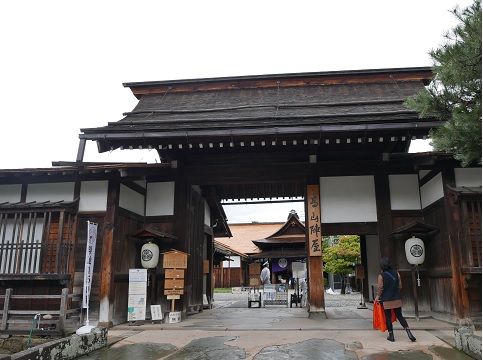 The major buildings of the county office in the Edo period are left only here in the whole country. You can see old Japanese style houses of the Edo period. Workplaces, kitchens, living rooms, and a Japanese garden, etc. are in Jinya.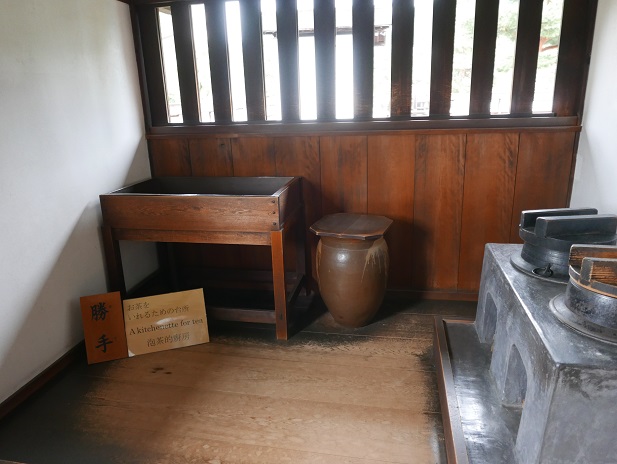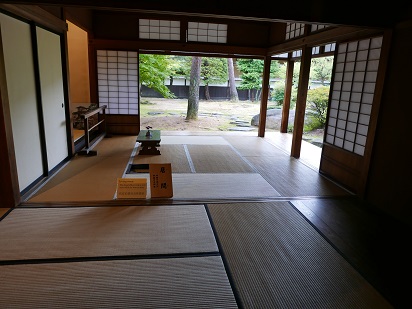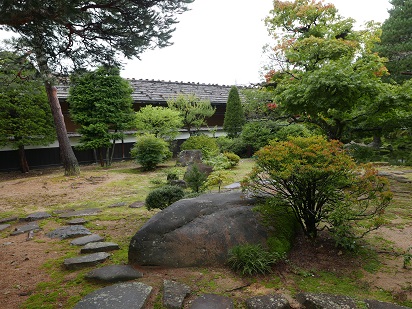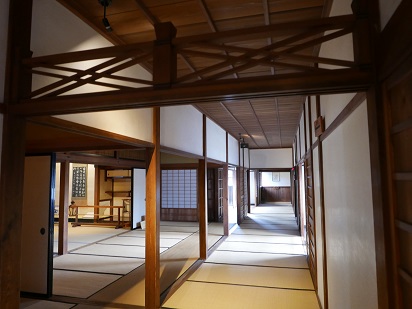 3 Asaichi(朝市)
In the square in the front of Jinya, a morning market is held every day. You can buy vegetables, fruits, and craftworks.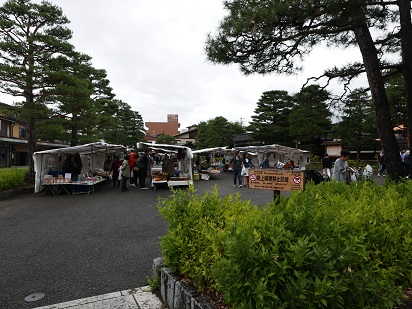 Also, a morning market is held every day along Miyakawa River, too. This is "Miyakawa-asaichi".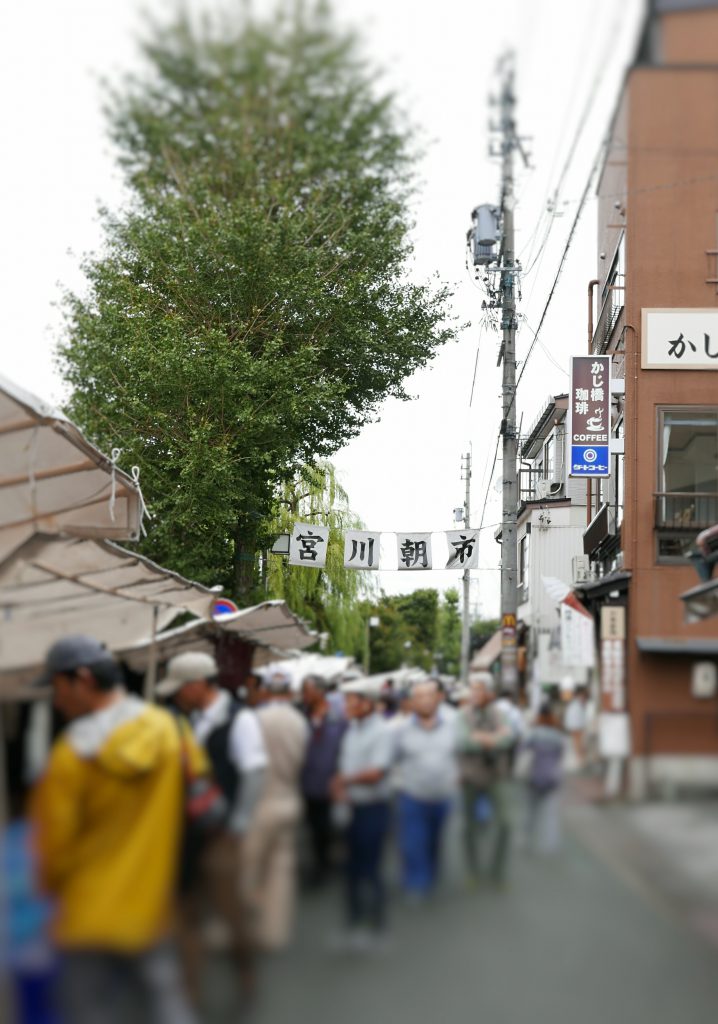 4 Sanmachi-dori
Sanmachi-dori is a famous street. Old houses remain on this street. Many people visit there and it is the most popular sightseeing spot in Takayama. Many shops, restaurants, cafes and small museums are along the street. You can enjoy shopping and eating!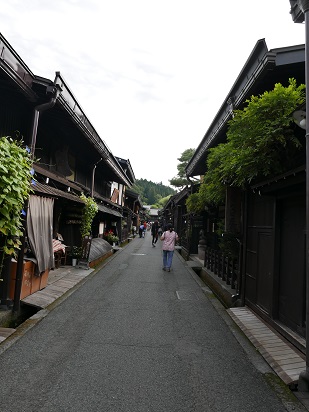 Mitarashi dumplings and Hida beef are the most popular. I ate a minced meat cutlet of Hida beef. It was so hot and delicious!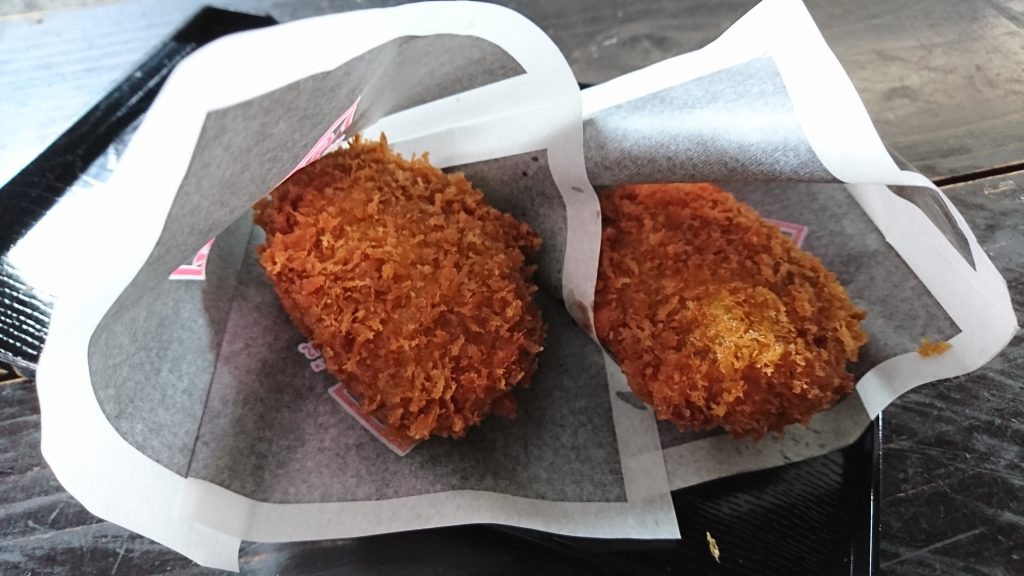 I bought soy sauce, local sake and beer, and "sarubobo" which is a traditional local doll. You'll find good souvenirs of Takayama on Sanmachi-dori.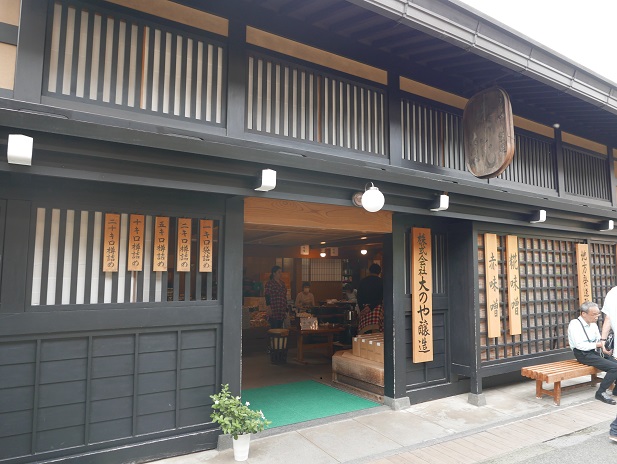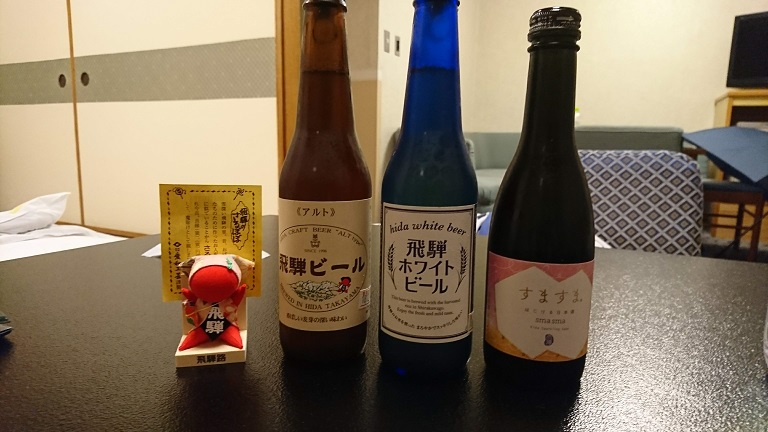 5 Takayama Ramen
Ramen is a very popular food in Japan, and some of the regions have each local ramen. For example, Hakata ramen, Sapporo ramen, and Kitakata ramen are very famous. Takayama ramen is one of them, too. The feature of Takayama ramen is wrinkled noodles in soy sauce soup. Many Takayama ramen restaurants are in Takayama city. This time, I visited "Menya-Shirakawa", which is one of the most popular Takayama ramen restaurants.
I went to the restaurant soon after it was opening, but some people were waiting outside in line. I waited for about 20 minutes.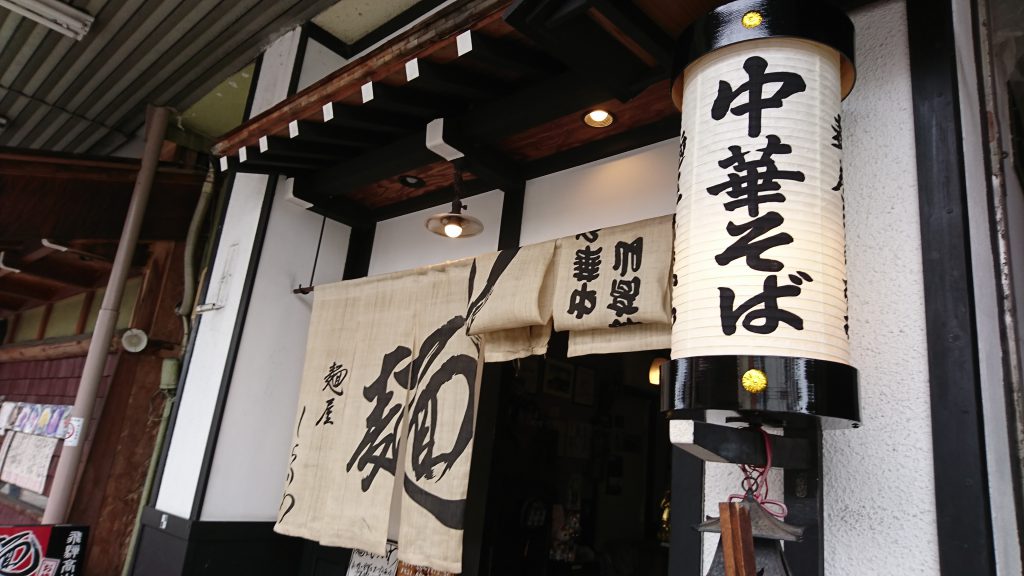 I ordered Chuka-soba. This is! It was a very simple ramen!
The ingredients were broiled roasted pork fillet, menma, shredded Green Onion, and Nori.
The soup was a soy sauce tastes in good dashi stock. Of course, some foreign tourists were there, and I was very surprised by a tourist drinking all soup.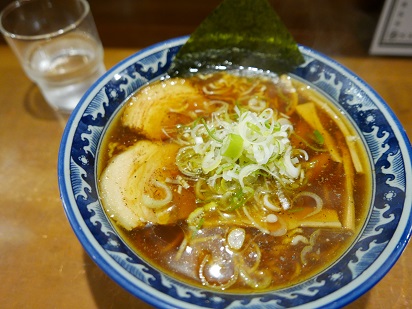 Menya Shirakawa
address
56-2 Aioi cho, Takayama-city, Gifu Prefecture
8 minutes on foot from Takayama Station
opening hours
11:00~13:30 ※Regular holiday is Tuesday.
price
Chuka-soba: 700 yen etc.
Good points of Takayama
In Takayama, you can visit the old townscape and enjoy buying traditional souvenirs and eat local foods! If you stay at a hotel in Takayama, other tourist spots of the Hida and Takayama region such as Shirakawa-go are easy to access. And, stay at Takayama may be more comfortable for foreign tourists than other tourist cities because Takayama city put effort into services for foreign tourists.
Travel to Hidafurukawa(飛騨古川)
It takes about 15 minutes by train from Takayama to Hidafurukawa. Hidafurukawa is famous for the Furukawa Festival and townscapes. And this town is set in the anime movie "your name. (Kimino-na–wa)". Please read this post about the places used in the anime.
The most popular spot is Seto-kawa and sihirakabe-dozo. You walk for 10mins from the station and arrive there. The scene of white walls along the small river that various color carps are swimming in is beautiful. You can buy feeds and feed the carps. My husband and I enjoyed throwing feeds into the river and feeding the carps. It was fun.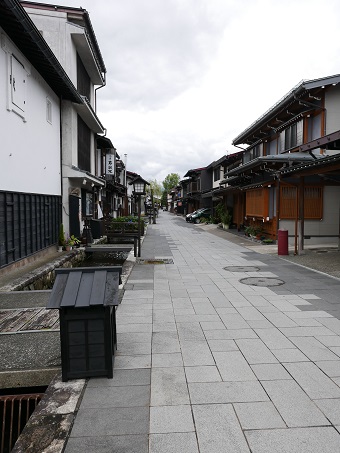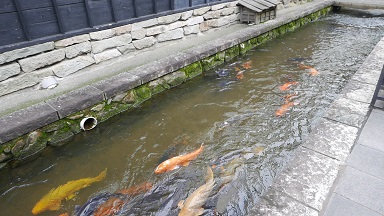 This photo is the Hida Furukawa Festival Hall. The Furukawa Festival is the traditional event with its Okoshi-Daiko (the Rousing Drum) and Yatai Float. You can enjoy high-definition 3-D images of the Furukawa Festival and see yatai floats. Furukawa Festival is held annually on April 19th and 20th.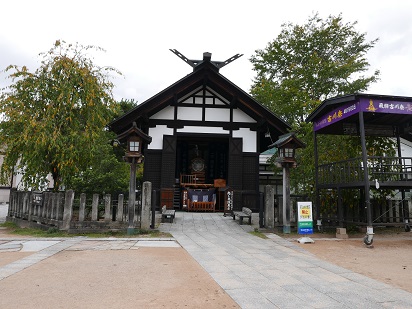 Website about the Furukawa Festival ⇒ https://www.hida-kankou.jp/kanko/foreign/en/unesco/
Let's go to Hida and Takayama region!
The introduction of the trip of Hida and Takayama is over.
Takayama and Shirakawago are very popular with foreigners, so I think that it is easy to go sightseeing. Please try to visit there. I also recommend Gero hot spring because the quality of hot water is very good. Also, if you are a fan of "your name.", try to go around the places of Hidafurukawa used in the anime.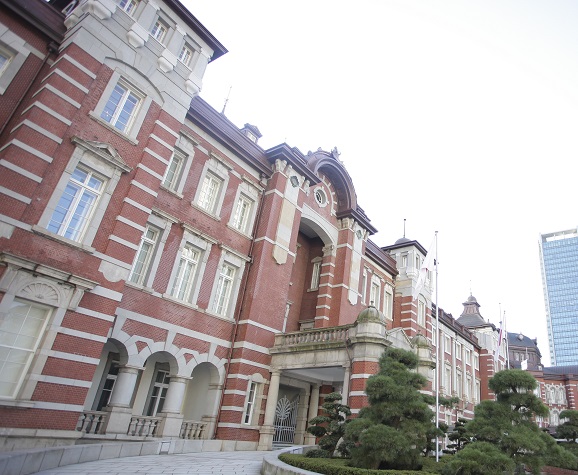 Japanese OL. (OL means "office lady". Women who work in offices.)
I was born in a rural part of the Kanto area in the latter half of the 1980s. I  live and work in Tokyo now. I live with my husband. I study English by writing this blog!