Gyudon-beef bowl restaurants in Japan
Hello!
Do you know "gyudon(牛丼)"? Gyudon is a beef bowl. It is one of the Japanese fast foods. It is a quick, economical(around 500yen) and tasty meal. I recommend eating gyudon once when you visit Japan. Today I talk about a beef bowl(牛丼 gyudon)!
What is gyudon? 
Gyudon is a rice bowl with the sliced beef and onions that is boiled sweetly with soy sauce.
It has been eaten as a reasonable food in Japan since more than 100 years ago. Gyudon was born at "Yoshinoya(吉野家)". Yoshinoya has made gyudon popular in Japan. It is a  popular food, especially among male.
"Matsuya(松屋)" and "Sukiya(すき家)" were opened after Yoshinoya, now, three major gyudon restaurants compete.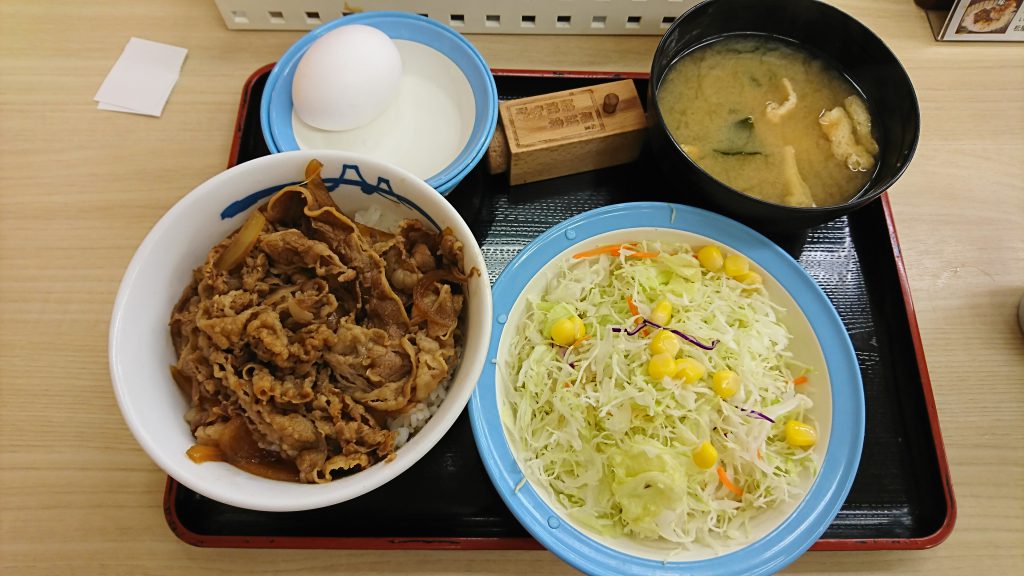 ↑These are "Gyumeshi" with a salad, an egg and miso soup at Matsuya. It's an S size bowl.
What is the difference between Yoshinoya, Matsuya and Sukiya? 
I compare the three restaurants. (This includes my personal opinion.) When you visit Japan, I hope this will help.
1 Yoshinoya
The most popular meal of Yoshinoya is Gyudon. M-size is 380 yen.  Gyudon of Yoshinoya tastes sweeter than the other two restaurants. Some people often say, "taste is the best of the three restaurants".
I guess it has more counter seats than table seats and more male customers are in than female ones.
Yoshinoya official website ⇒ https://www.yoshinoya.com/en/
2 Matsuya
The founder was impressed with the taste of Yoshinoya, then Matsuya has opened about 50 years ago. M-size premium gyumeshi is 380 yen. The feature of Matsuya is below.
①First, you buy a meal ticket at the machine before sitting a seat.
②It serves more set meals such as Yakiniku-teishoku than the other two restaurants. I like some limited-time-only set meals.
③When you choose a don meal or curry rice, miso soup is served together. This free miso soup is given only at Matsuya. 
④Matsuya is promoting the development of menus that do not use chemical seasonings, artificial sweeteners, synthetic colorants, and synthetic preservatives. (But I don't know whether it uses other a food additive.)
I guess it has more counter seats than table seats and more male customers are in than female ones the same as Yoshinoya.
Matsuya official website ⇒ https://www.matsuyafoods.co.jp/english/
3 Sukiya
Sukiya has the most the number of shops than other two restaurants. M-size gyudon is 350 yen.  
The feature of Sukiya is being able to choose various toppings and sizes.  At Sukiya, you can choose the various kinds of toppings such as kimchi, cheese and green onions, and put to gyudon. And, You can also choose a size from 6 ones (S, M, extra-M, L, XL, MEGA).
As customers choose one size from many ones, children and females are able to enjoy to eat gyudon as well. Moreover, it has more table seats than the other two restaurants, so families also can use this restaurant freely. There are more females and families at Sukiya than Yoshinoya and Matsuya. It is the greatest feature of Sukiya.
Sukiya official website ⇒  https://www.sukiya.jp/en/
The reason why I use gyudon restaurants
When I go home late at night (after 9), I want to eat dinner as fast as possible. I don't want to cook a dish in such a case. (Sorry for my husband..) I buy a bento box or prepared foods at the supermarket or eat out. At that time, I often go to the beef bowl restaurant! There are few women in gyudon restaurants, but, I don't care!
I like limited-time-only meals! "Gyunabe" is a winter limited menu I love!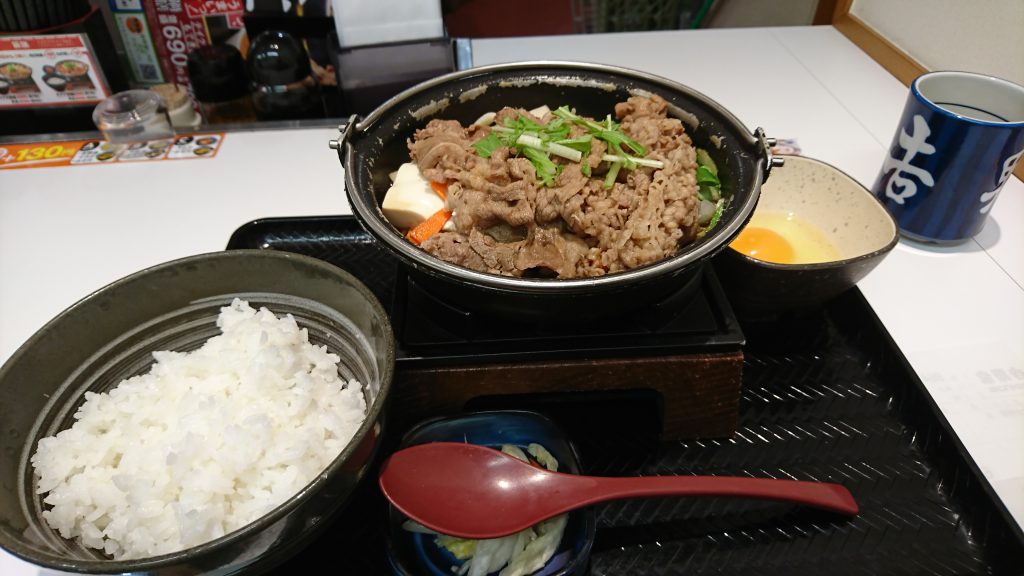 ↑ a winter limited hot pot menu, "Gyusukinabe" at Yoshinoya
Enjoy Gyudon!
You can find Yoshinoya, Matsuya and Sukiya easily in Japan as there are many gyudon restaurants in the town. How about eating gyudon in Japan? Gyudon is a quick, economical and tasty Japanese fast food!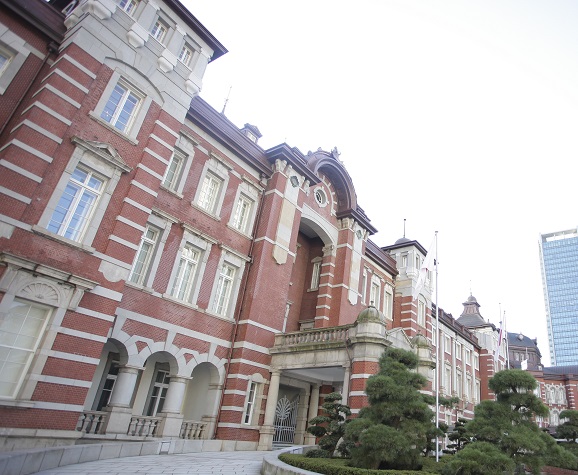 Japanese OL. (OL means "office lady". Women who work in offices.)
I was born in a rural part of the Kanto area in the latter half of the 1980s. I  live and work in Tokyo now. I live with my husband. I study English by writing this blog!