My report of HIDEAKI ANNO EXHIBITION
A little over a year ago, I visited the HIDEAKI ANNO EXHIBITION at the National Art Center, Tokyo, and I would like to summarize it now.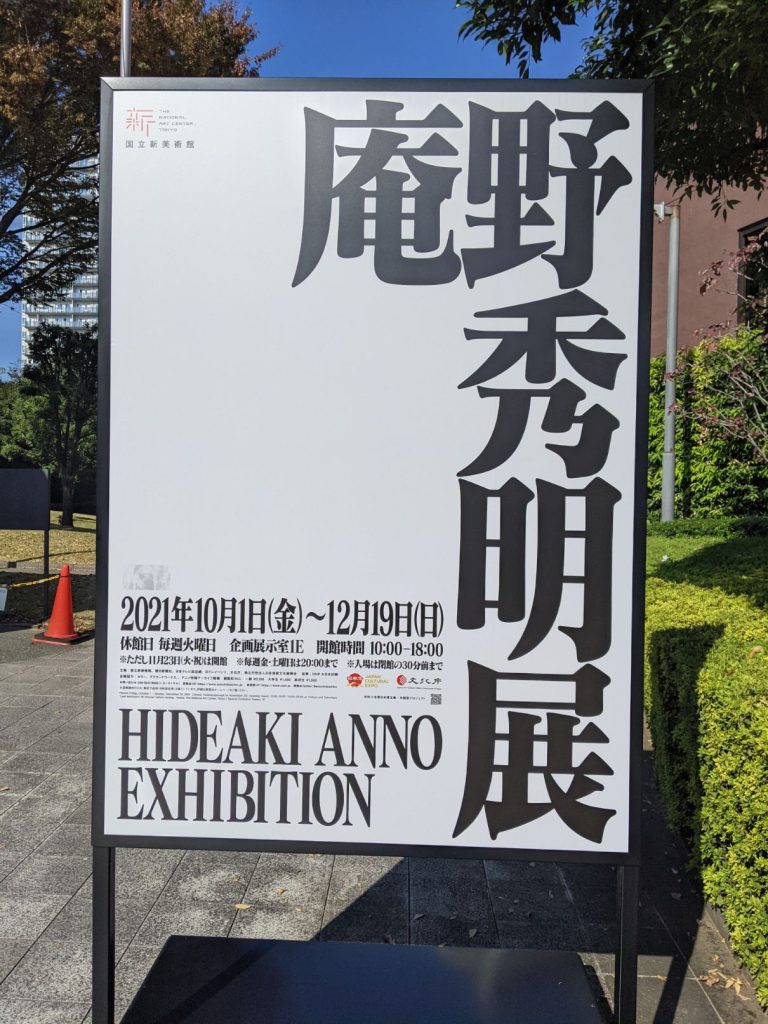 In Japan, photography is often prohibited at art exhibitions, but this time it was very good that photography was allowed.
Who is Hideaki Anno? My Post about Hideaki Anno is this↓
The National Art Center, Tokyo is a beautiful glass building.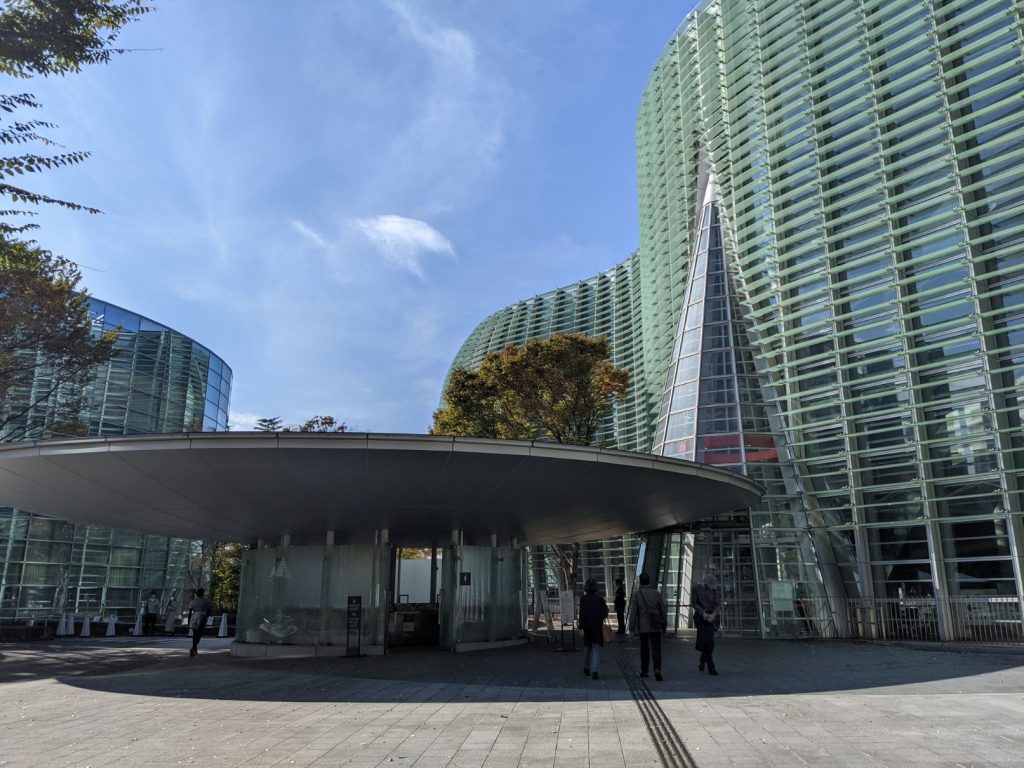 Even the official website says

The south side of the building, designed under the concept of "an art museum in the forest," has a beautiful curved glass curtain wall that undulates like a wave, creating a unique appearance with its conical front entrance.

https://www.nact.jp/english/
Location
7-22-2 Roppongi, Minato-ku, Tokyo
Access
Tokyo Metro Chiyoda line Nogizaka Station direct access from Exit 6
Opening Hours
10:00-18:00
Open until 20:00 on Fridays and Saturdays during special exhibitions.
Closed on Tuesdays (if Tuesday is a national holiday, the museum is open on Tuesday and closed the following weekday).
Admission Fee
Per exhibition. Varies by art group.
Official website
https://www.nact.jp/english/
Besides Tokyo, the Hideaki Anno exhibition has traveled to Oita, Osaka, Yamaguchi, Niigata, and other places.
First, you are greeted by a standing statue of a young Hideaki Anno in his Kamen Rider (Masked Rider) costume.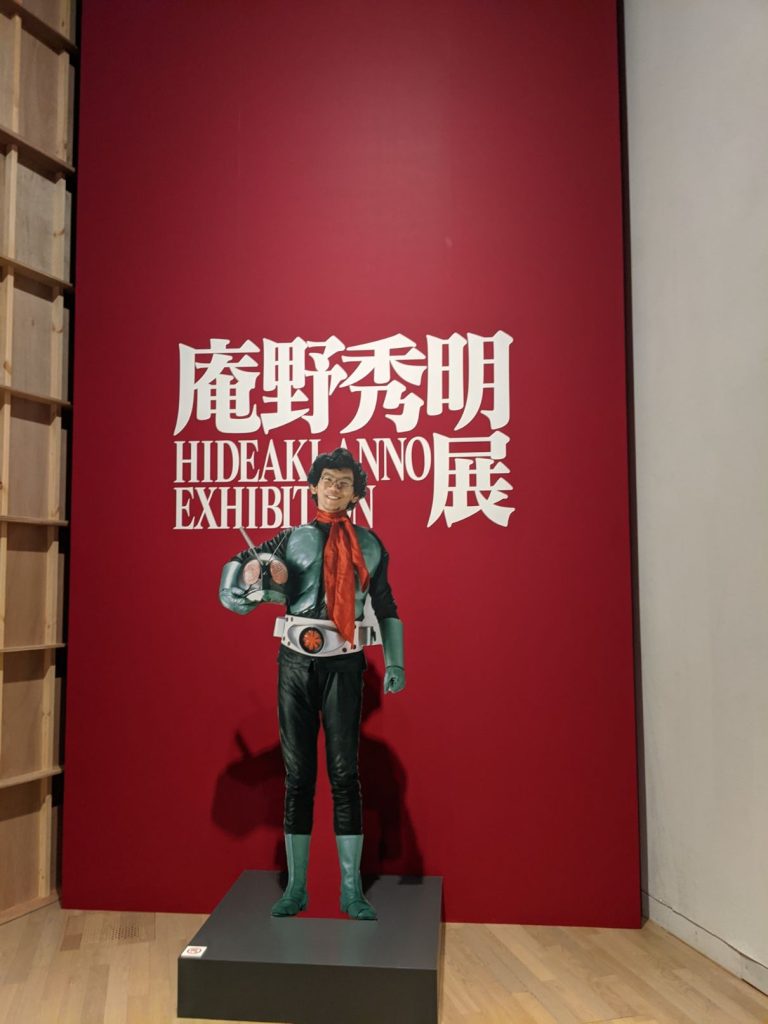 What is Kamen Rider?
An action special effects drama series about a grasshopper-based hero, Kamen Rider, and a monster.
The first chapter
The first chapter of the exhibition features a selection of special effects (SFX) and animation works influenced by Hideaki Anno.
SFX is a technique used to create images that cannot be achieved through normal filming methods. In Japan, it is used in TV dramas and movies about monsters or Power Rangers.
Godzilla, Ultraman, Gundam…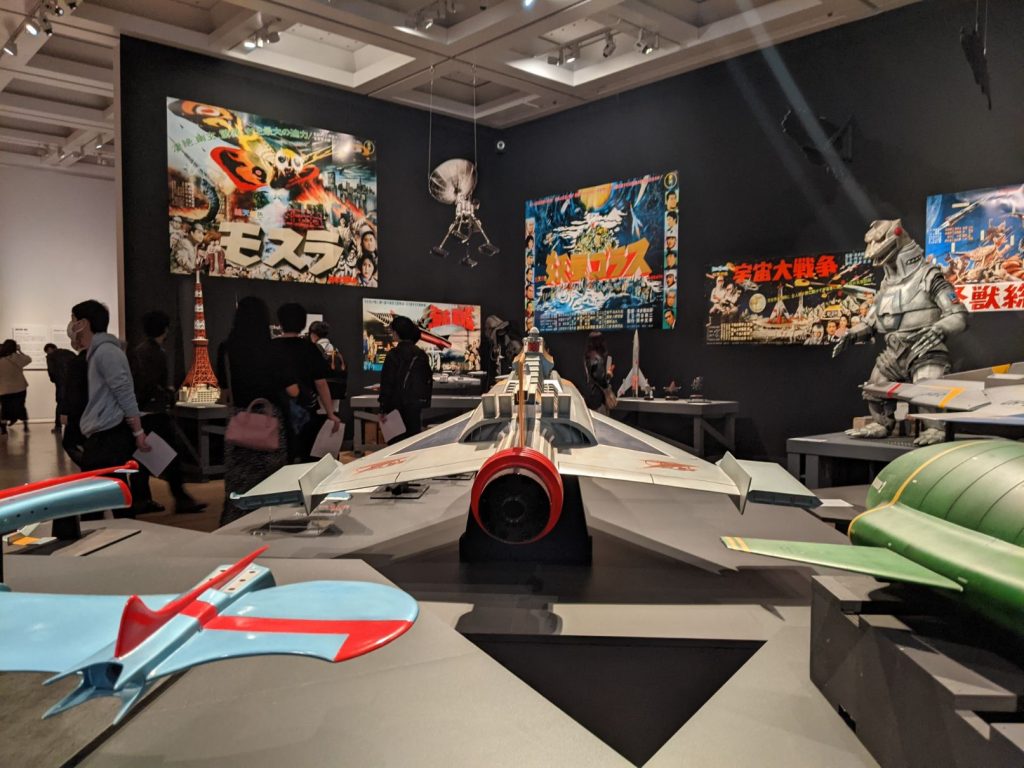 My Post about Godzilla and Gundam is this↓
My Report of The Gundam Factory Yokohama
What is the Ultraman?
Special effects drama in which Ultraman, a giant hero, fights monsters and aliens.
The second chapter
In the second section, films from director Anno's amateur days with DAICON FILM, an independent film production group active from 1981 to 1985 that focused on animation and special effects. Anno directed and played the role of Ultraman in the movie "The Return of Ultraman," which I watched with great interest.
Also on display were storyboards and materials for Nadia of the Mysterious Sea and Neon Genesis Evangelion.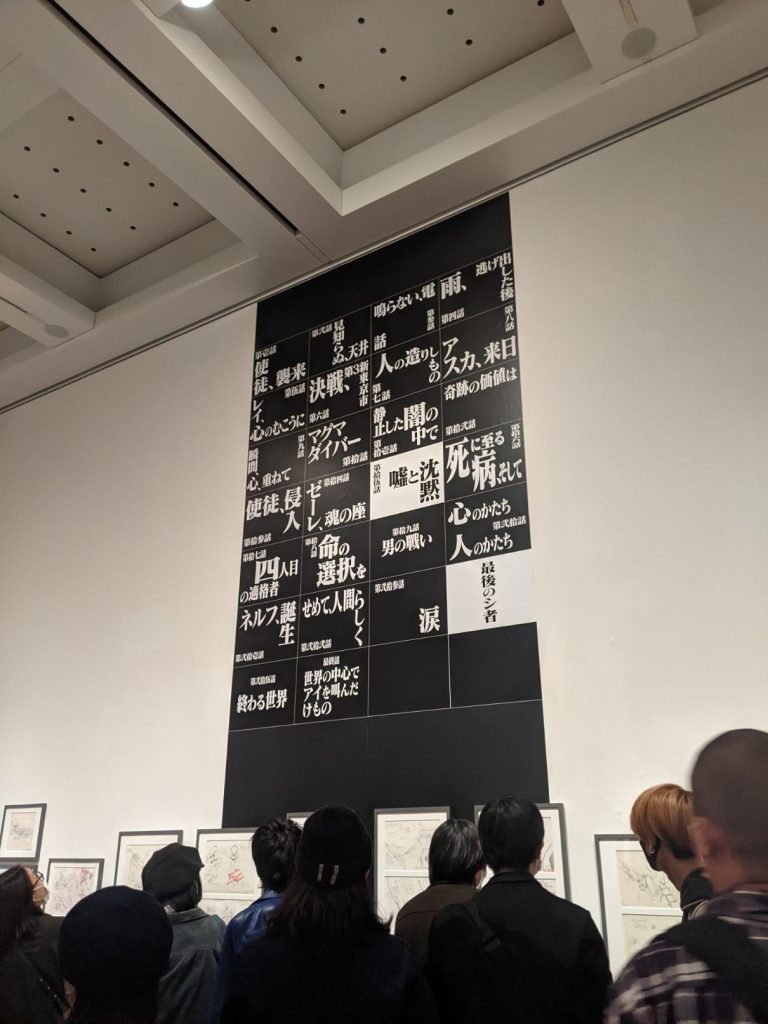 A model of Godzilla's tail, the fifth form that appeared in the final scene of Shin Godzilla, was also on display. In the movie, Godzilla was frozen before evolving into his fifth form, but it seems that the story was that Godzilla would become humanoid in his fifth form and destroy humanity. Many human-like things come out of Godzilla's tail, which is quite grotesque.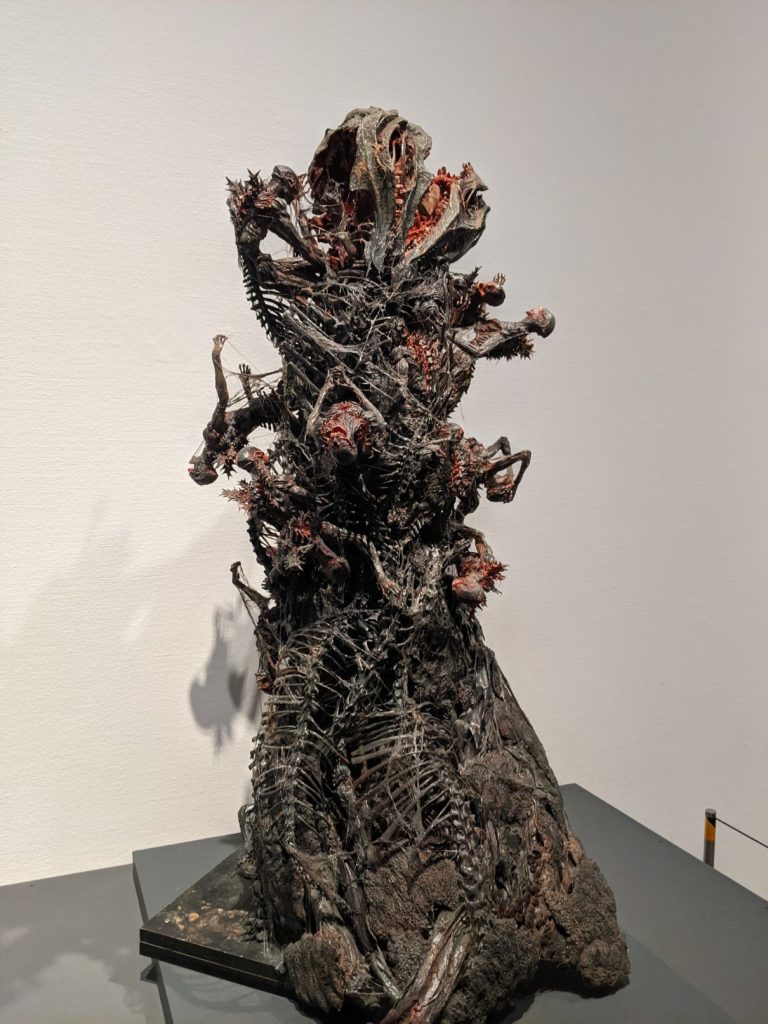 The third chapter
The third chapter is an exhibition of materials and sets from EVANGELION:3.0+1.0 THRICE UPON A TIME.
This is a miniature set of "the third village" from the film. It is a huge wooden set about 9m wide by 4m deep. "The Third Village" is an important stage of the story and was created by covering various parts of Japan. This miniature made it possible to pursue various camera angles.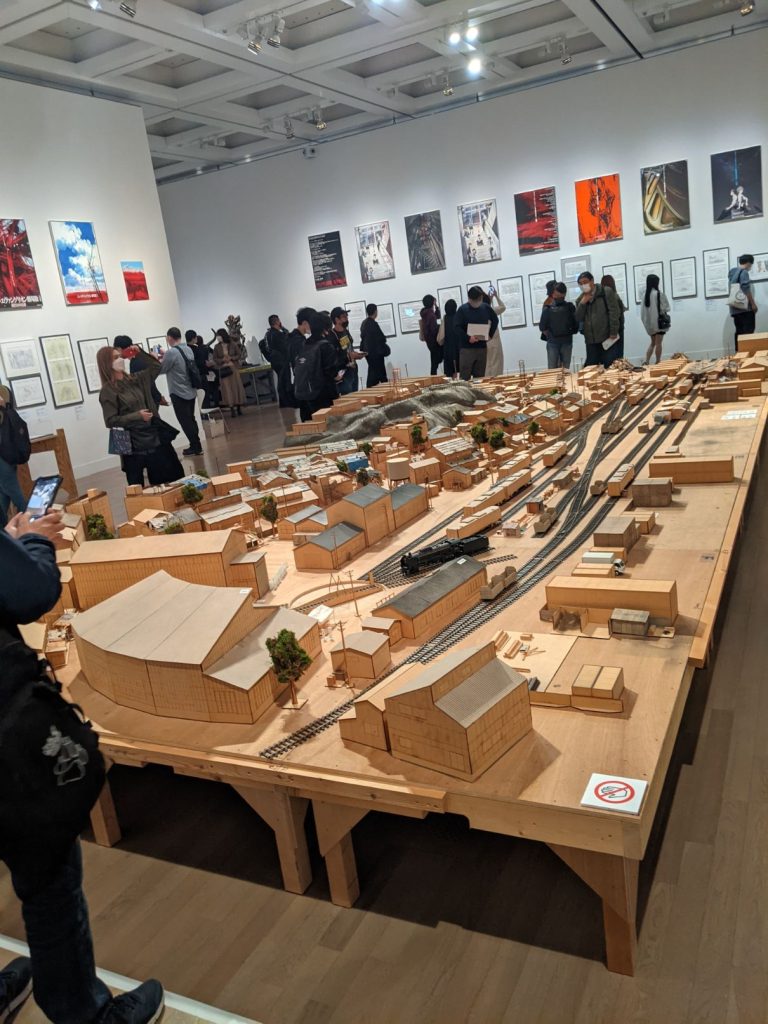 Many thumbnails were also exhibited. It reminds me of the scene in a TV program called "Professional" where director Anno was repeating pre-wiz over and over again. (I wrote about this in this post.)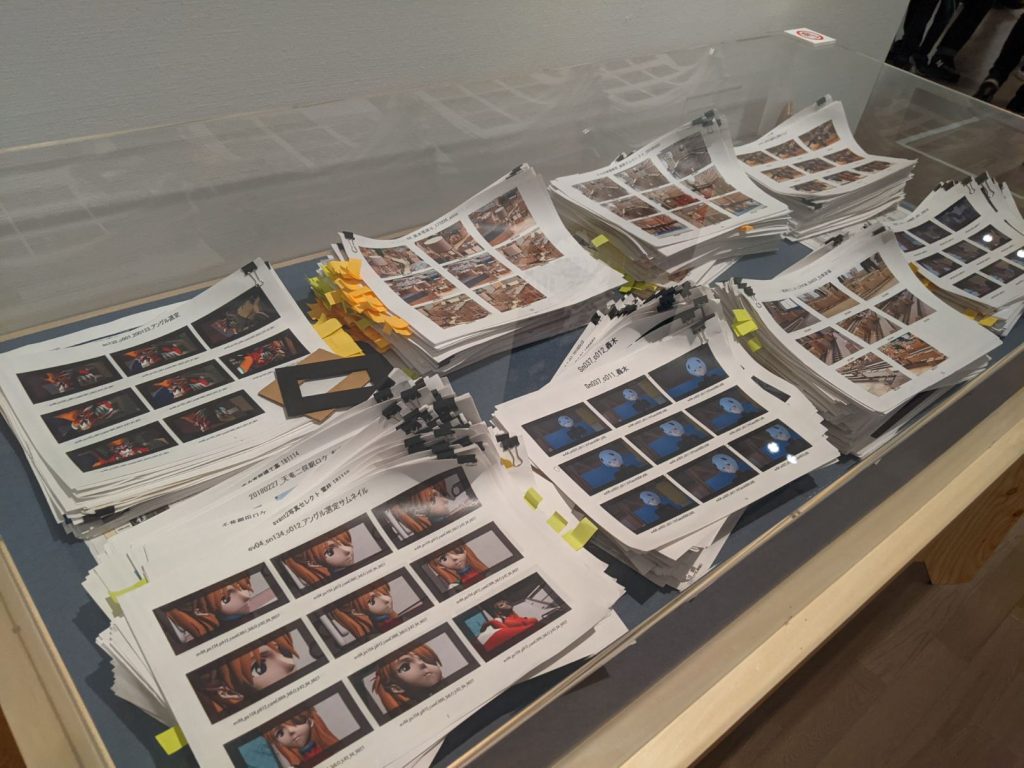 The end of the exhibition
In Chapters 4 and 5, materials from "Shin Ultraman" and "Shin Kamen Rider," which were in production at the time of the exhibition, were on display.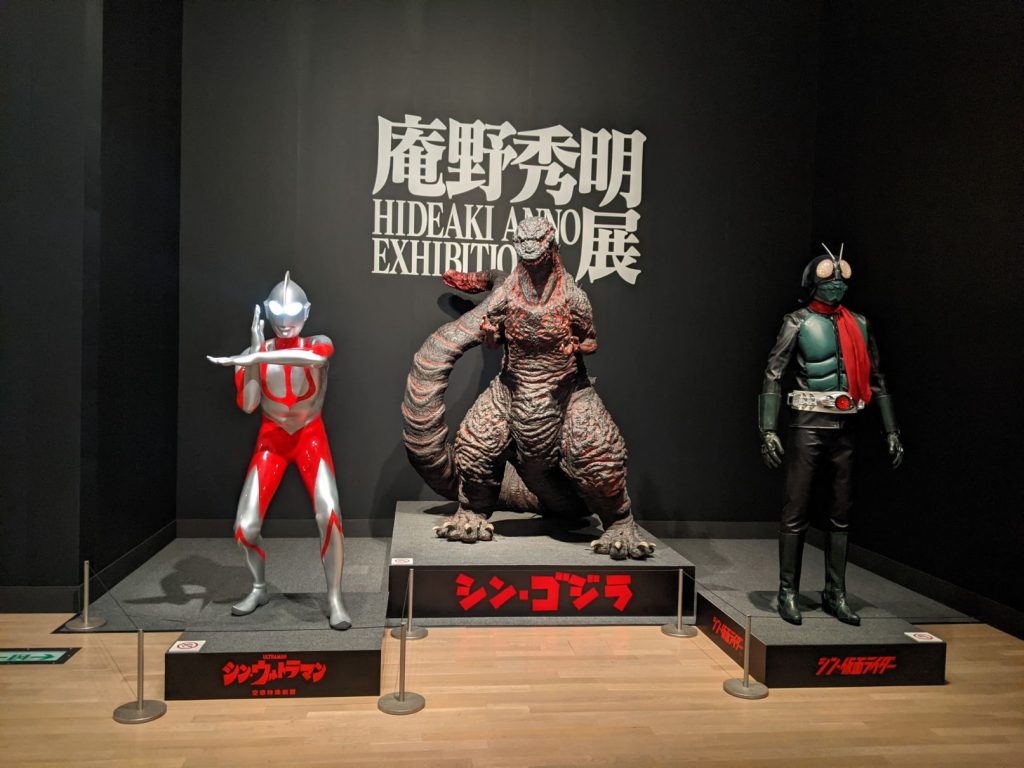 I just recently watched the "Shin Ultraman" film, which was released in 2022. "Shin Kamen Rider" is scheduled to be released in March 2023, and I am looking forward to seeing it.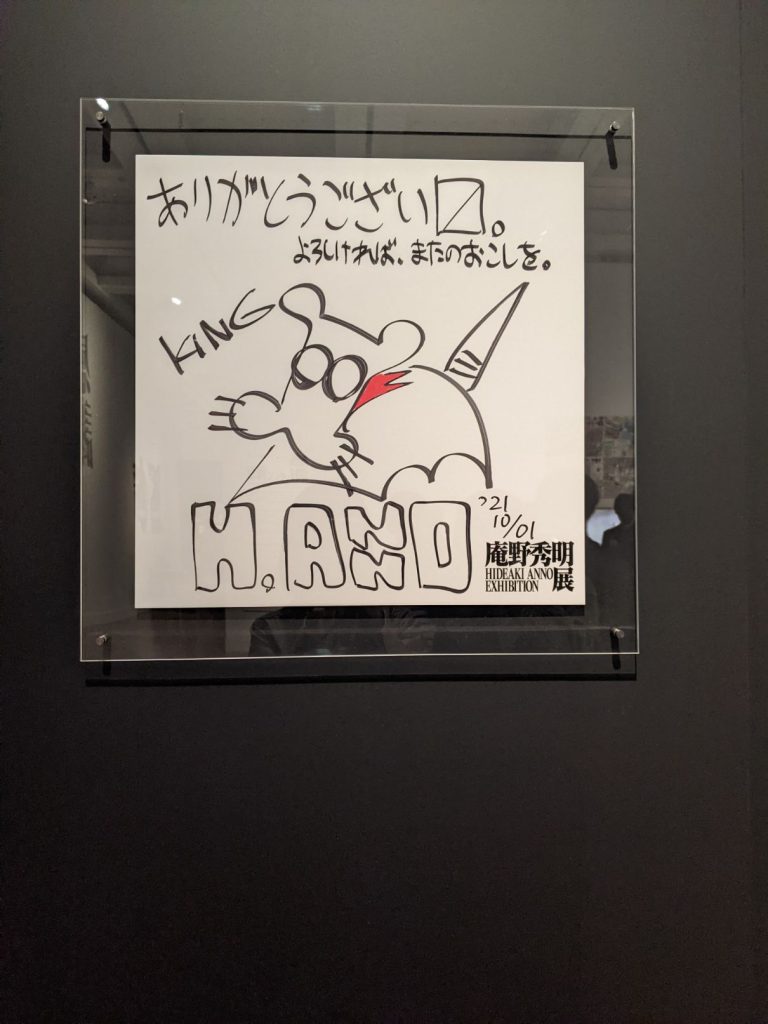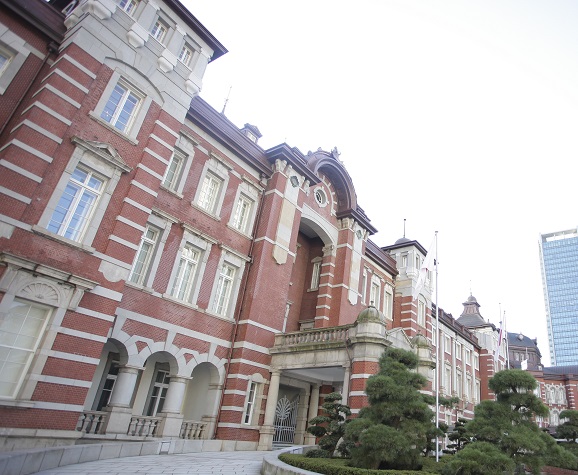 Japanese OL. (OL means "office lady". Women who work in offices.)
I was born in a rural part of the Kanto area in the latter half of the 1980s. I  live and work in Tokyo now. I live with my husband. I study English by writing this blog!