Hideaki Anno and EVANGELION
Hello. Today I'd like to talk about Hideaki Anno(庵野秀明), the director who created the famous Japanese anime, Evangelion.
What is "Evangelion" ?
In Japan, the movie "Shin Evangelion the theatrical version :||(English title: EVANGELION: 3.0+1.0 Thrice Upon a Time)" is currently being shown. Evangelion is a 1995 robot animation describing the growth of a boy. The depressing world view, the final episode, and the subsequent movie version were controversial and became a social phenomenon in Japan. Director Hideaki Anno began a four-part rebuild of "Evangelion" in 2007 as a new theatrical version, and this "Shin Evangelion" released in March 2021 completed the "Evangelion" series.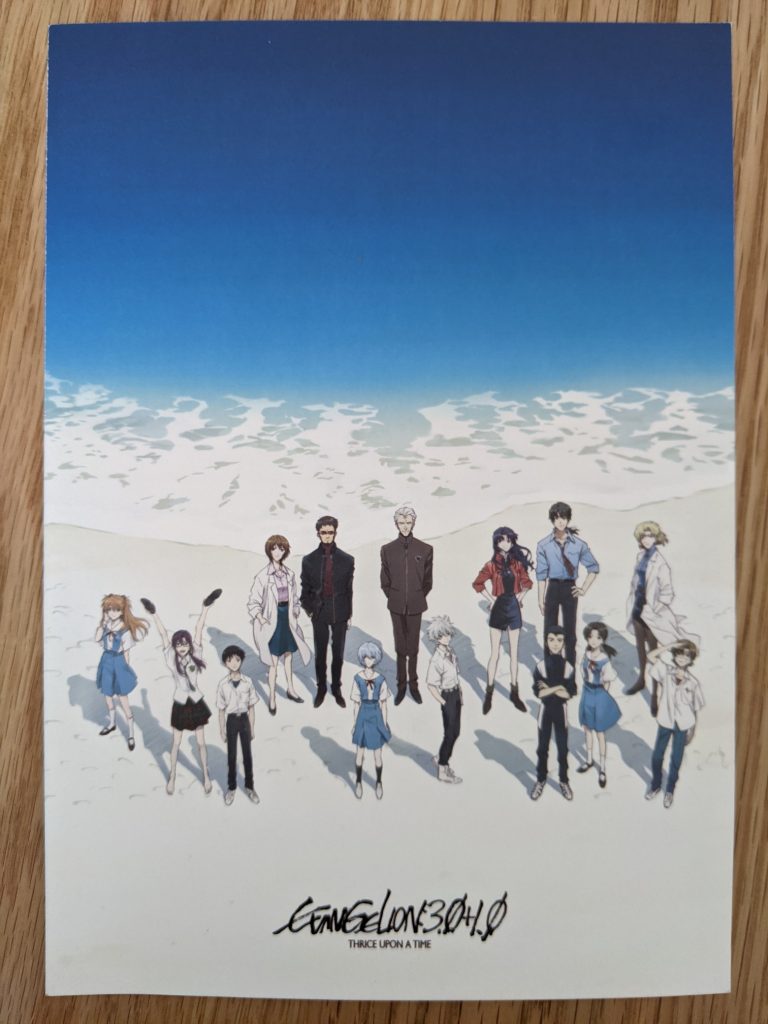 Evangelion Chronology
Neon Genesis EVANGELION
| | |
| --- | --- |
| 1995-1996 | TV Series |
| 1997 | the theatrical version |
New Theatrical Version
2007
Evangelion the new theatrical version: JO(序)
EVANGELION:1.0(YOU ARE (NOT) ALONE.)
2009
Evangelion the new theatrical version: HA(破)
EVANGELION:2.0(YOU CAN (NOT) ADVANCE.)
2012
Evangelion the new theatrical version: Q
EVANGELION:3.0(YOU CAN (NOT) REDO.)
2021
Shin Evangelion the theatrical version :||
EVANGELION: 3.0+1.0 Thrice Upon a Time
Other, Evangelion series have a manga version by Yoshiyuki Sadamoto, who is an Evangelion character designer.
It is interesting that the title of the final episode is different from othe new theatrical version series.
Shin Evangelion the theatrical version :||
Finally got around to seeing it in theaters the other day! Evangelion is a difficult work with a lot of mysteries and foreshadowing, but it was a highly acclaimed work, with previous foreshadowing being recovered, the growth of the main character Shinji, and the feelings of his father Gendou. It is difficult to understand all of the worldview, meta-expressions, etc., and the ending, but it was a work that condensed 25 years of the history.
The Professionals "Hideaki Anno Special"
While the movie was a big hit, a documentary program about the director Hideaki Anno, "The Professionals Hideaki Anno Special" was aired on NHK. It was very interesting program describing HIdeaki Anno's thought for his works. Here is a summary of the program and my impressions of it.
The "Evangelion" series is finally coming to a conclusion. The program follows the general director, Hideaki Anno (60), exclusively for four years. For the first time, the series' conclusion, "Shin Evangelion: The Movie," was fully documented in its entirety. What exactly was going on at the production site, where even master filmmaker Hayao Miyazaki said, "Anno makes movies while shedding blood"? This 75-minute special takes a closer look at the real life of this rare creator.

NHK official website
What kind of person is Hideaki Anno?
First of all, in the program, people around him talk about what kind of person Hideaki Anno is.
"A terrorist, a man who failed to grow up, Shinji-kun" by Toshio Suzuki (Ghibli film producer)
"Alien, bleeding to make a movie" by Hayao Miyazaki
"Mystery" by Emi Ogata (the voice actor playing Shinji)
"Shito(Angel)-chan" by Kotono Mitsuishi(the voice actor playing Misato)
"a person like both a girl and a boy" by Yuko Miyamura(the voice actor playing Asuka)
"a person abandoning life to work all the time, thinks he's cute" by Moyoko Anno (安野モヨコ, Anno's wife, a manga artist)
The close interview with director Hideaki Anno began in September 2017. It seems that the director doesn't come to the studio very often, but stays in a secret, separate work space.
This work will be the end of the series of Evangelion. For Director Anno, Evangelion is his masterpiece and "a curse". Because it is an anime that has become a social phenomenon, its existence is a pressure on other works, and the director is trying to overcome it by making a new theatrical version, a rebuild.
A new way of making anime films beyond imagination
This time, Anno is aiming for a new way of making anime films, one that does not involve storyboarding (the blueprint for animation). He wants to express himself with something that is outside of his mind, something that is more than what he thought up. He believes that "animation is a mass of ego". He wants to overcome this and create a new work that was different from his previous works.
Angles are a very important aspect of the video work. So, he uses motion capture to find interesting and unprecedented angles, and is looking for the best cuts to make the work interesting. At first, he leaves it to the team members, but in the end, Anno reworks it.
The production moved to the stage of pre-viz(pre-visualization, the screen configuration of each cut visualized with simple computer graphics), a simulation of the finished product from motion capture. First, the team members were asked to pre-vise the film, but Anno was not satisfied with the results and had to re-calibrate. He edits and edits all the time, and he pushes himself past his breaking point. His work is more important than his own life and livelihood. Moreover, at the time, the film was scheduled to be released in June 2020, but in June 2018, Anno decided to rewrite the script for Part A (the first part).
The desire to create something new and the spirit of putting one's life on the line to create a work of art is very telling. However, even if Anno leave it to other people, he ends up having to redo it himself, which makes it difficult for the staff around him. The team members said, "It's the same as always," and "even more so since it's the last one," but it's difficult for members to get close to what Anno envisions. I felt the production site very hard as a place to work.
Anno said that "fewer and fewer people are happy to be surrounded by mystery," and I thought that was why the story of Shin Evangelion was different from the old theatrical version. I found some scenes perhaps effected by pre-vis, like real not imagination, in the movie. I was also impressed by the fact that he mentioned that in sending a work out into the world, there is a possibility that the work will not only have a positive impact on the audience, but also a negative one. I felt that he was making his work with a lot of determination.
Something was always missing (Ube City, Yamaguchi Prefecture)
Director Anno's father lost his left leg in an accident and held a grudge against the world, and his son Anno felt the grugage. Anno loved robot animation and often watched and drew pictures of them. He liked to draw pictures of robots that were lacking in some way, such as missing legs. Perhaps it was because of his father's influence, but he felt that it was better if they were not complete, and that the missing parts were interesting.
Anno's talent was evident from a young age, especially in the animation of explosion scenes, and he worked on "Nausicaa of the Valley of the Wind" and "Nadia of the Mysterious Sea" under Hayao Miyazaki. His immersion in his work was remarkable even then.
Evangelion was an animation that made history, but the ending was different from what was planned because the production could not keep up. Anno even considered suicide by looking at the slander on the internet. At that time, with the help of Ghibli producer Toshio Suzuki, he was able to overcome the situation, but each of his works continued to be the second best version of Evangelion. In 2007, ten years after the end of Evangelion, director Anno started a new theatrical version of Evangelion to put an end to it. However, when he started working on the final part of the tetralogy, he became depressed as a reaction to making three films in six years, and was unable to make any more films. Anno said that he became depressed "because he had to throw up in order to make it interesting". He was supported by his manga artist wife, Moyoko Anno. She says that in the end, Anno loves to create.
It seems that Anno repeatedly pours his energy into his works and then runs out of energy and becomes depressed. I think he is exactly "a person who makes movies while vomiting blood", as Hayao Miyazaki said. I felt it is very tough for people sround him to support him. His wife, the manga artist Moyoko Anno, has been supporting him all these years, and they are very close and supportive of each other both in public and private life. Some of Moyoko Anno's manga are about working women, and I think they are a well-balanced couple, Hideaki Anno pursuing his ideals and Moyoko Anno dealing with reality. Mrs. Anno is also a member of the production team of Evangelion, so we can say that they are partners in both private and public life.
Complete EVANGELION
December 2018, director Anno decided to rewrite the script for part D (the final part) because it was not progressing. It was a very last-minute schedule for the release of the film. The recording had already started. In order for the film to be released on schedule, the script has to be finished by May 2019. With the burden of completing the film by the deadline, the work progressed.
In December of 2020, the film was finally completed.
In the end of this documentary program, Anno said that the reason why he put his life into his work was because "this is the only thing I can do that is useful to people."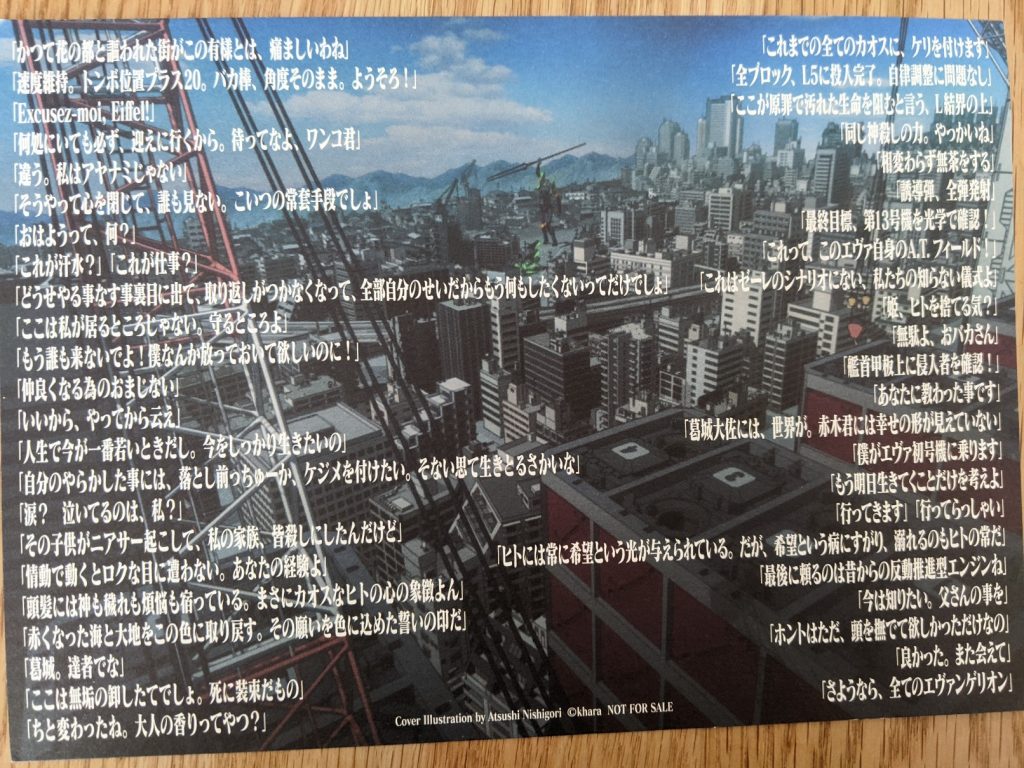 The last evangelion work was completed on a last-minute schedule. The production of anime verson Neon Genesis Evangelion was not able to keep up with the end episode, the end of the old theatrical version was controversial, and therefore the fans were not satisfied, and director Anno himself was trapped by Evangelion and it affected his other works, so he started to rebuilt it 10 years later. However, after the release of "序", "破", and "Q", Director Anno was taken ill, and it took 9 years until the last "Shin Evangelion" was released (ofcourse, one of causes is also the COVID-19). Fans kept asking, "Will it really end?" and some fans said, "Evangelion will never end". These seem to have led to the strong will of the production team to "surely complete Evangelion".
Shin Evangelion has been highly acclaimed by the fans as the conclusion of the Evangelion series. The director Anno and his team have settled the long battle, and this final work is a work that moves the hearts of many fans who have been waiting for it, and leaves a lasting impression on their hearts. I think it is truly a work that fulfilled the director's desire to be of service to others.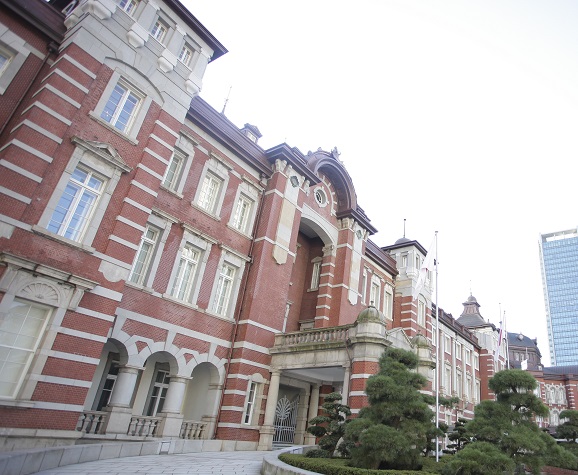 Japanese OL. (OL means "office lady". Women who work in offices.)
I was born in a rural part of the Kanto area in the latter half of the 1980s. I  live and work in Tokyo now. I live with my husband. I study English by writing this blog!