About tourism in Japan after the recovery from COVID-19 in 2023
Hello! Golden Week has started in Japan.
What is Golden Week?
→The period from Showa Day to Children's Day is called Golden Week, and in order to make it a consecutive holiday, the days in between are often also paid.
My Post about Japanese national holidays↓
Japanese national holidays

In 2023, if we take off the 1st and 2nd, it will be a 9-day Golden Week holiday(from 29th April to 7th May).
A tourism demand after the COVID-19 pandemic
Finally, COVID-19 measures have settled down in Japan, and this year's Golden Week is expected to see a tourism demand at the same level as before COVID-19, with many Japanese enjoying travel and going out.
On the other hand, I have been seeing many foreigners visiting Japan in Tokyo since about March.
In particular, I see many foreign visitors to Japan standing in line at airports, and at large train stations such as Tokyo, Shinjuku, and Shinagawa.
Since the relaxation of airport quarantine measures in October 2022, the number of foreign visitors to Japan has gradually increased, and according to the Japan National Tourism Organization (JNTO), the estimated number of foreign visitors in March 2023 was 1,817,500, which is two-thirds of the number of visitors in March 2019 before the COVID-19 pandemic. By country, South Korea, Taiwan, and the U.S. followed.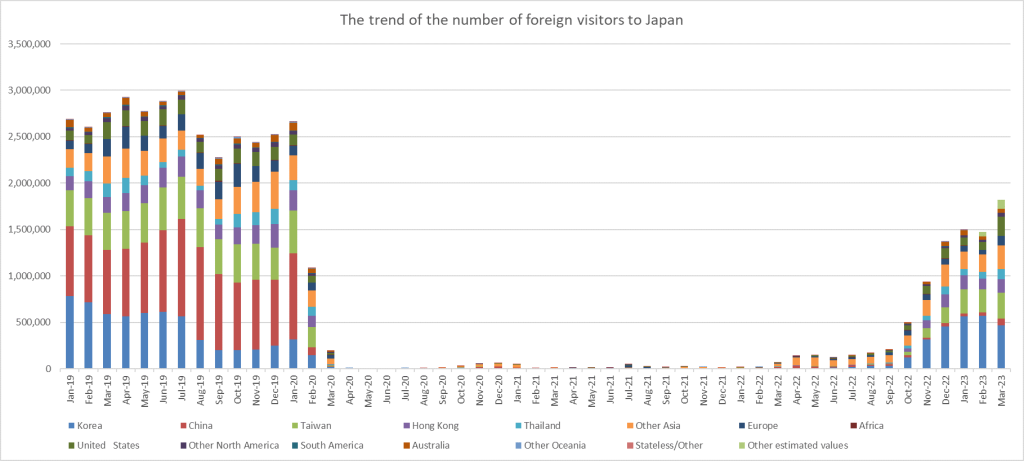 Source: Japan National Tourism Organization (JNTO)
※Figures for February and March 2023 are estimates.
Although Japan relaxed its entry restrictions in March, the number of Chinese visitors, who were the most frequent visitors before the pandemic, has not increased significantly because group tours are still not allowed. However, it is expected that the number of Chinese visitors will gradually increase by around summer.
Japan's Readiness to Accept Tourists
Although we are very happy to see a recovery in demand for travel, the rapid recovery has made it difficult for the receiving side to keep up with preparations. In particular, the hotel and restaurant industries, which lost workers due to the pandemic, have not seen their workers return even after the pandemic recovery, leaving them short-staffed. With Japan's declining birthrate and aging population making it difficult to secure labor throughout the country, industries that originally had a high turnover rate and low wages are finding it difficult to bring back workers.
There have been news reports that hotel prices in Tokyo have skyrocketed as the number of foreign and Japanese tourists visiting Japan increases, especially in Tokyo. Some hotels have even closed down due to the pandemic, and with a shortage of staff, occupancy rates have dropped. However, Japan is considered to be quite affordable compared to other countries, so it may not be that expensive for inbound travelers… That being said, it may become difficult for Japanese people, especially young people such as students, to afford to stay in hotels during peak travel season.
Latest Sightseeing Spots in 2023
Finally, we would like to inform you of our latest recommendations for Japan in 2023. Please come to Japan!
GHIBLI PARK
A park that represents the world of Studio Ghibli, created in Aichi Prefecture's "EXPO 2005 AICHI COMMEMORATIVE PARK" (Moricoro Park). It was opend in November ,2022. It is located about 40 minutes from Nagoya and requires a reservation. The first phase is currently open, offering exhibitions of the works and the opportunity to experience the world of "Whisper of the Heart" and "My Neighbor Totoro." The second phase is planned to feature facilities from "Princess Mononoke" and "Kiki's Delivery Service."
Location
1533-1 Ibaragamibanchō Otsu, Nagakute-shi, Aichi-ken 480-1103, within the EXPO 2005 AICHI COMMEMORATIVE PARK
Access
Take the Higashiyama Subway Line from Nagoya Station to Fujigaoka Station, transfer to the Linimo Line, and get off at Ai Chikyū Haku Kinen Kōen Station(41min).
Open hours
Weekdays 10:00-17:00 (9:00- during holiday periods),
Weekends and Holidays 9:00-17:00
Admission
"Hill of Youth" and "Ghibli's Grand Warehouse" combination ticket:
Weekdays 3,000 yen, Children 1,500 yen;
Weekends and Holidays 3,500 yen, Children 1,750 yen.
"Dondoko Forest": Adults 1,000 yen, Children 500 yen.
*All require advance reservations. Children are defined as 4 years old to elementary school students.
Official Site
https://ghibli-park.jp/en/
TOKYO MIDTOWN YAESU
TOKYO MIDTOWN YAESU was opened in April 2023, this 45-story complex directly connected to Tokyo Station integrates stores and restaurants, offices, a bus terminal, and a rooftop terrace.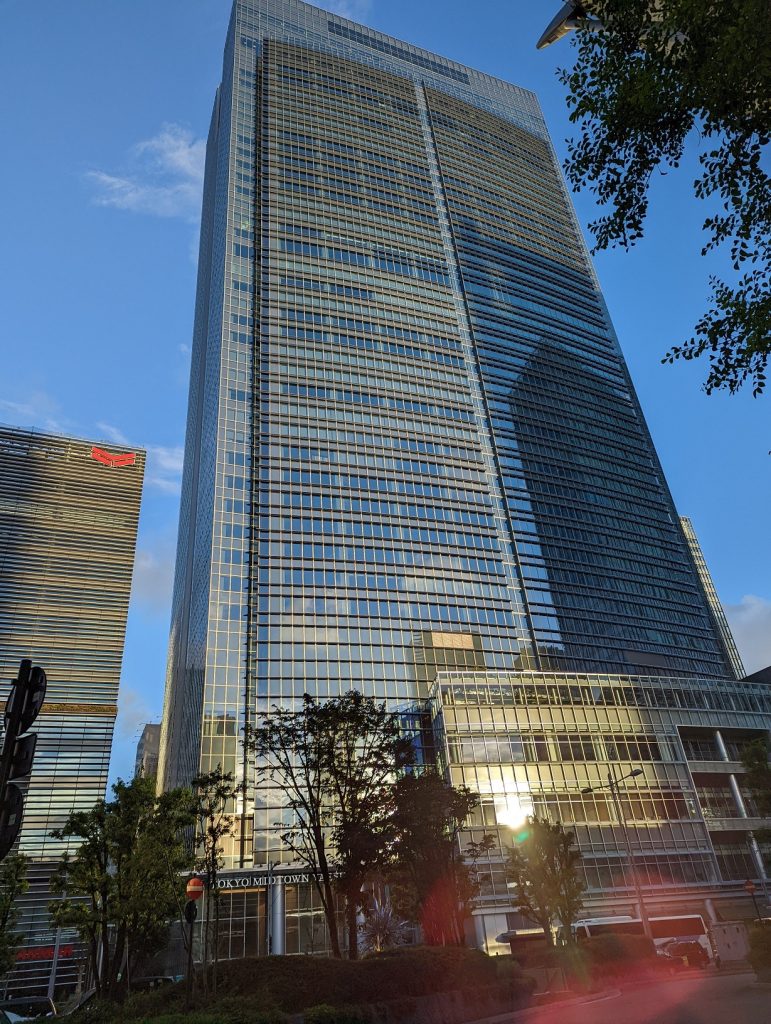 These photos were taken in 2022 summer. Tokyo Midtown Yaesu is in the front of Tokyo Yaesu Exit.
Stores and restaurants are located on the 1st to 3rd basement floors, and the 4th and 5th floors are Innovation Field Yaesu, a center for exchange and emergence where companies, academia, and startups gather as a starting point for urban and regional innovation. There is also a terrace. In addition, a municipal elementary school has been relocated and integrated in the back of the facility. Floors 7-38 are for offices. It seems that the facility had difficulties with tenant recruitment during the pandemic, but it seems to have been filled up. Floors 40-45 are the luxury Bulgari Hotel Tokyo, with room rates starting at 300,000 yen per night.
Tokyu Kabukicho Tower
Opened in April 2023, the tower is a new symbol of Shinjuku Kabukicho, Japan's largest downtown area. It is a rare redevelopment building without offices, and consists of entertainment facilities such as food halls, restaurants, theaters, concert halls and cinemas up to the 10th floor, and a hotel above the 18th floor. The hotels are "BELLUSTAR TOKYO, A Pan Pacific Hotel," a luxury hotel on the 39th floor and above, and "HOTEL GROOVE SHINJUKU, A PARKROYAL Hotel," a place to experience the art and music of Shinjuku Kabukicho on the 18th to 38th floors. These facilities are packed with Japanese traditions and entertainment, and are recommended for sightseeing.
The restroom on the second floor is a genderless restroom that can be used by anyone regardless of gender, but this has caused controversy and as of April 2023, a security guard has been posted in the restroom.
日も暮れてきましたが、#東急歌舞伎町タワー はまだまだこれからです…!
夜の顔もぜひ楽しんでくださいね✨️ pic.twitter.com/WZyz67rbgI

— 東急歌舞伎町タワー【公式】 (@TKT2023official) April 14, 2023
↑You can see the indoor view from this official tweet. Shinjuku Kabuki Hall on the second floor is open from 6:00 a.m. to 5:00 a.m. and can be enjoyed throughout the night.
Warner Bros. Studio Tour Tokyo – Making of Harry Potter
Warner Bros. Studio Tour Tokyo – Making of Harry Potter, which will open on June 16, 2023 at the former site of Toshimaen amusement park, is a new walk-through entertainment facility where visitors can discover the behind-the-scenes of the movie world and the secrets of the Wizarding World The tour is the first of its kind in Asia. The first of its kind in Asia, Warner Bros. Studio Tour Tokyo is the world's largest indoor Harry Potter facility.
Location
1-1-7 Kasuga-cho, Nerima-ku, Tokyo
Access
2 min. walk from Toshimaen Sta. on Seibu Toshima Line / Toei Subway Oedo Line
Open hours
Depends on the day (8:30-22:00 max?)
Admission
Adults 6300 yen, Middle-aged people 5200 yen, Children 3800 yen
※Must be purchased in advance for a specific time
Official Site
https://www.wbstudiotour.jp/en/
Please come to Japan once!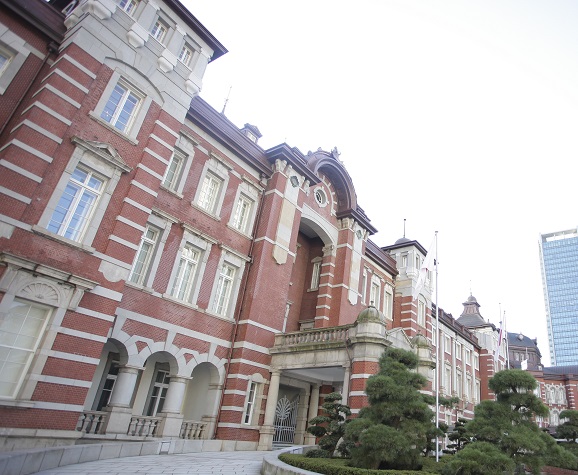 Japanese OL. (OL means "office lady". Women who work in offices.)
I was born in a rural part of the Kanto area in the latter half of the 1980s. I  live and work in Tokyo now. I live with my husband. I study English by writing this blog!