Travel to Kusatsu Onsen(草津温泉)
Hello! I spent this weekend in Kusatsu(草津)! Kusatsu is one of the most popular onsens(温泉) town (which means spa town). That is located in Gunma prefecture. It takes about 3 hours by train from Tokyo. Not so far. I have been to Kusatsu several times.  If you are interested in Japanese hot springs, I would like you to visit there. Today I will introduce Kusatsu.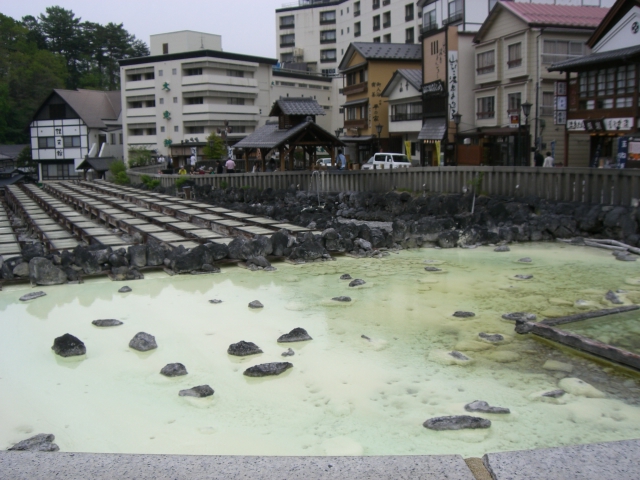 ※About An eruption at Kusatsu Motoshiranesan mountain (as of Feb 2018)
 An eruption occurred on January 23th in 2018 at Kusatsu Motoshiranesan mountain, one person died, 11 people suffered injuries. At Kusatsu Onsen, the number of tourists decreased after the eruption, but they came back recently. The hot spring is 5 kilometers away from Motoshirane mountain and it is said on the official website that there is no effect of the eruption. However, at the Kusatsu ski resort, the number of visitors is about 40% lower than usual.
What is Kusatsu like?
Kusatsu Onsen is said to one of the three major hot springs in Japan. (Three major onsens are Gero(下呂), Arima(有馬) and Kusatsu.) Kusatsu Onsen continues to win first place for 15 years at the popular hot spring area ranking "Hot Spring 100 Selection in Japan" hosted by Kanko-keizai-shimbun(tourism economic newspaper company) and sponsored by Japan Tourism Agency.
The yield of hot spring water is the most in Japan, and you can enjoy "gensen-kakenagashi(源泉掛け流し)", which means water comes directly from the hot spring. Kusatsu Onsen is a very acidic spa. pH value is 2.1 (Yubata source). The bactericidal action is outstanding.
Kusatsu Onsen is the well-known hot spring where many celebrities have visited and have been healing the heart and body of many people since long ago.
【location】
Kusatsu-machi, Agatsuma-gun, Gunma Prefecture
【Access】
By train
①use limited express
Ueno Station
↓ JR Limited Express Kusatsu (about two and a half hours) / 5,000~5,500 yen※
Naganoharakusatsuguchi Station
↓ JR Bus Kanto (about 25 minutes) / 700 yen
Kusatsu Onsen Bus Terminal
②use Shinkansen
Tokyo Station
↓ JR Hokuriku or Joetsu Shinkansen  (about 1 hour) / 6,000 ~6,500 yen※
Takasaki Station
↓ JR Agatsuma line (about 1 hour 20 minutes)
Naganoharakusatsuguchi Station
↓ JR Bus Kanto (about 25 minutes) / 700 yen
Kusatsu Onsen Bus Terminal
※ The fee is different depending on the season.
by bus
Tokyo Station or Busta Shinjuku
↓JR Bus Kanto Joshu-yumeguri-go(about 3~4 hours)/3000~3500yen※
Kusatsu Onsen Bus Terminal
※Riding time and fee are different depending on season and route.
【website】
https://www.kusatsu-onsen.ne.jp/guide/en/
My weekend trip to Kusatsu Onsen
I went to Kusatsu by limited express from Ueno station. I like the train journey! I often enjoy eating "ekiben(駅弁)" on a train when I travel.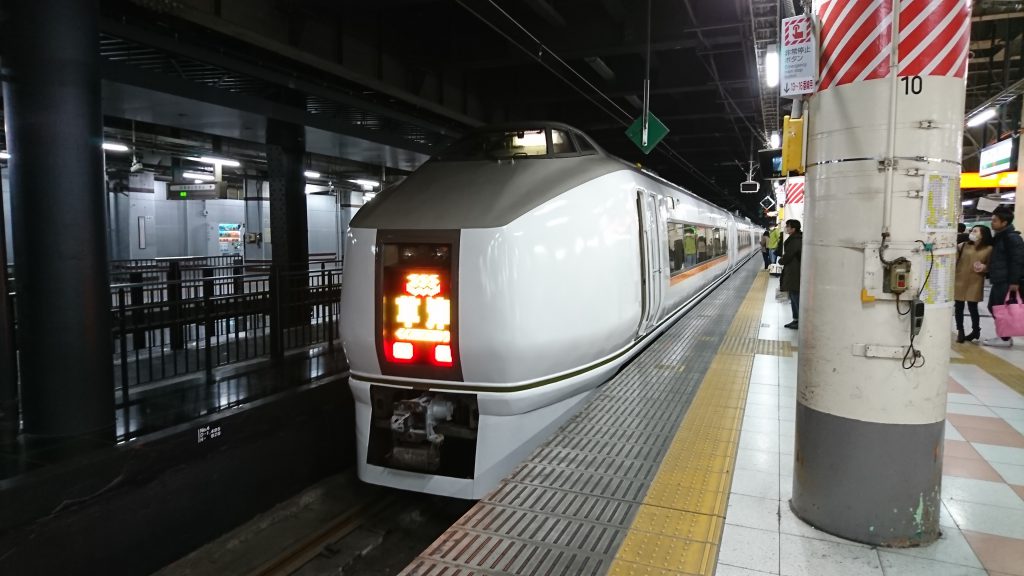 ↑Tokkyu Kusatsu @ Ueno station
It took 3 hours by train and bus, I arrived at Kusatsu Onsen.
This is Yubatake(湯畑).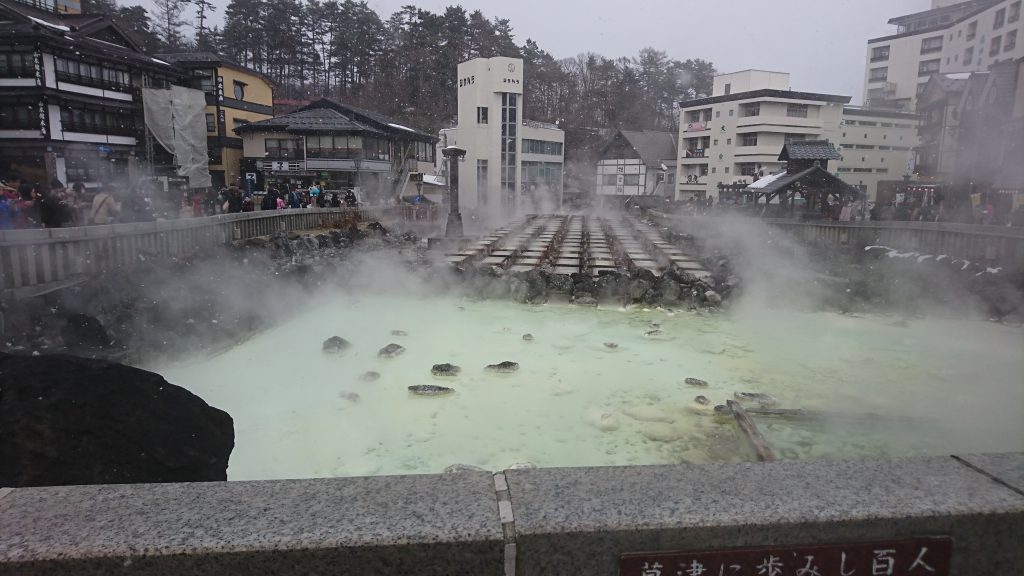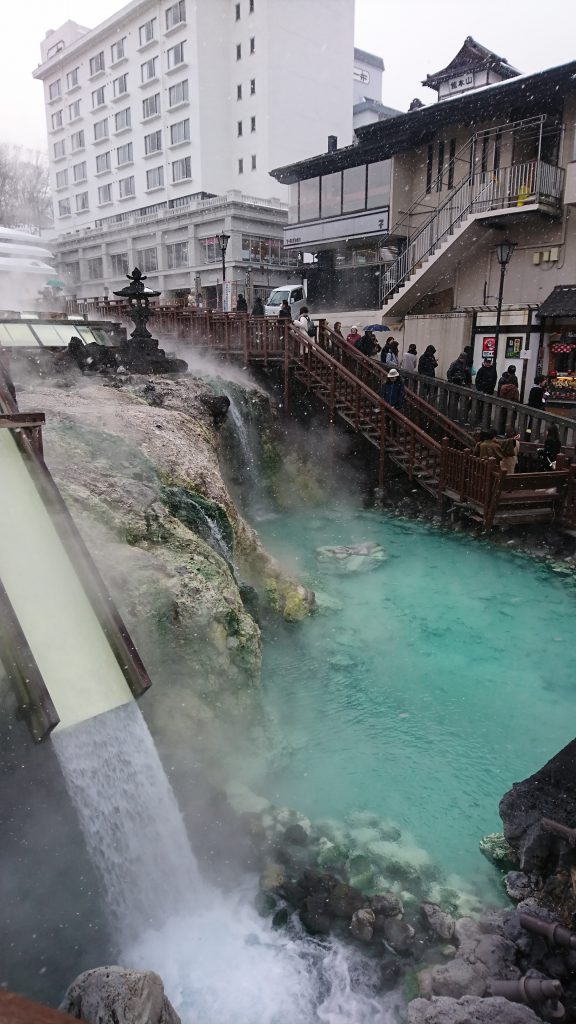 Yubatake is a facility that collects hot spring components and adjusts the temperature of hot water by flowing directly the hot water on the surface of the earth or wooden gutters. Yubatake is a symbol of Kusatsu Onsen and it is in the center of the town. There is a smell of sulfur and white smoke in the vicinity.
I went to Netsunoyu(熱乃湯) to watch yumomi(湯もみ).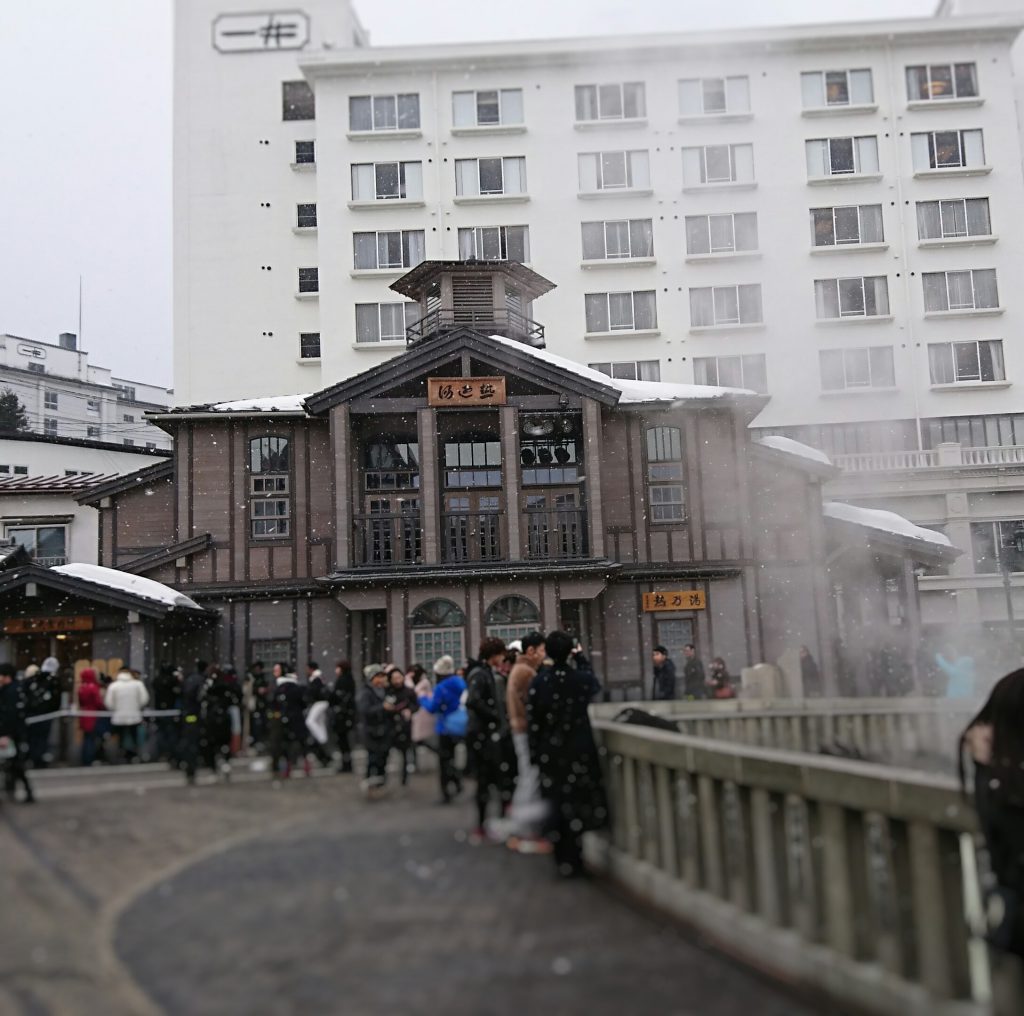 ↑Netsunoyu
Kusatsu Onsen is very hot. Yumomi is to put a board and chill the hot water and lower it to a certain temperature. In Netsunoyu, you can watch "yumomi girls". And you may be able to experience yumomi!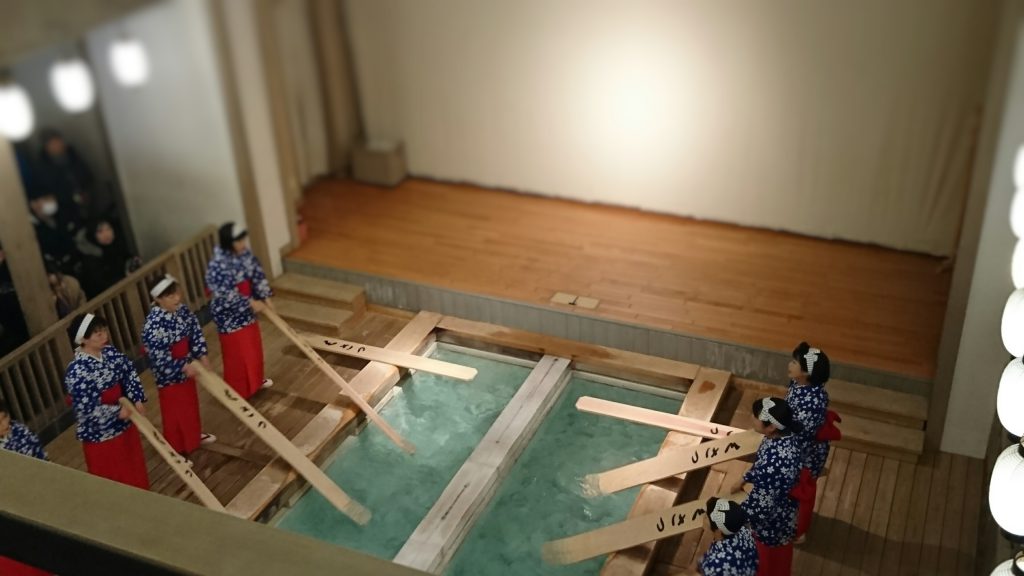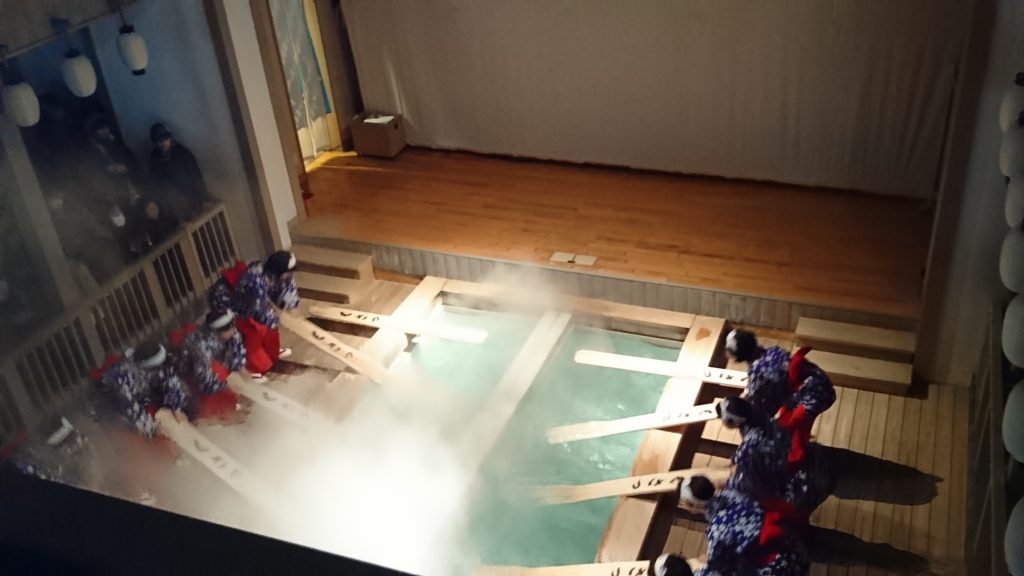 ↑Yumomi girls
After that, I bought local craft beer and sake in the liquor store, then went to the ryokan I booked.  After relaxing in the room,  I soaked in the hot spring. There was a smell of sulfur in the large public bath. The temperature of the hot water in this onsen was fairly high. There are lots of health benefits of this onsen, and I felt I recovered from fatigue.
I took a bath three times(at night and next morning) on this trip! After entering the onsen, I ate Japanese style dinner. Many dishes were served like French cuisine. These photos are a part of the dishes. I love Japanese food!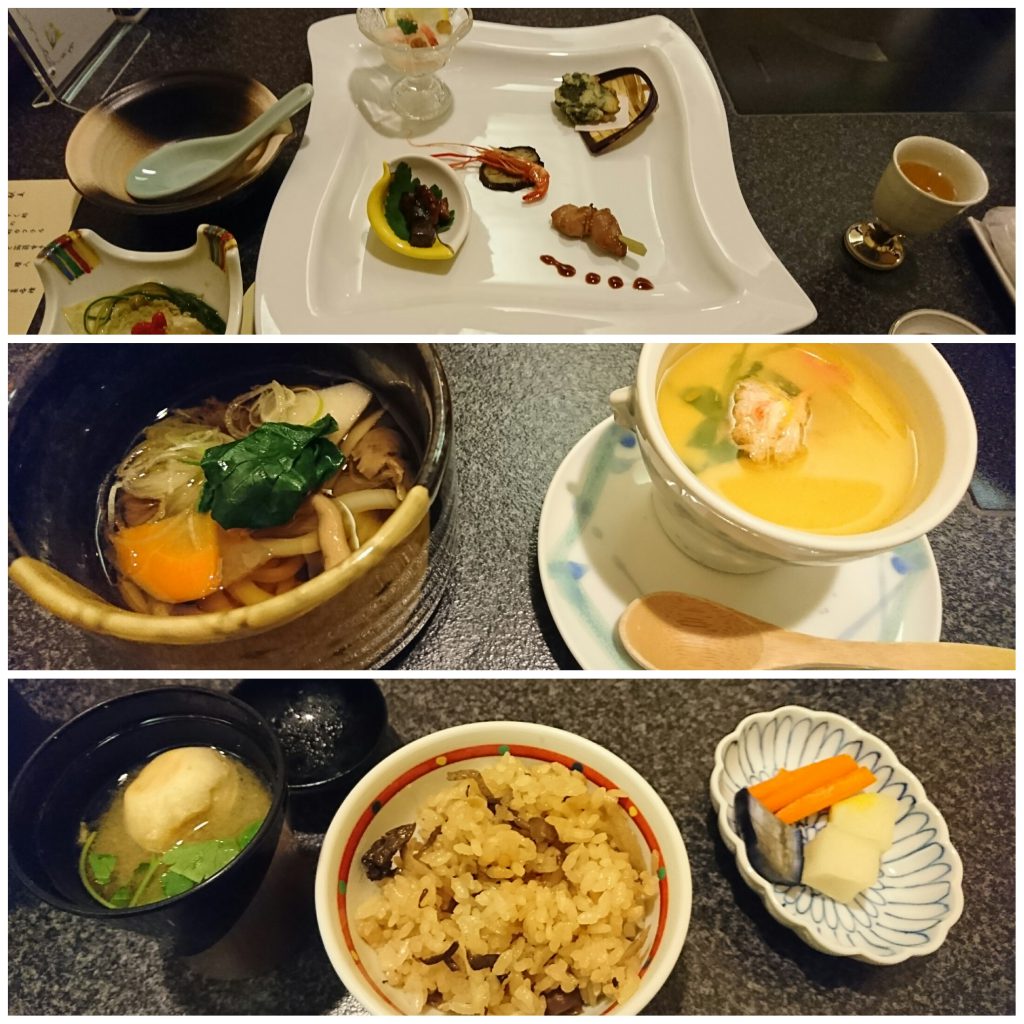 After finishing dinner I returned to the room and drank the local beer and sake. I like to drink local alcohol while traveling! Then I went to the futon and sleep.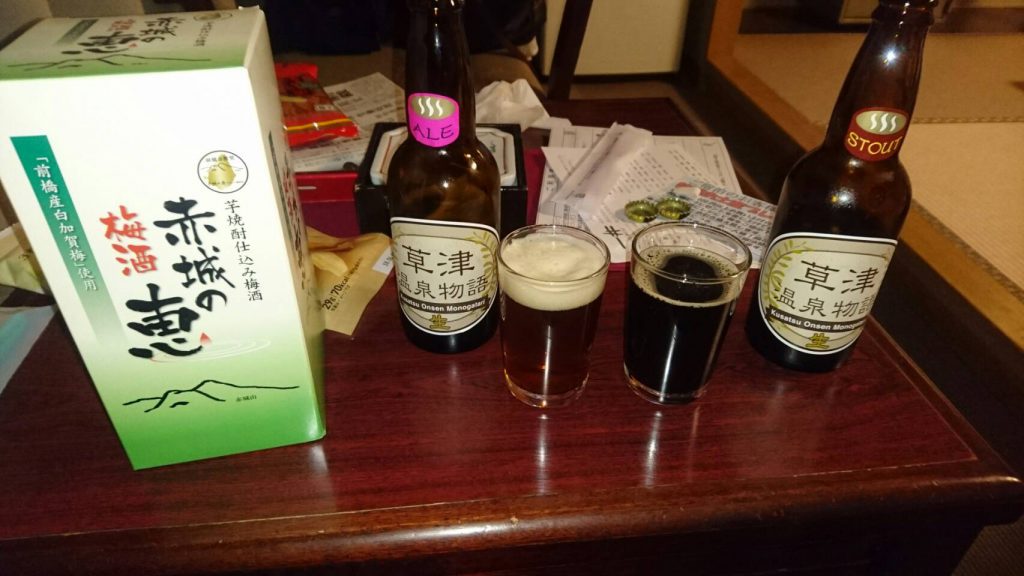 The next morning I took a bath in onsen again and had breakfast. This is "okayu, (お粥)", which is cooked rice soft with a lot of water.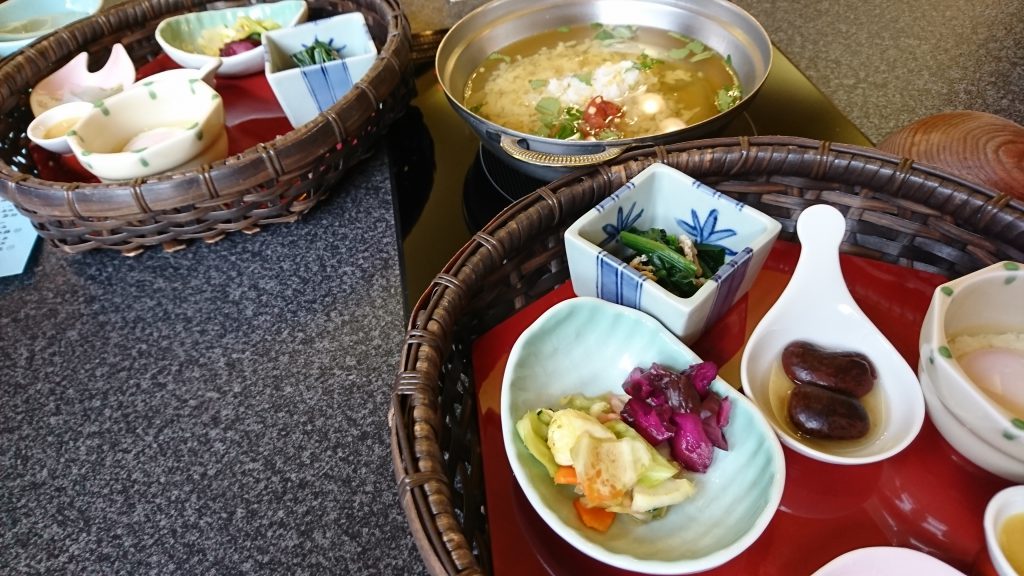 I got onsen-manju as a souvenir, and went home!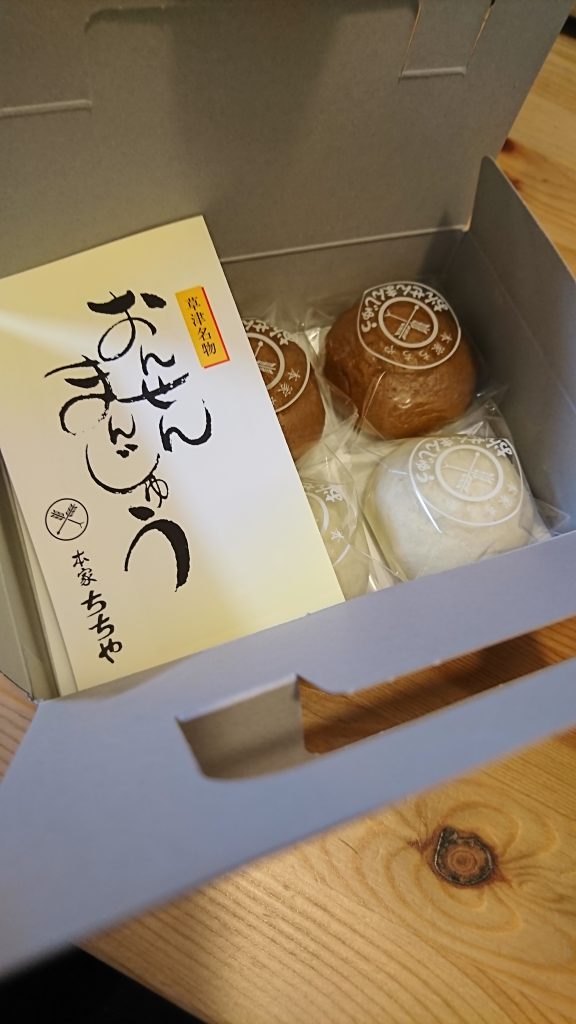 ↑Manju is steamed Japanese sweets that kneaded flour and put bean paste. It is sweet!
I enjoyed  Kusatsu onsen on the weekend! I am so refreshed!
If you want to go to Japanese hot springs, why don't you go to Kusatsu? In Kusatsu, you can feel "Japanese onsen town" and experience high- quality hot spring!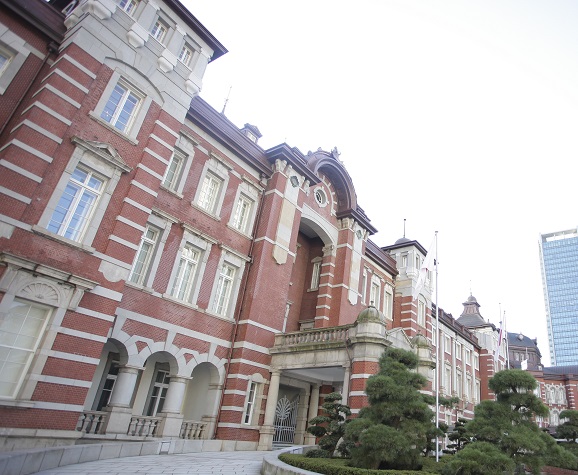 Japanese OL. (OL means "office lady". Women who work in offices.)
I was born in a rural part of the Kanto area in the latter half of the 1980s. I  live and work in Tokyo now. I live with my husband. I study English by writing this blog!