Kayanoya ~Japanese high-class dashi~
Hello. Today, I introduce you to Kayanoya(茅乃舎)'s dashi and products.
The COVID-19 is spreading worldwide, and the number of infected people in Japan has also increased considerably, and a second emergency declaration has been issued in some areas such as the metropolitan area. This time, the government requests people to refrain from going out after 8 p.m. and eating in stores. Also, people are asked to reduce the number of employees coming to work by 70%.
Now that I have more opportunities to stay home, I thought I'd like to talk about home cooking this time. Since it is cold in winter, people tend to cook hot stewed dishes such as nabe (hot pot), and we have more opportunities to use dashi. In this post, I talked about the Japanese dashi culture.
In that post, I introduced Kayanoya(茅乃舎) as a high-class dashi with an elegant taste and no additives.
Today, I would like to introduce you to Kayanoya(茅乃舎) in a little more detail, focusing on the basic dashi such as Kayanoya Dashi and their winter products.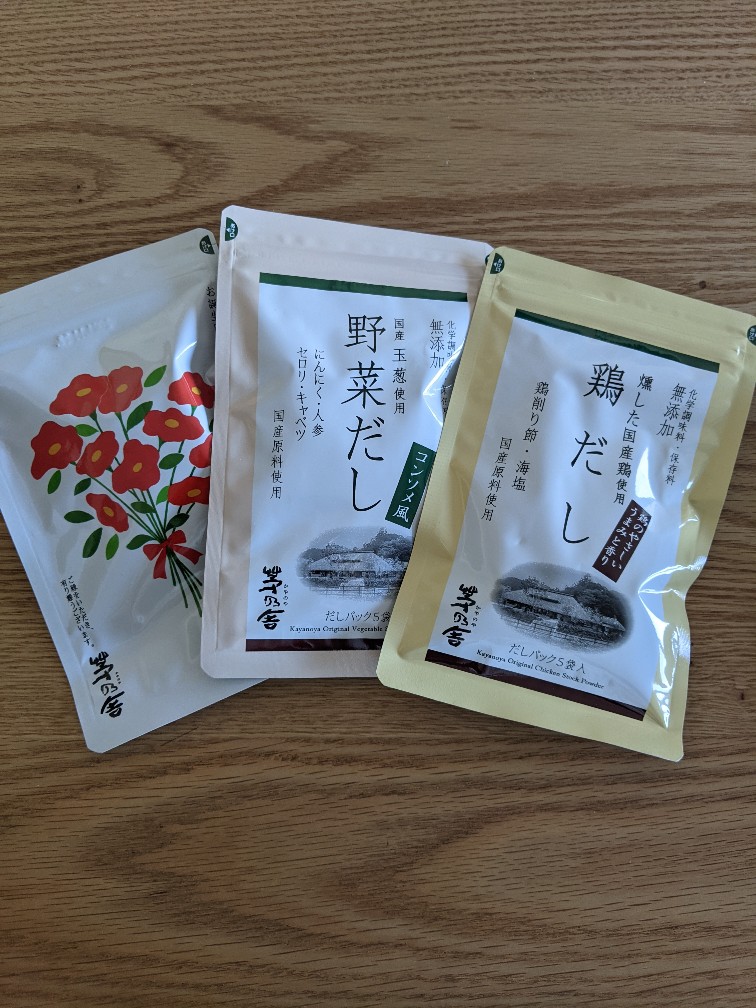 What is Kayanoya(茅乃舎)?
Kayanoya dashi is one of the most popular brand soup stocks. Kayanoya originally started out as a small soy sauce shop called Kubara Honke(久原本家) that originated in Fukuoka Prefecture. About 15 years ago, the Kubara Honke opened a natural food restaurant in an old house called Kayanoya, and from there the brand Kayanoya Dashi was made. Today, it has not just a local store, but has 26 stores all over the country and also sells online in the United States. The company's business model is "manufacturing and retailing," and although it is a food manufacturer, direct sales and mail order sales account for the majority of its sales.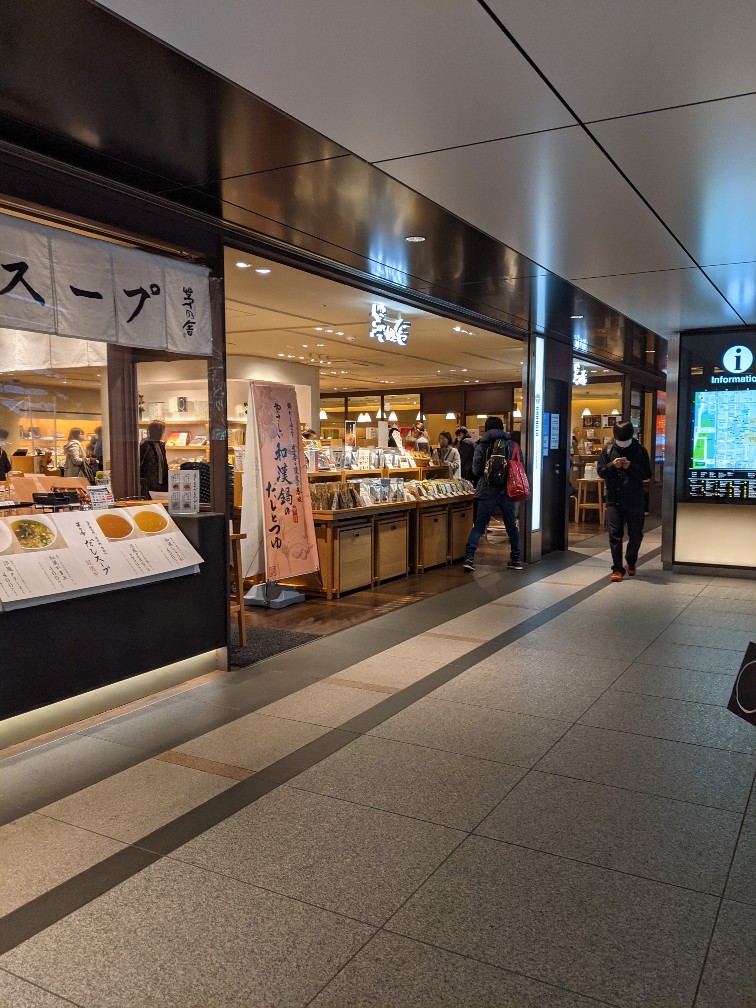 When you buy dashi at a store, Kayanoya will give you a stylish pamphlet with recipes on how to use the dashi in your cooking. Also, the daily living and cooking with Kayanoya products are drawn in the mail-order catalog. They express the Kayanoya brand and concept. It's a nice brand marketing!
The appeal of Kayanoya dashi
・Well-known for its nice taste
Unlike the soup stock sold in supermarkets, it has a refined taste and at home can reproduce the authentic taste of soup stock served in restaurants. Additive-free, good for your health.
・Easy to use dashi pack
The dashi pack makes it easy to make delicious food without much effort. After making soup stock for stewed dishes, you can tear open the pack and use it for other dishes.
・Kayanoya has many various seasonings.
In addition to Japanese-style dashi, there are also chicken dashi, vegetable dashi, and many other flavors of dashi. It can be used for Japanese, Chinese, and Western cuisine. There are other many seasonings derived from dashi, such as men-tsuyu, nabe no moto, and oden no tsuyu.
"Temahima(てまひま)"
This "Temahima" is a seasonal from the official online site. It shows dishes that use the season's seasonings.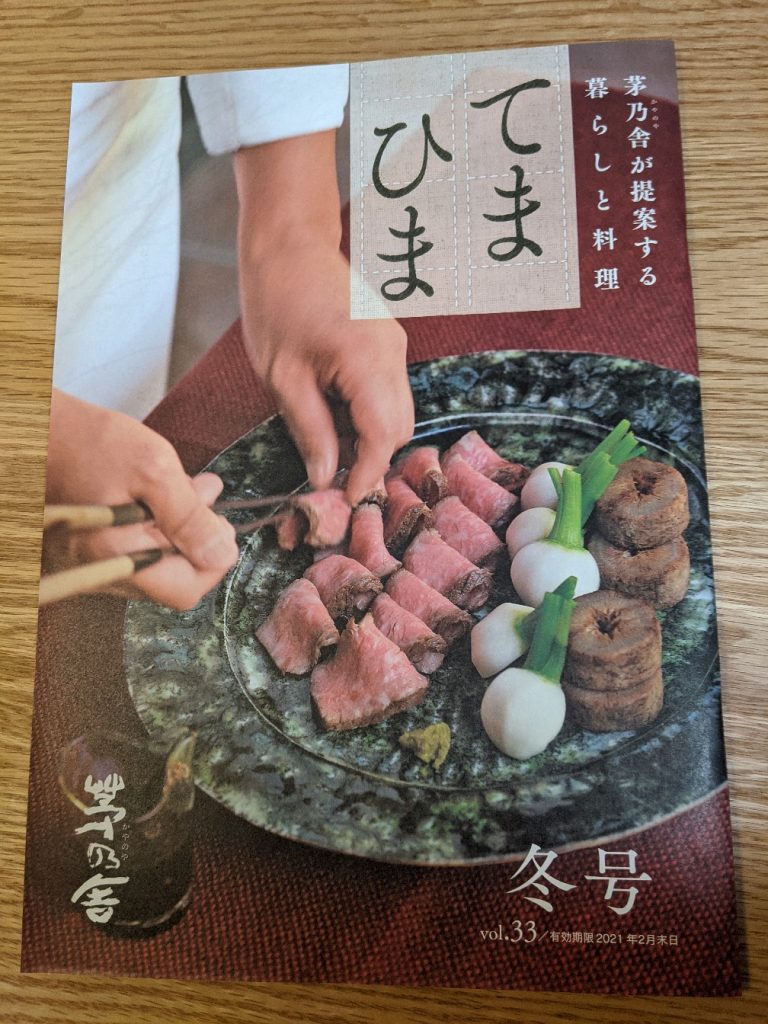 The concept is to introduce careful living and cooking with Kayanoya products. "Temahima" expresses a very old-fasioned Japanese household living, and I think it's appropriate for high-end seasonings. But I don't have much time, and I don't like to cook, so it's impossible for me lol. I don't often use dashi with cooking the complicated dishes listed in this pamphlet, but I rather sometimes use Kayanoya's dashi to make everyday things like miso soup more delicious without much effort.
I introduce you to the different types of dashi and how to use them from this brochure.
Types of Kayanoya Dashi
There are three basic types of dashi of Kayanoya.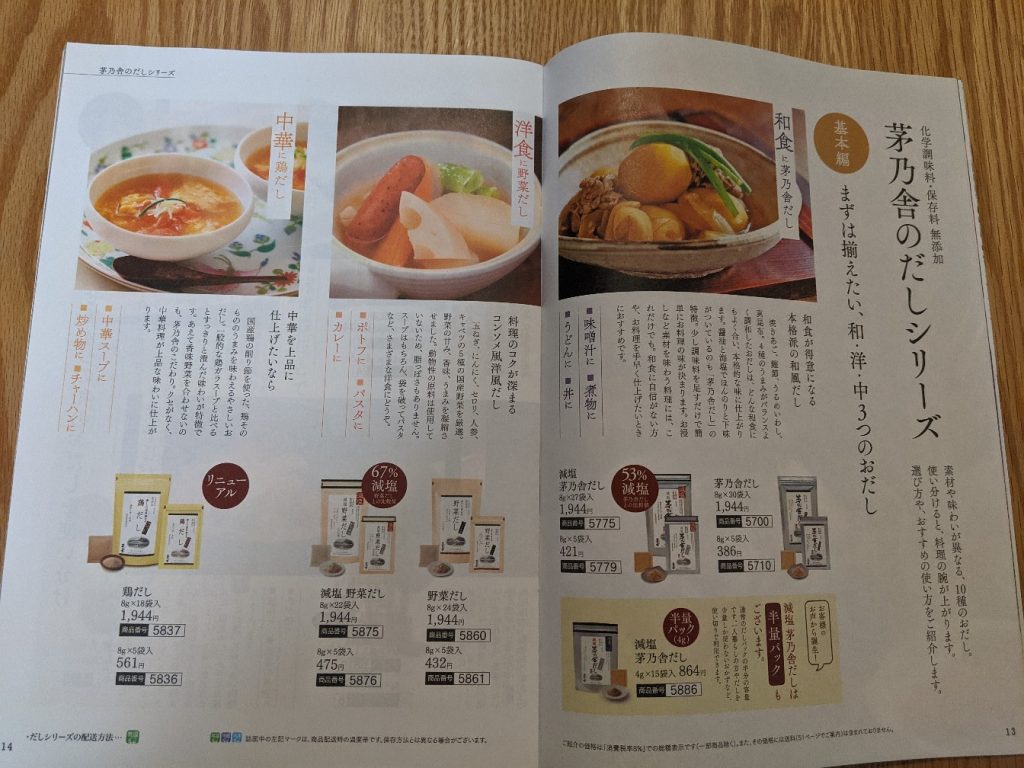 Kayanoya dashi (for Japanese food)
This dashi is a harmonious combination of the flavors of roasted chin, dried bonito flakes, sardines, and true kelp. It goes well with Japanese food. It can be used for miso soup, simmered dishes, and rice bowls. The right of photo above shows meat and potatoes. I often use it for miso soup and nabe.
Vegetable dashi (Yasai dashi for Western food) 
This soup stock contains the sweet and savory flavors of five vegetables: onion, garlic, celery, carrot, and cabbage. It is suitable for Western dishes. It can be used for pot-au-feu, pasta, and curry. The middle of photo above is a pot-au-feu. I often use it for consomme soup and tomato stew.
Chicken Dashi (Tori dashi for Chinese food)
A gentle and refreshing soup stock made from shavings of chicken. It gives Chinese dishes an elegant finish. It is used for Chinese soup, fried rice, and other Chinese stir-fries. The left of photo above is Chinese soup. I often use it to make Chinese-style chicken soup and to season Japanese dishes.
There is also kombu dashi (kelp dashi, used mainly for Japanese dishes), niboshi dashi (dried bonito dashi, used for pork soup), and shiitake dashi (shiitake mushroom dashi, used for simmered dishes).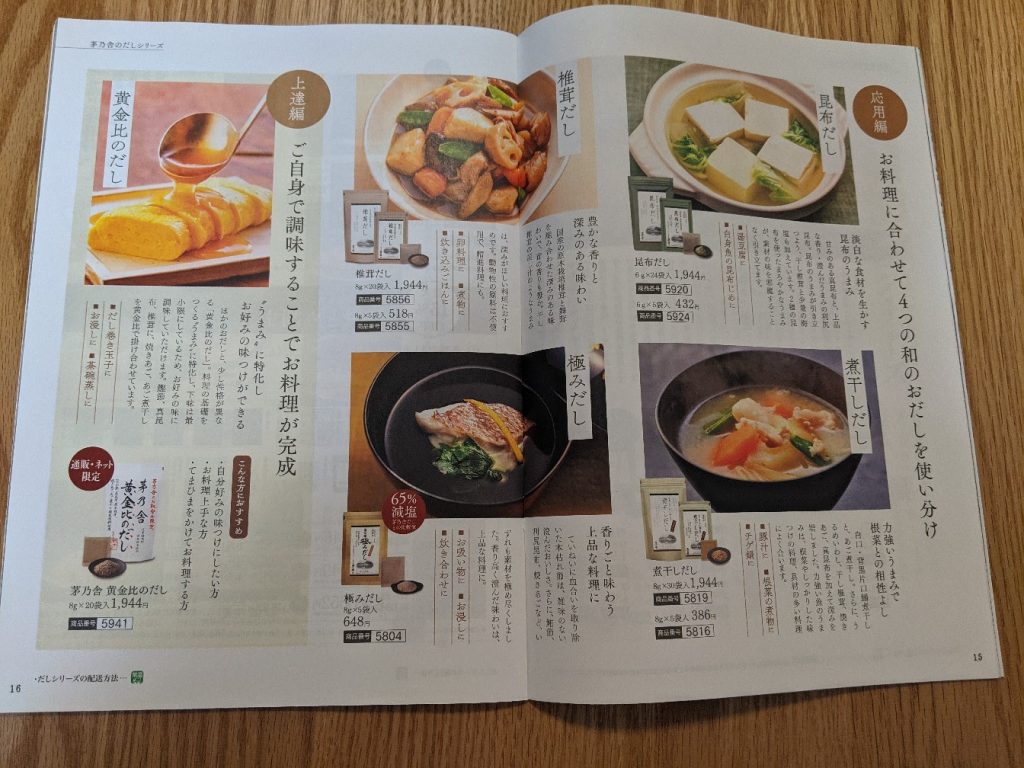 How to use Kayanoya dashi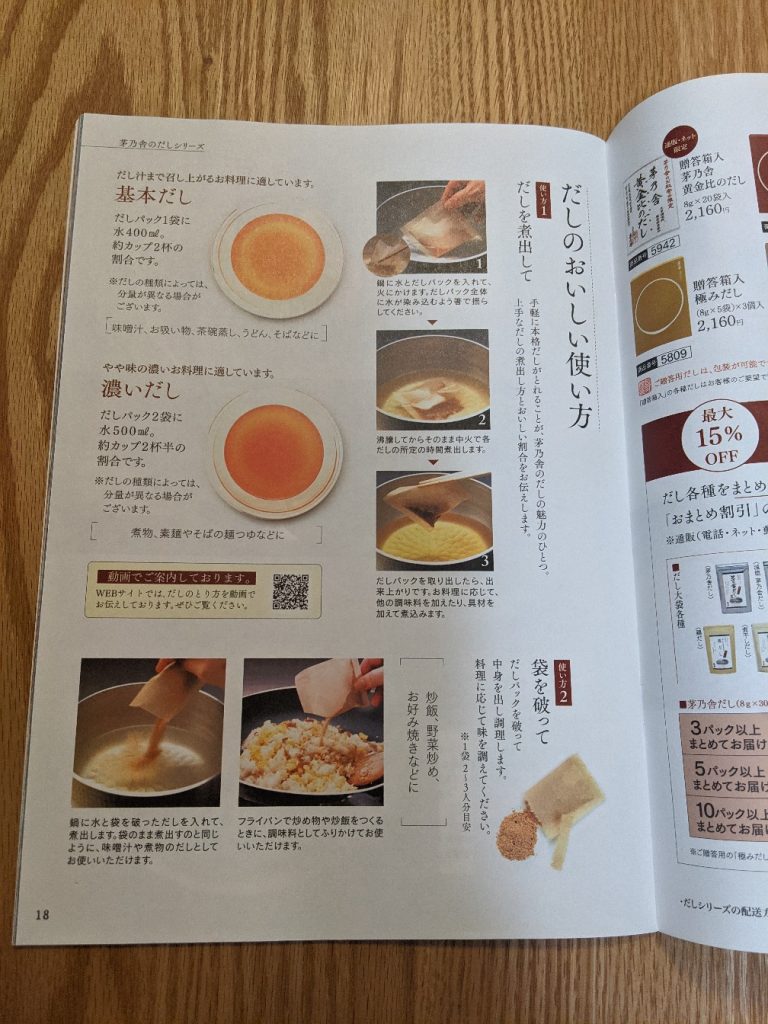 1 Boil (upper right in the photo)
Put water and dashi in a pot and heat it.
After boiling, simmer for the specified time each dashi.
Remove the dashi bag and add other seasonings and ingredients.
2 Use the contents of the bag (bottom photo)
Tear open the bag and remove the contents.
The contents can be sprinkled on stir-fries, or boiled in a pot like as (1).
I often use the way of (1) ,then use the way of (2). It is delicious when mixed the contents of dashi bag with white rice after boiling!
Products other than dashi
Kayanoya also has products other than dashi. I introduce some of the products available in the fall and winter. All of them are soup stocks for stewed dishes, but they consist of "dashi" and "tsuyu". First, the dashi is brought to a boil with water, then the ingredients are added to soak up the flavor, and the sauce is put into a hot pot for the final seasoning.
Nabe series
You can learn more about nabe cooking here.
Winter is the season of nabe, nabe is a wonderfully simple and nutritious dish that is simply stewed ingredients.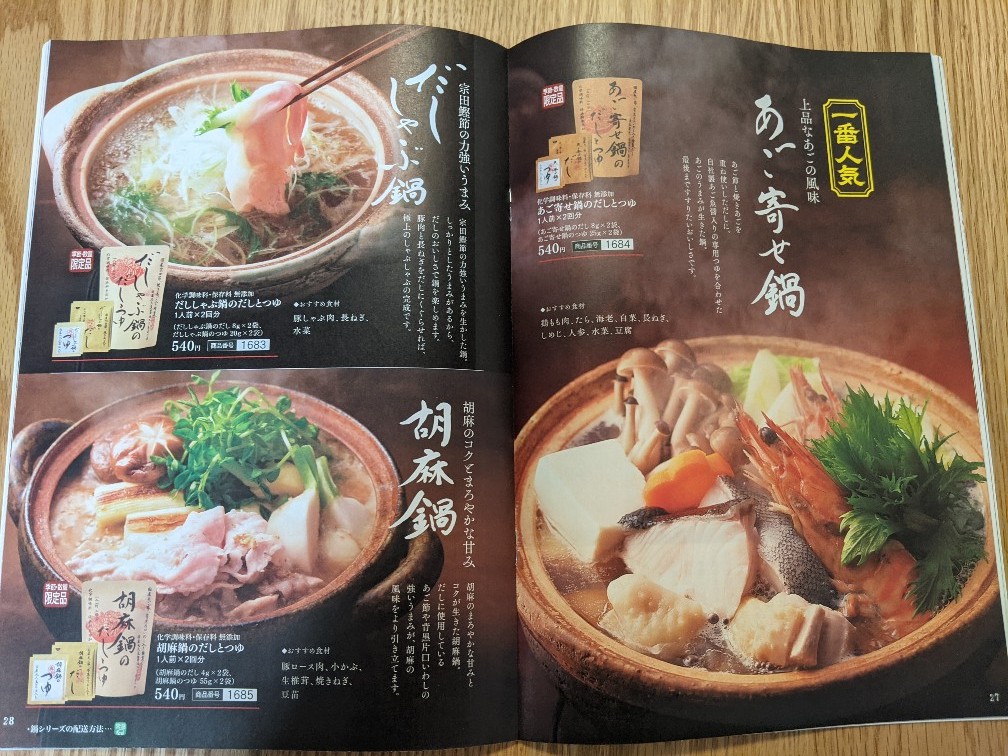 Nabe soup stocks, "nabe no dashi to tsuyu", are used to add flavor to nabe. Kayanoya has several types of nabe soup stocks, the popular products are "Ago Yose-Nabe" (photo on the right, dried and roasted chin dashi and tsuyu with chin), "Dashi Shabu Nabe" (photo on the upper left, dried bonito dashi and tsuyu for shabu shabu), and "Goma Nabe" (dashi and tsuyu with the sweetness of sesame seeds and the strong flavor of chin and sardines).
This is the Dashi Shabu Nabe, which silver one is only available in Tokyo. I will enjoy eating♪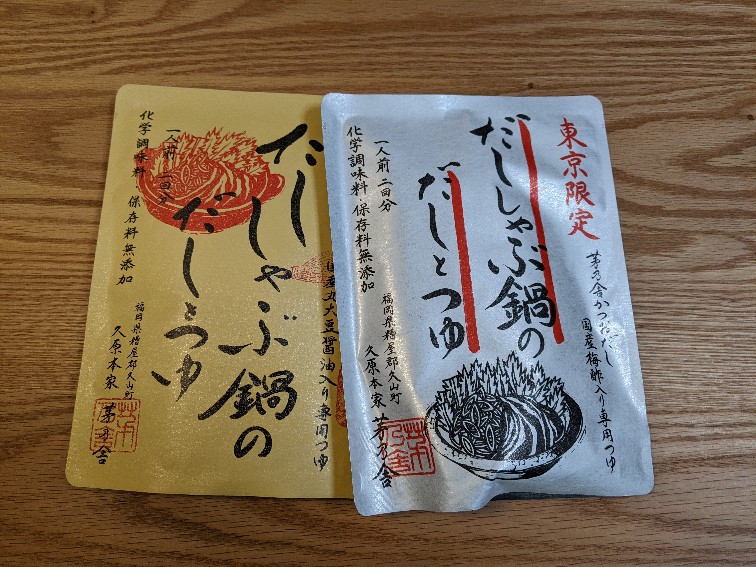 Kayanoya's nabe soup stocks have quite elegant tastes, unlike those on the market. The taste of the dashi and tsuyu is not strong, and you can feel the flavor of the special dashi and enjoy the taste of the ingredients themselves.
Oden no dashi to tsuyu
Oden is a type of traditional Japanese stew dish in which daikon, konnyaku, egg, and paste products such as chikuwa, and hanpen are simmered for a long time in a broth made from bonito and kombu dashi and soy sauce. If you use this oden dashi, the flavor of oden is easily determined by the characteristic this oden dashi and tsuyu, which is a combination of several ingredients and seasonings.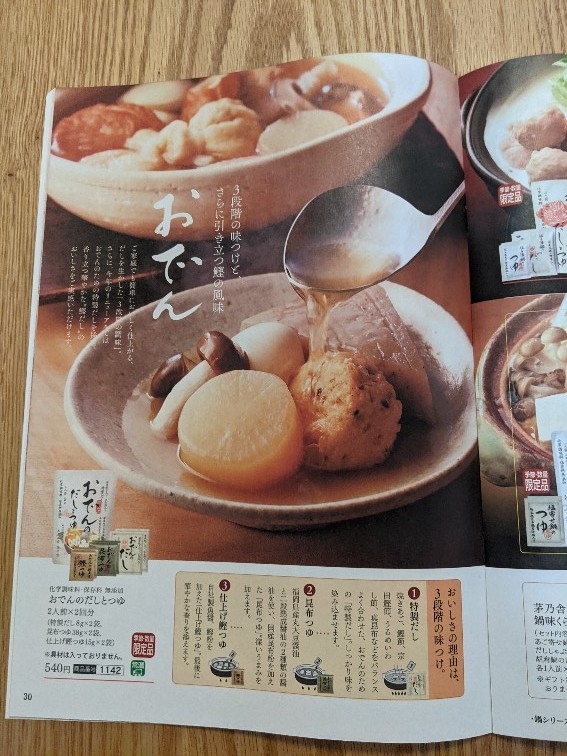 Ozoni no dashi to tsuyu
The New Year's dish, ozoni, is introduced in this post.
I usually season it myself, but this time I used this one. The contents are "Kayanoya Dashi" and a special sauce for ozoni. It has a more mellow taste.
Other products
In addition to the dashi and winter-only products, there are various other products such as soy sauce, tsuyu, ponzu and other seasonings, dressings, freeze-dried miso soup, and nyumen.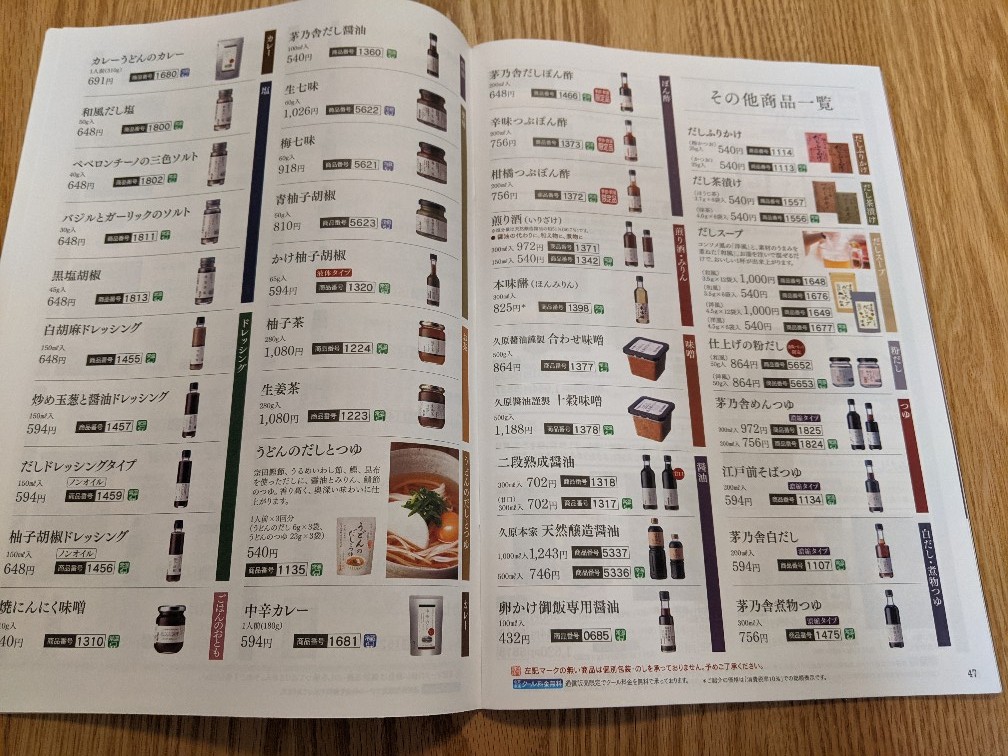 Kayanoya is a luxury product, so it is not easy to use on a daily basis, but you can make delicious dishes from its elegant dashi. There are also many seasonal products that are recommended as gifts. If you get a chance, please give it a try!
Click here for the US site.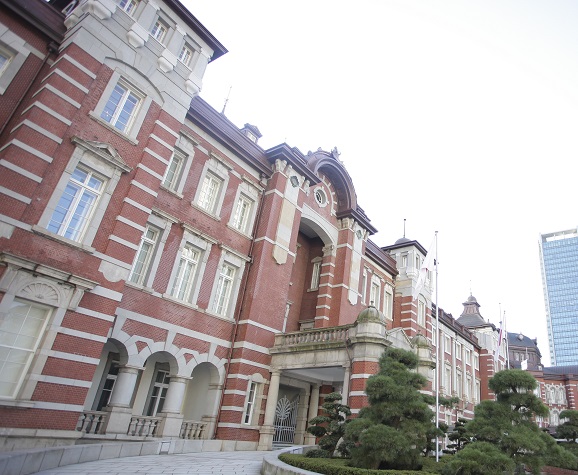 Japanese OL. (OL means "office lady". Women who work in offices.)
I was born in a rural part of the Kanto area in the latter half of the 1980s. I  live and work in Tokyo now. I live with my husband. I study English by writing this blog!