Ajisai(hydrangea) in Kamakura
Hello!
The rainy season has come to Japan. Japanese people call it "tsuyu(梅雨)".  Tsuyu lasts from the beginning of June to mid-July.
Tsuyu is a humid season. There are many cloudy and rainy days. Mold grows easily in tsuyu season. An unpleasant season…
But Japanese people enjoy seeing hydrangea in that season. Japanese people call that flower "ajisai(紫陽花)". Ajisai is beautiful when it rains.
Hydrangeas are planted in various spots, and some temples and parks are famous for them. Today I will introduce two famous temples in Kamakura(鎌倉).
You can jump to each temple↑
What's Kamakura(鎌倉) like?
Kamakura is a historical city and a tourist spot in Kanagawa prefecture. It takes a train for an hour from Tokyo. 
The shogunate was established in Kamakura about 800 years ago. Under the asylum of the shogunate, many temples were built in Kamakura to spread Buddhism to the ordinary people.
Meigetsu-in Temple (明月院)
Meigetsu-in Temple is now famous as 'The Temple of Hydrangeas' and becomes extremely crowded during the rainy season. It is famous for the blue hydrangeas.
The nearest station is Kitakamakura(北鎌倉) station. You can arrive at this temple after 10 minutes' walk from the station.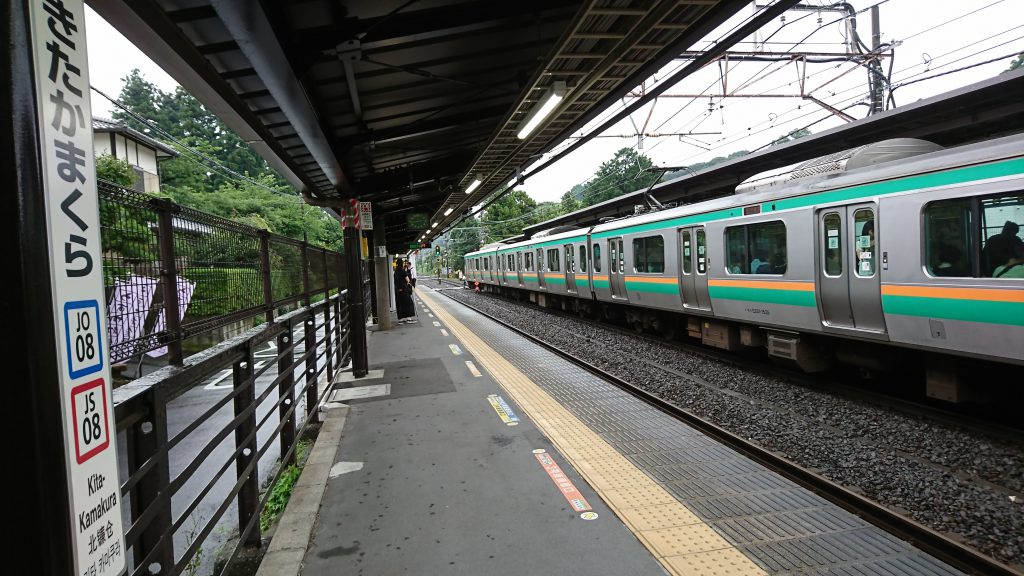 This photo is the gate of Meigetsu-in Temple. I went to that temple on a rainy day, but many people had visited there.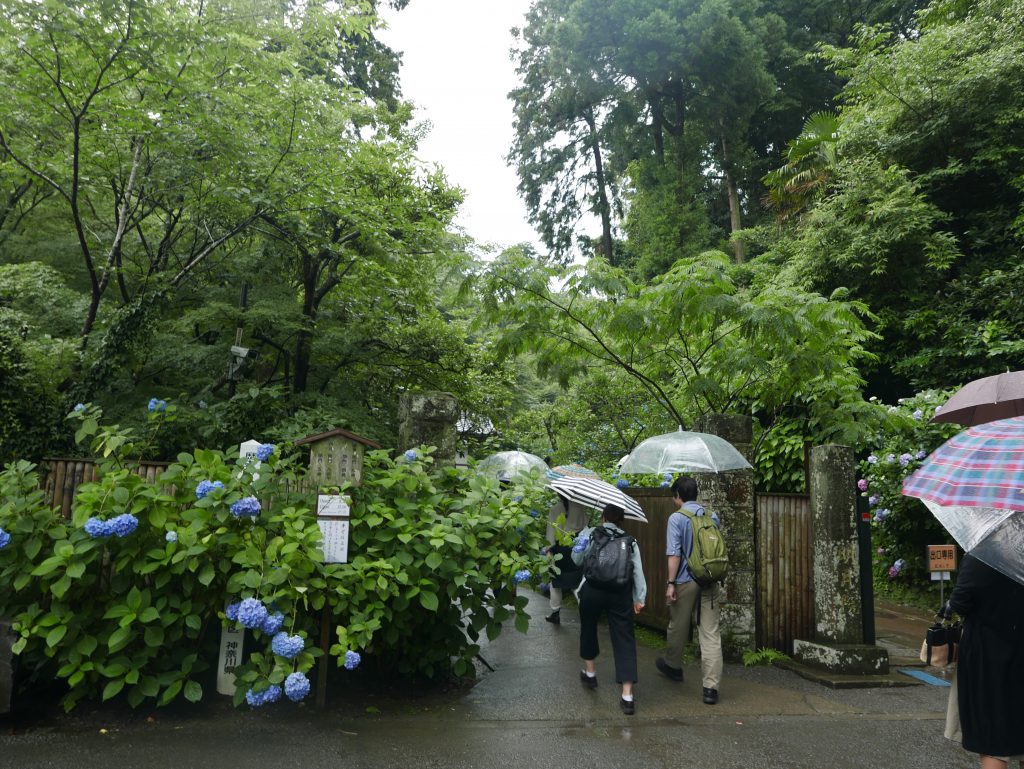 I felt the temple is like a forest. There were a lot of green leaves. They were very beautiful.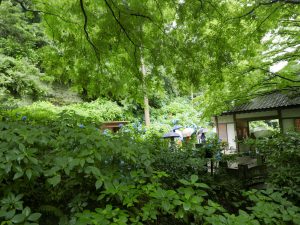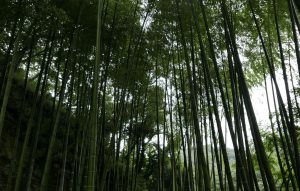 ↑Bamboo grove road was also there.
Hydrangeas have been planted on each side of the narrow pass in the temple. Visitors walked along the path in a line.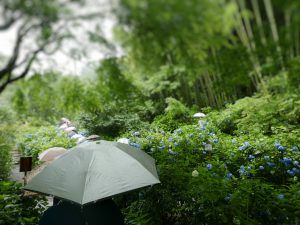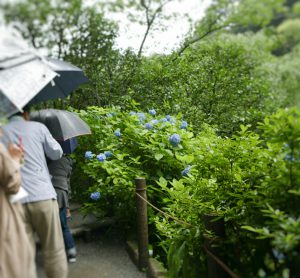 ↑Many people visited it! I heard especially it is crowded on a sunny weekend.
There were many blue hydrangeas! They were very nice. The stone statues of Buddha were also decorated with blue hydrangeas.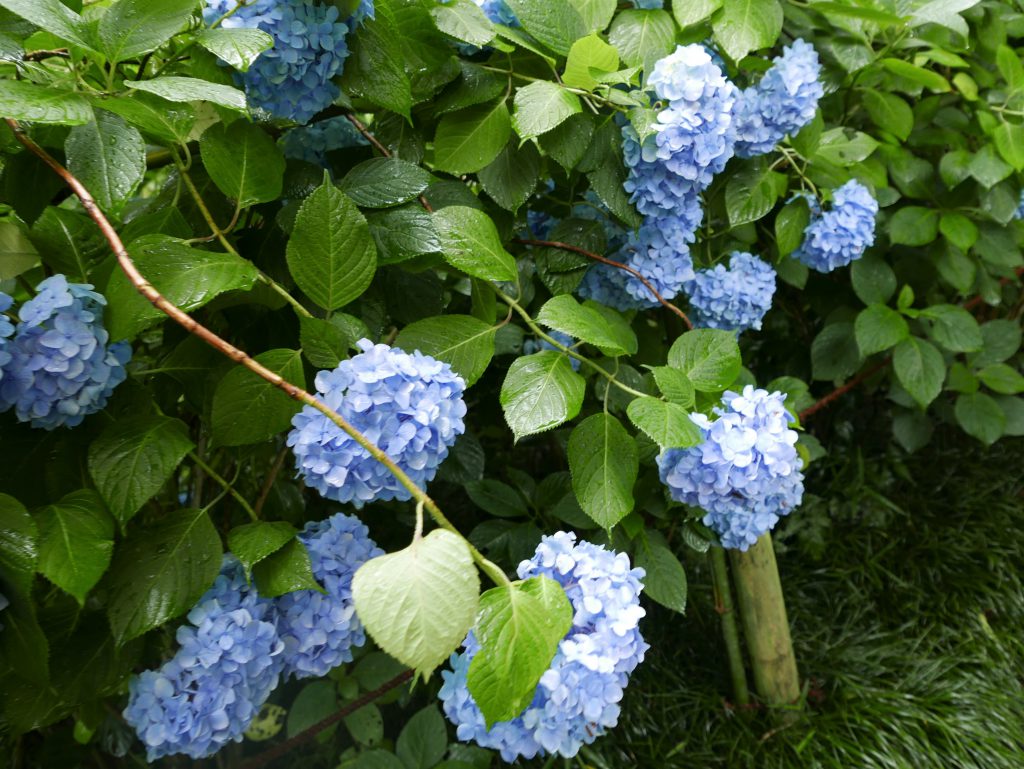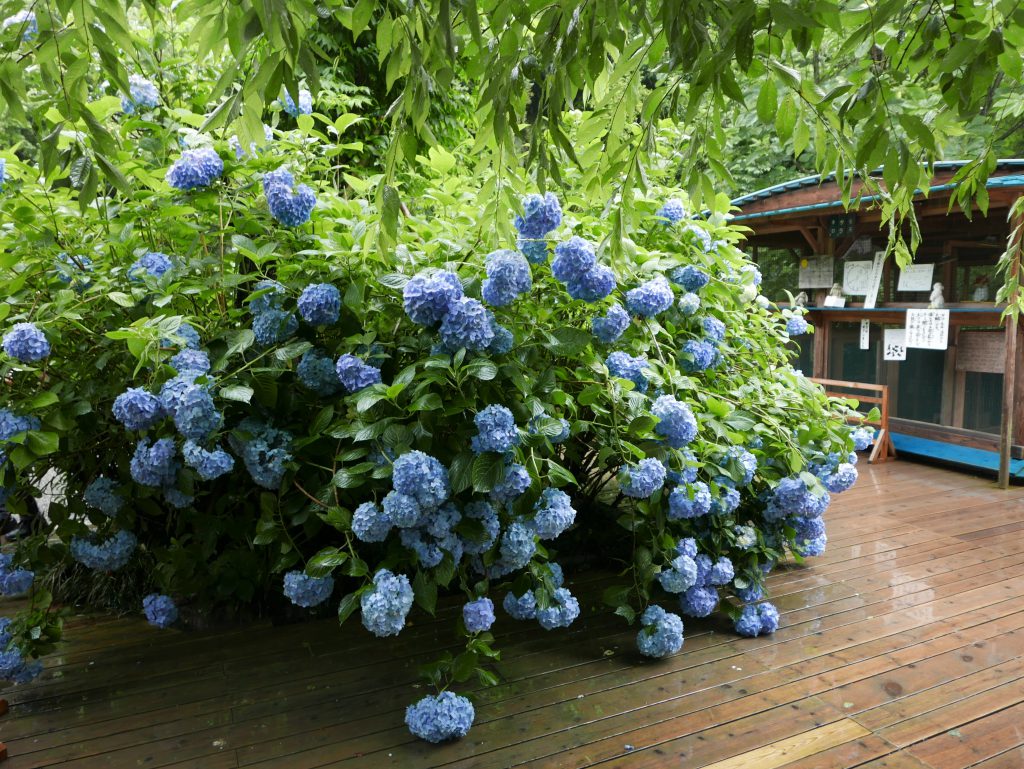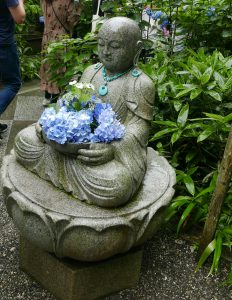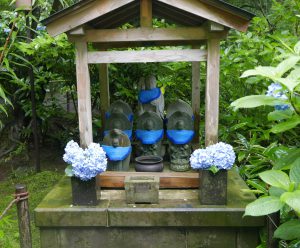 According to the internet, I heard that the most popular photo spot is "Path of weathered Kamakura stones". But I forgot about taking photos there! Oh no! This is the picture of that path taken from above.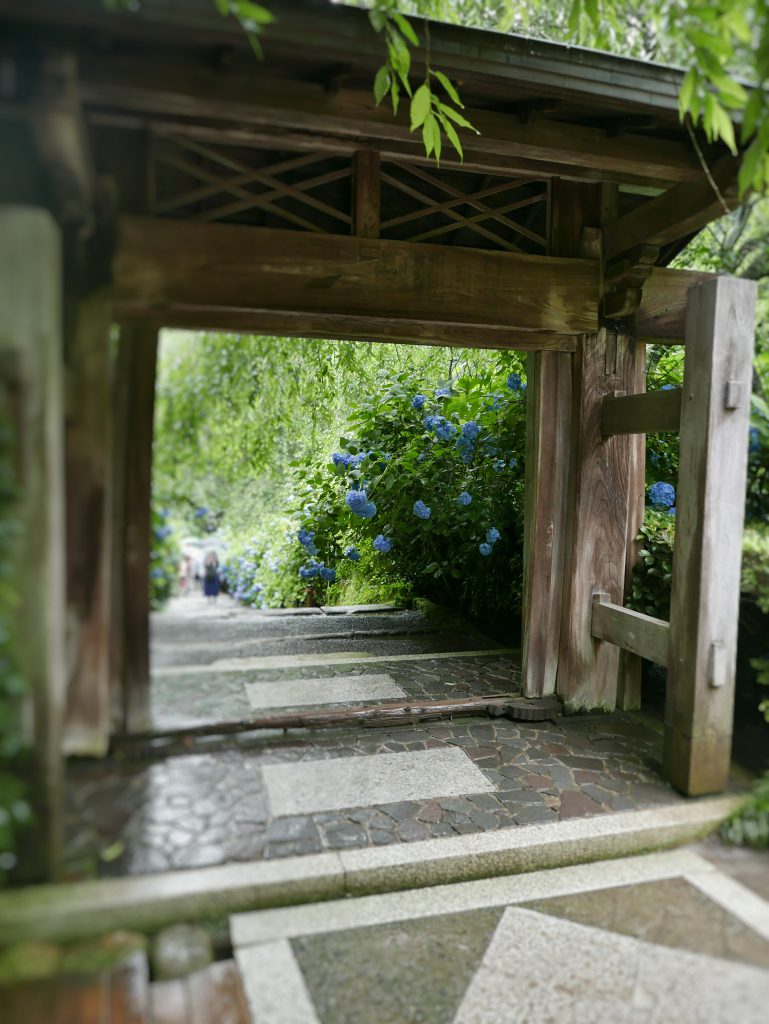 I recommend that you take a photo of the path from the bottom of the stairs!
Besides hydrangeas, Meigetsu-in Temple has points of interest. There is a Japanese dry garden in front of the main temple. And the round window in the main temple is very famous. This time I could not take the photo of the window because many people stood in line for taking pictures.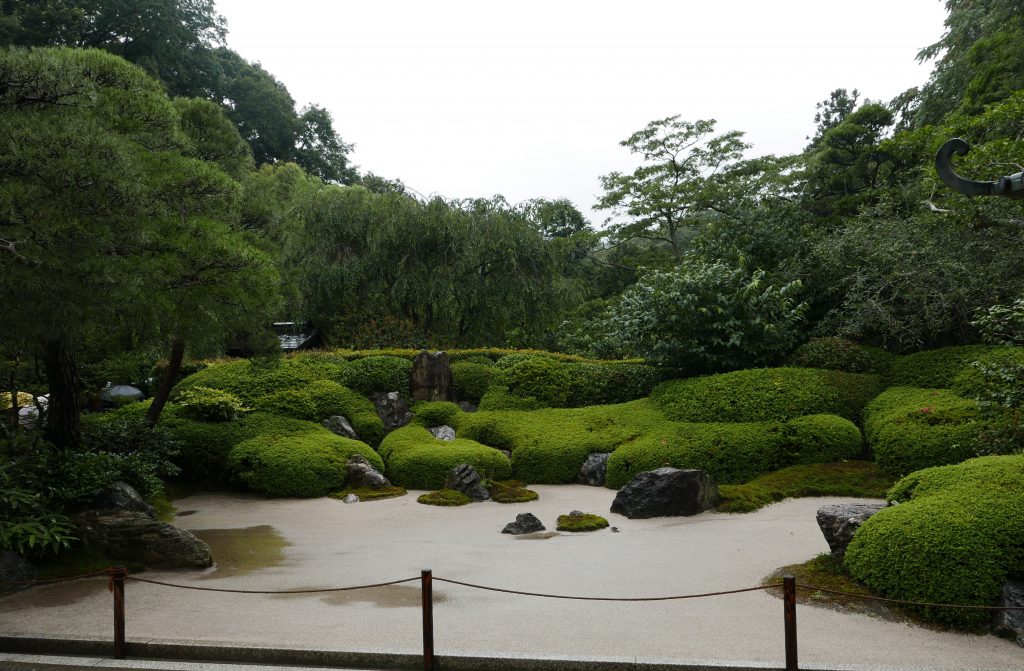 This picture of the pamphlet is the famous round window. I heard the scenery through that window is especially beautiful in the autumn season for foliage leaves.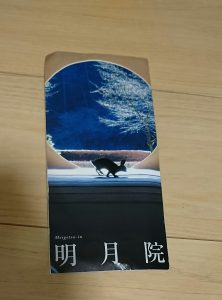 According to this pamphlet, you can enjoy seeing various flowers such as irises and maples depending on the season in Meigetsu-in Temple. I want to go to this temple again in the other season.
Meigetsu-in Temple is not so large, and it may be crowded depending on the day and the time. I enjoyed the temple as if I walked into a small forest or a garden.
The hydrangeas were very beautiful. Please try to visit Meigetsu-in Temple once in the popular season.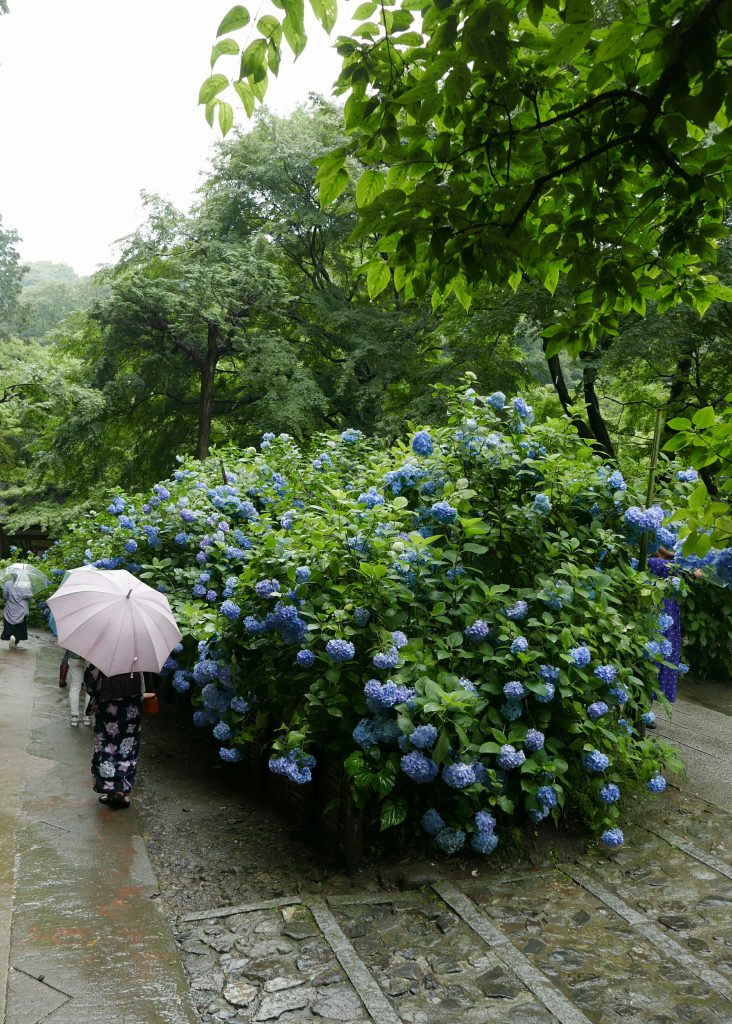 【location】

Yamanouchi 189, Kamakura-shi, Kanagawa Prefecture

【access】
10 minutes on foot from JR Kitakamakura Station
【open】
9:00~16:00(except in June)/8:30~17:00(in June)

【admission fee】

300 yen(except in June)/500 yen(in June)

※Special admission fee of the garden in June and the season of autumn leaves is 500 yen separately.
Hasedera Temple(長谷寺)
Hasedera Temple is a temple that enshrines one of the largest Kannon in the country. It is one of the most famous sightseeing spots in Kamakura. Many plants are planted in the temple, and you can enjoy beautiful flowers and leaves every season. A lot of people visit Hasedera Temple in the season of hydrangeas (early summer) and autumn leaves.
※When it becomes very crowded because many people come to see hydrangeas, you have to get a viewing ticket distributed by the temple.
I went to Hasedera Temple by train. The nearest station is Enoshima Electric Railway -we call it "Enoden"- "Hase(長谷)" Station.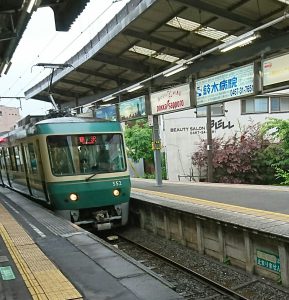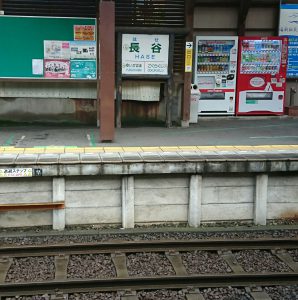 ↑Enoden (https://www.enoden.co.jp/en/) is a railway line between Kamakura and Fujisawa.
This is the main gate of the Hasedera Temple. The red lantern is a famous photo spot.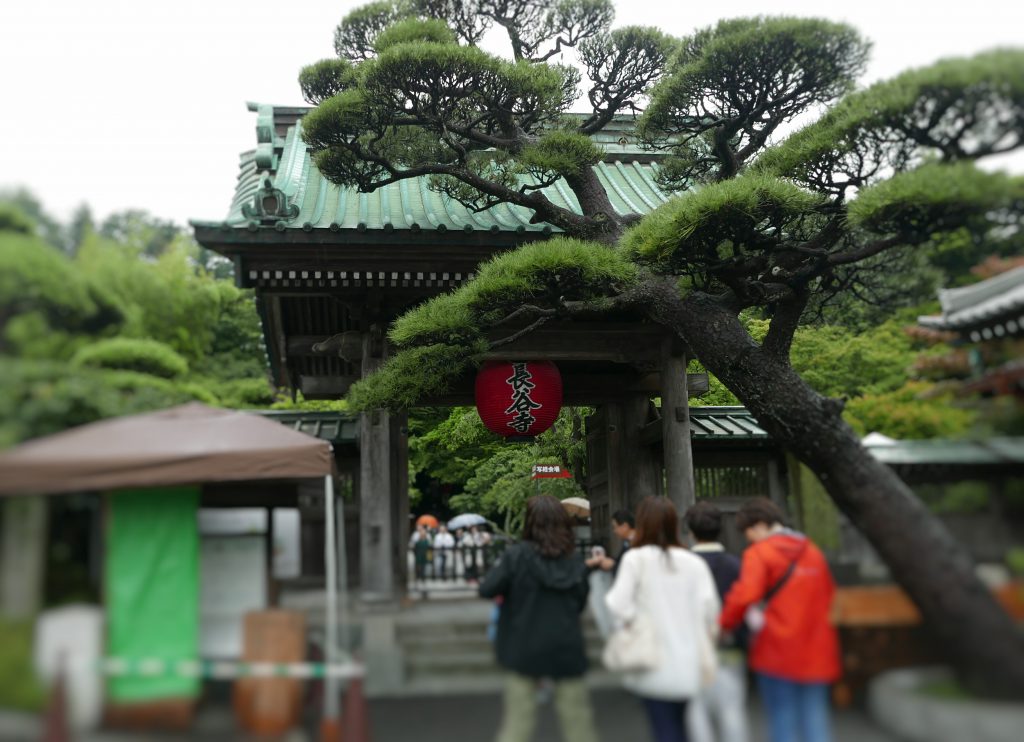 You can pay an admission fee at the automatic ticket vending machine, which is uncommon in a temple, then I was surprised! You can use a transportation prepaid IC card such as Suica or PASMO for paying.  It's convenient! I had the impression that this temple is being developed as a sightseeing spot.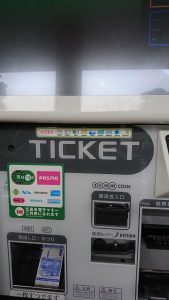 Entering the temple, there are beautiful ponds. And many people went up the stairs to see hydrangeas. I thought Hasedera Temple was larger than Meigetu-in Temple.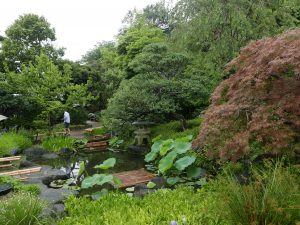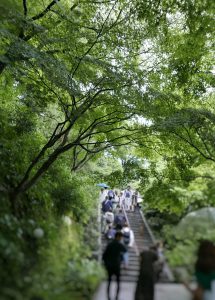 When going up the stairs, there are a viewing spot and Kannon-do hall. You can see the sea and the cityscape of Kamakura at the viewing spot. And the magnificent statue of Hase Kannon is housed in Kannon-do hall for all to see and worship.  It is very tall.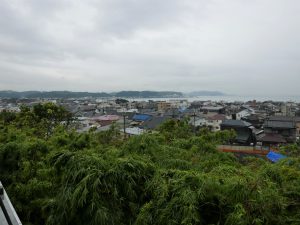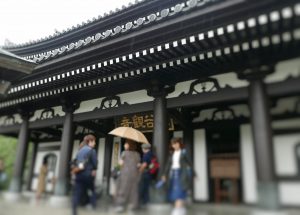 I bought a good-luck charm in the Kannon-do hall. The charm I bought is "Ajisai Omamori". And I used the prepaid IC card again for buying. It is kind of modern!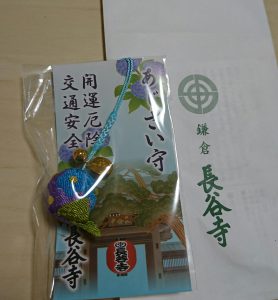 Going up the stairs again, the hydrangea path starts.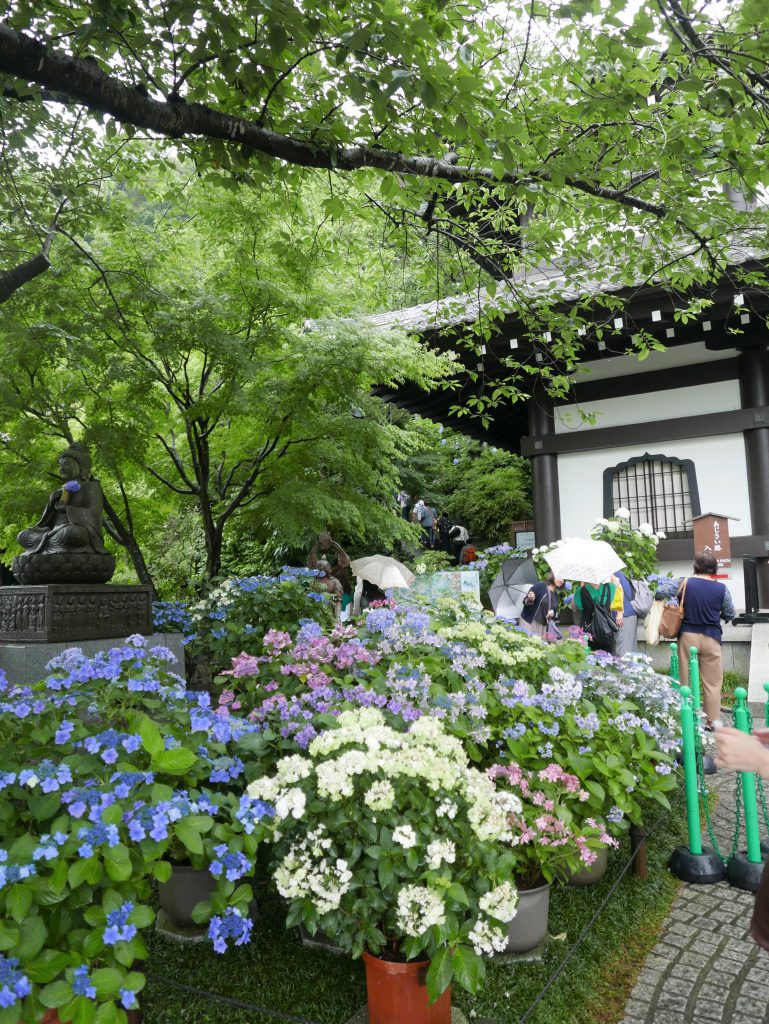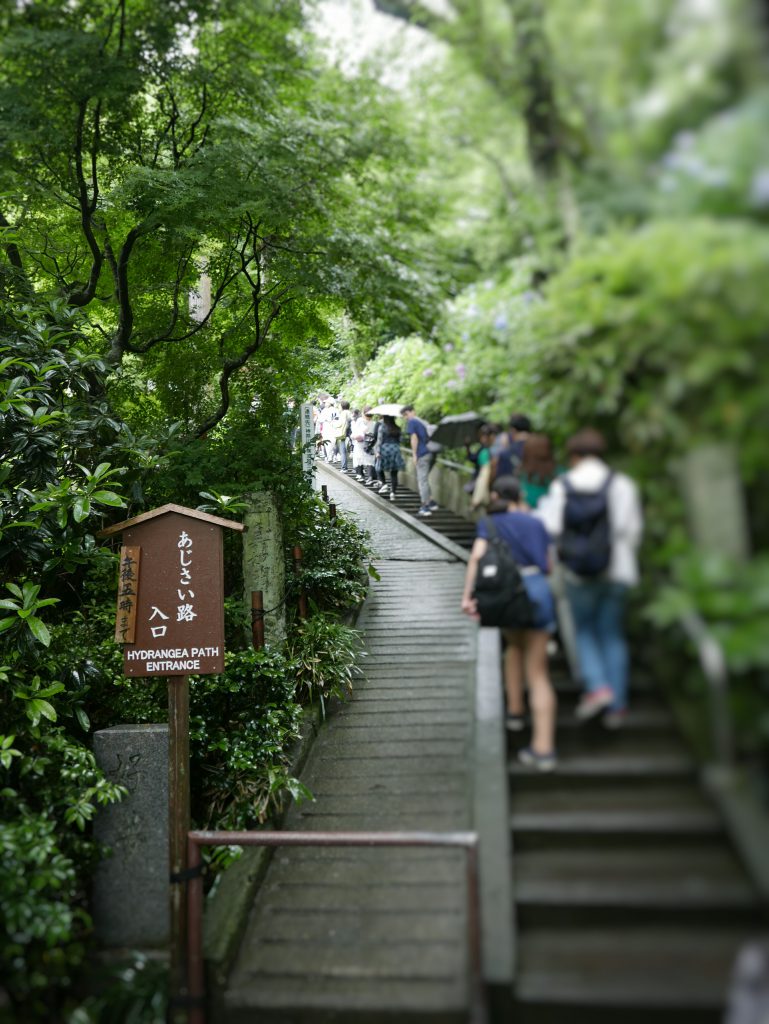 Meigetsu-in Temple has only blue ajisai, on the other hand, Hasedera Temple has blue, purple, and white ajisai. You can enjoy seeing the various color of hydrangeas. I heard there are also pink one, but I could not find those.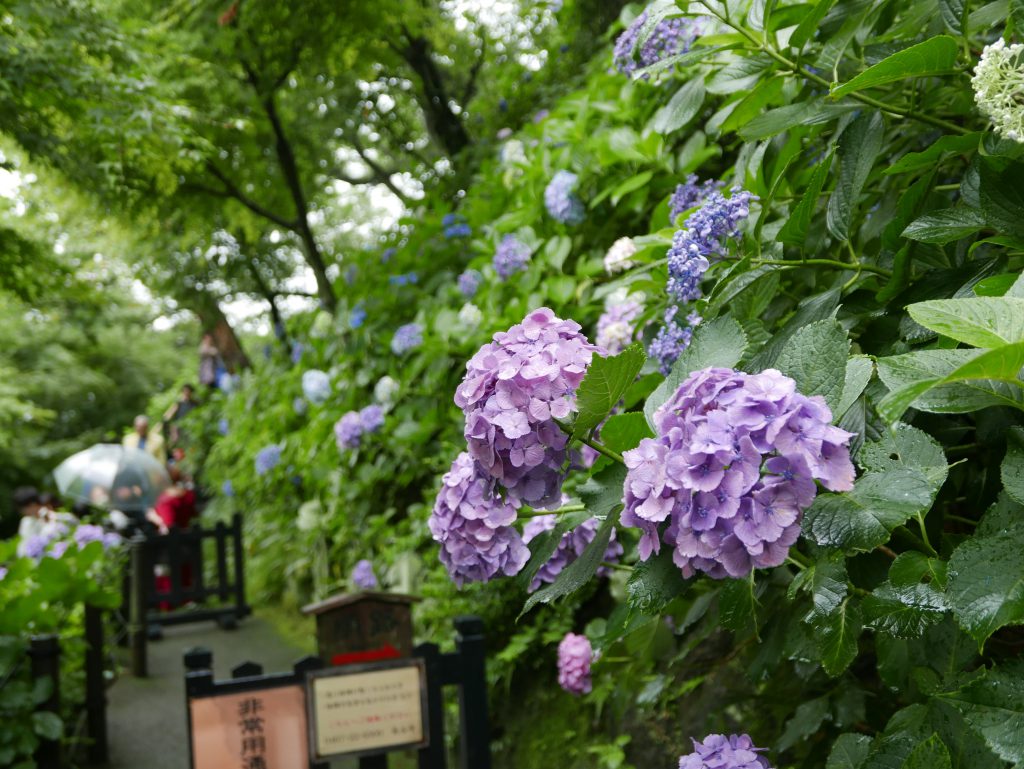 Many hydrangeas have been planted along the path. A lot of visiting people walked along the path and, they were seeing them.  Me too! They were very beautiful.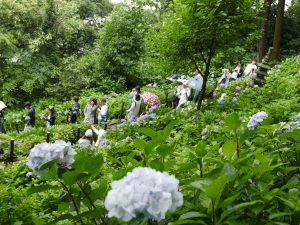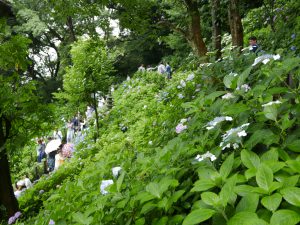 Hasedera Temple has many other sightseeing spots. You can also enjoy seeing azaleas, wisterias, autumn leaves depending on the season.  You can experience hand-copying sutra. If you are interested in Japanese temples and come to Tokyo, please try to visit Hasedera Temple.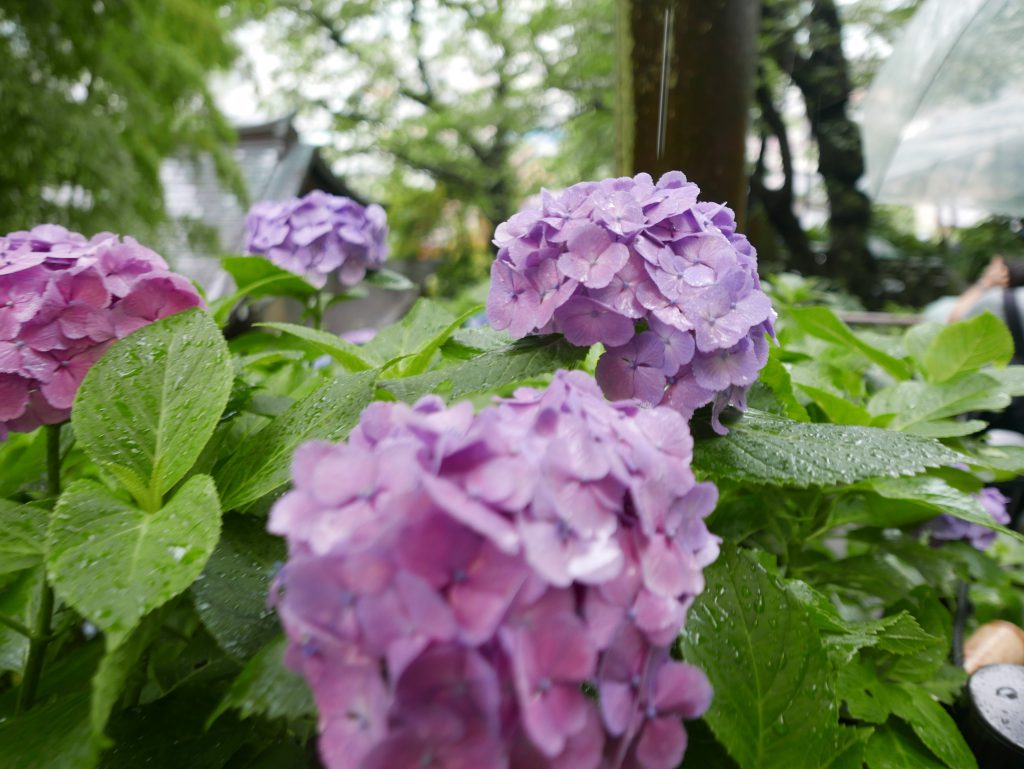 【location】
3-11-2 Hase, Kamakura-shi, Kanagawa Prefecture
【access】
5 minutes on foot from Enoden "Hase Station."Get off at JR Kamakura station
→ 5 minutes on foot from the bus stop "Hase Kannon"
【open】
8:00~17:00(Mar. thru Sept.)/8:00~16:30(Oct. thru Feb.)

【admission fee】

300 yen(Adult)/100 yen(child)

【official website】

http://www.hasedera.jp/en/
There are many temples in Kamakura. Kamakura is near Tokyo. I recommend a trip to Kamakura if you visit Tokyo. You can feel Japanese traditional culture in Kamakura. Someday I want to introduce Kamakura in this blog.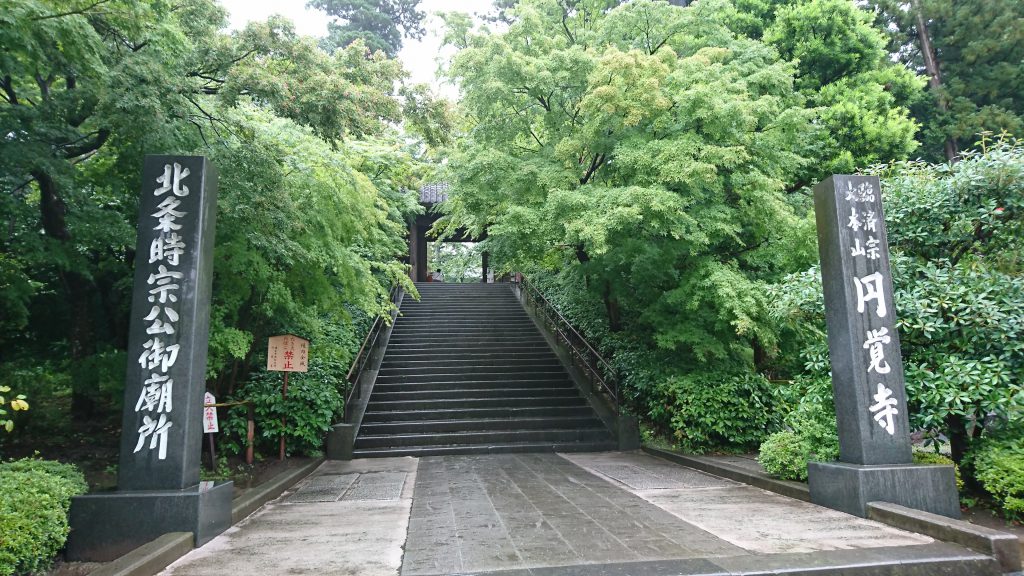 ↑This is the famous temple in Kamakura, "Enkakuji Temple". That is located near Meigetsu-in Temple.
(7/1 postscript)
The Japan Meteorological Agency announced the end of the rainy season in the Kanto region. It came very early! Tsuyu in 2018 was a very short time.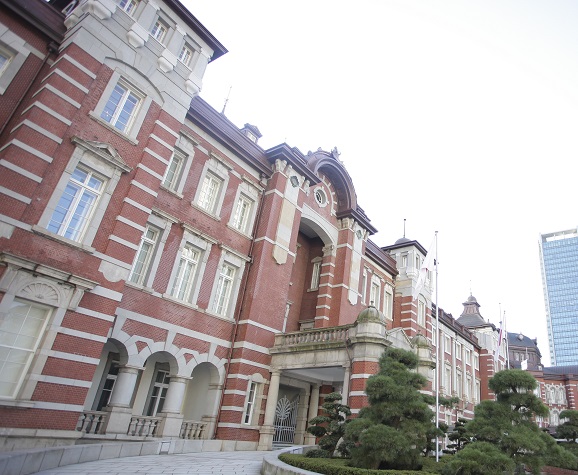 Japanese OL. (OL means "office lady". Women who work in offices.)
I was born in a rural part of the Kanto area in the latter half of the 1980s. I  live and work in Tokyo now. I live with my husband. I study English by writing this blog!