Seichi junrei for anime geeks
Do you like Japanese anime? In Japan, recently "Anime tourism" becomes popular. Many Anime fans visit spots where animes are set.
Some fans call this seichi- junrei (聖地巡礼). The real locations really make anime geeks think about the characters' lives and feelings. It's very fun.

I'm not a so-called anime geek, but I have favorite manga, anime works, and games.
Today I talk about seichi- junrei. Someday I try to write my experience of "Kimi-no-na-wa"'s seichi-junrei!
What is seichi-junrei like?
"Seichi" means mecca or sacred place for anime fans. That is a spot that anime and manga are set in, or are related to anime works. Anime fans actually visit those places, which is called "seichi- junrei".
Since old times, some people often have visited filming locations. (When I traveled to Rome, I sat down the stairs of Piazza di Spagna with imitating Princess Ann! lol) "Seichi- junrei" is this anime version.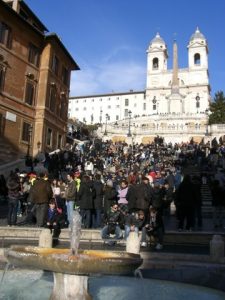 Since when is "seichi-junrei" so popular?
The famous anime works such as some Ghibli works or "New Generation Evangelion" are set in real cities, but I think visiting there was not so popular at that time.
Since when did a lot of animations begin to become set in real places, especially local cities, in Japan? Since when have many people visiting the real locations of animes increased? I remember "Rakisuta(Lucky Star) ". It is the anime made in the later of 2000s and is set in Washinomiya Shrine located in Saitama Prefecture. I watched TV news that many of Rakisuta's fans visited Washinomiya at that time. Seichi-junrei may have increased since that time.
↓ You jump to Japanese Amazon.co.jp if you click this image.
Lucky Star's story mainly portrays the lives of four girls attending a Japanese high school.

Source:『wikipedia』
Pray for Kyoani
"Lucky Star" is a work of Kyoto Animation. The future of many creators was deprived of by the Kyoto Animation arson incident that occurred in July 2019, and that many were injured. That is very sad… Unfortunately, the director of "Lucky Star" also got involved in this incident. Kyoto Animation is an animation production company that has spread Japanese animation to the world, and Japanese anime culture will be seriously affected by this incident.
Japanese people are deeply grateful to the many support from anime fans all over the world.

Many animes that are set in local cities have been created until now. One of the reasons why seichi-junrei is popular is that those anime are drawing beautiful delicate local scenery. Anime tourism contributes to revitalizing local cities now.
Popular seichi-junrei anime works in Japan
In the end, I introduce popular seichi-junrei anime works in Japan. If you are a Japanese anime fan, please try to check these works. Japanese people seem to like high school youth stories.
Anohana: The Flower We Saw That Day
↑You jump to Japanese Amazon.co.jp if you click this image. Each image below is the same, too.
"Anohana" is set in Chichibu City in Saitama Prefecture. It was made in 2011 and is the youth story that six childhood friends who are separated reunite. Many places of Chichibu City are drawn in this works, many fans go around spots. A tourist information center has a map for seichi-junrei of "Anohana", and Chichibu City has succeeded in creating anime tourism of this work.
I have watched this anime before. What impressed me most was the last scene. I have visited Chichibu City before (before this anime was created), I remember the bridge of the above image.
Girls and Panzer
"Girls and Panzer"  is set in Oarai Machi in Ibaraki Prefecture. It was made in 2012. The story in which high school girls are struggling to win the national tournament in the "Sensha-do" sport using tanks. In Oarai-machi, the Chamber of Commerce and Industry worked closely with the production side of "Girls and Panzer" from the planning stage of anime. They launched many projects that collaborated with the anime and succeeded in attracting fans to the shopping district in Oarai-machi.
Sorry, I have never watched this anime. But I have been to Oarai-machi. I took the photo somewhere of the town↓ I felt the strong collaboration between this anime and the town.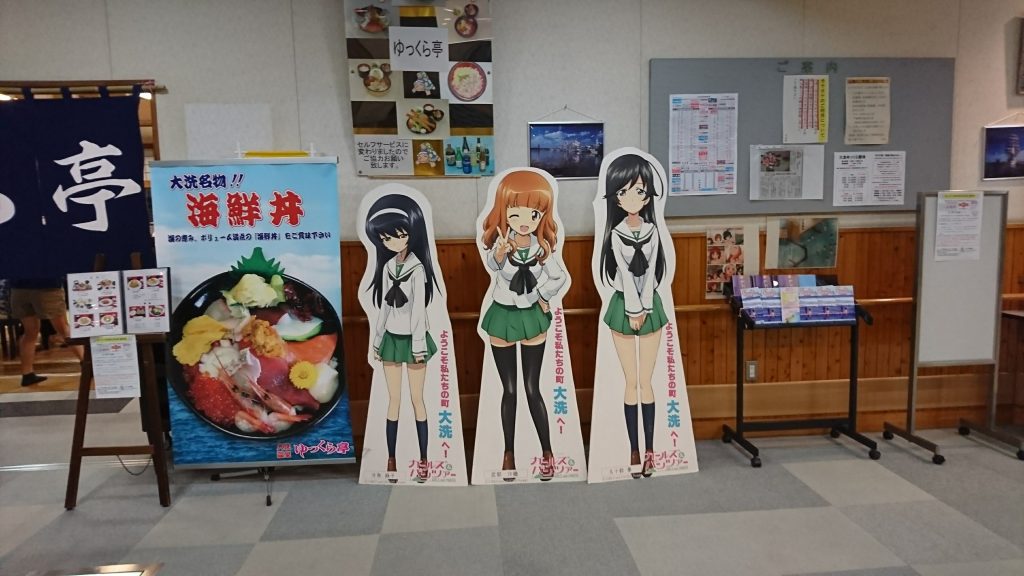 Love Live! Sunshine!!
"Love Live!" is the popular work for anime geeks, especially male fans called "Love Liver". The first series is "Love Live!" that was set in Tokyo and made in 2014. "Love Live! sunshine!!" is the second series that was set in Numazu City in Shizuoka Prefecture and made in 2016. It has the story of nine high school girls who try to avoid the crisis of school closure by becoming a school idol group and enlivening school. Many fans seem to visit Numazu. I have never watched this anime before, but I heard it is also famous that young pretty voice actresses of nine characters perform live (singing and dancing!) in the real world.
I think this anime project is similar to Japanese idol culture(I wrote the post about Japanese idol culture in this blog before↓). The difference is whether 3D girls or 2D girls. By the way, in Japan, voice actresses performing live or stage actors acting characters of manga works are called "2.5D".
SLAM Dunk
"SLAM Dunk" is a nationally famous manga. High school basketball and youth story. It is a leading 1990S manga in Japan. It was animated soon. There are many attractive characters and famous sayings in the work. The high school of main characters located in Kanagawa Prefecture. Of course, I like this manga, too.
SLAM Dunk is also popular in China, Taiwan, and Korea. In recent years, Asian fans in these countries often visit the railway crossing at Enoden Kamakurakokomae Station, which has become a model for the opening scene of the Slam Dunk anime. When I got on Enoden, I was very surprised to see many travelers taking photos at the railway crossing. Recently, it seems that sometimes put security guards due to too many foreign tourists.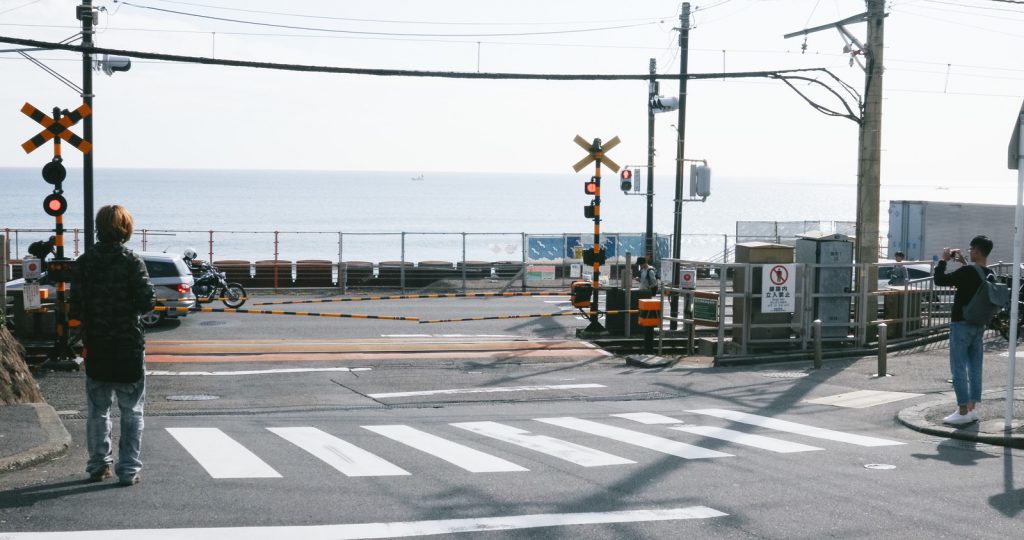 Let's enjoy seichi- junrei in Japan!
Japan has many anime works. If you have Japanese favorite anime, you might want to add the real place of the anime you like to your tour plan. Let's go to the location of your favorite anime. I recommend travel to local cities to you.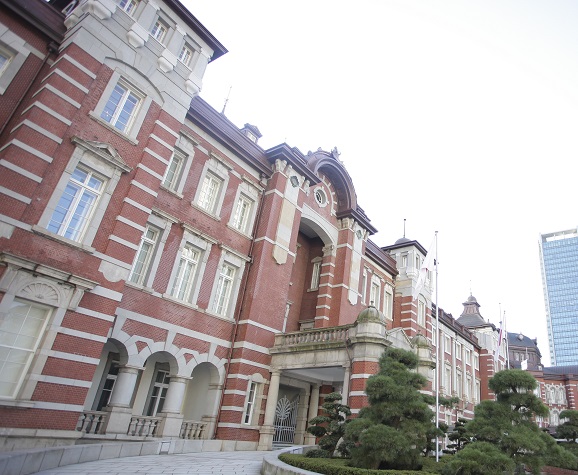 Japanese OL. (OL means "office lady". Women who work in offices.)
I was born in a rural part of the Kanto area in the latter half of the 1980s. I  live and work in Tokyo now. I live with my husband. I study English by writing this blog!